Let`s Spend Chinese New Year in Tokyo! 3 days Itinerary can Enjoy with Kids
02/09/2018
Almost Chinese New Year will start! I feel a lot of tourists come to visit Tokyo during this time. This time, I want to introduce a itinerary in Tokyo for those who have small children. I assume children will love this plan! Let's have fun and start the journey!!   
Day 1
①Sensoji
Let's start from Asakusa on the first day! This area is full of Edo culture, and their remnants still remains everywhere. Chinese also have a custom to visit shrine/temple in Chinese New Year like what Japanese also do on New Years Day. Go through the Kaminari Gate, which is one of the best photo spot,  and walk pass through  Nakamise-dori to Sensoji temple. First, let's pray to god to watch you to have a pleasant year!
At Nakamise, they sell Kibidango, sweet sake(amazake), Ningyo-yaki, Fried mochi, Kaminariokoshi and souvenirs.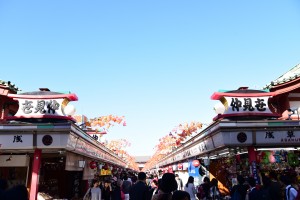 If you walk more further of Nakamise-dori, you can see Sensoji temple. It was constructed in year of 628, and it is known as the oldest temple.  It is also called, "Asakusa Kannon" and a lot of people visitors came here for worship and have been loved by many people.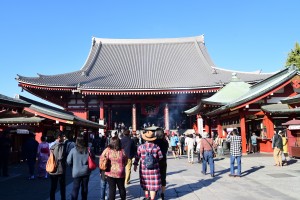 For further information:
http://www.intheluggage.com/japan-tokyo-asakusa-sightseeing-temples_shrines-temples--sensoji-temple.html
② One of the symbol of Tokyo! Tokyo Skytree Solamachi
After Sensoji temple, lets go to Tokyo Skytree Solamachi. At here, not only observatory, but  there is also about 300 shops and restaurants are in this facility. Let's not go up to the observation deck this time, and go to the "Sumida Aquarium" in Solamachi. Before that,
let's go eat and prepare before you go.
◎ Kamimura "Ganso Tower Bowl" (1800 yen)
"Kamimura" is  a long established soba restaurant located right at the foot of Tokyo Skytree. At here, they are providing "Ganso Tower Bowl." As you see the picture, it is a large portion! They stand the 3 thick shrimp tempura and Kakiage(contains sakura prawns and onion)  to make it like a tower. Actually, 1800 yen is not cheap price, but it is  unique, and worth it to post it on SNS!
Detail
[Operation Hours]11:00~20:00 (Sun)11:00~15:00
[Address 1-18-13 Narihira Sumida-ku, Tokyo
◎Let`s go to the aquarium in Tokyo Skytree Solamachi after you got full!
"Sumida Aquarium" is not only to see, but it is also the aquarium that can "experience." There is no dolphins and seal; instead, you can see precious species here such as penguins, jellyfish and corals.
The slopes that continues from 1st to 2nd floors are lighten up.You can participate in different activities, for example, you can have a floating experience with jellyfish or you can see the coral from the 360 degrees from the water tank. You can also understand the behavior and expression of Spheniscus magellanicus. It is a aquarium that children and adults can enjoy!
Detail
◎Please see the link for operation hours and  ticket information.
http://www.sumida-aquarium.com/en/
How about take a walk around the shops after the aquarium. There is Solamachi limited souvenirs and sweets.
For dinner, how about having the Tokyo specialty Monjya-yaki at "Tsukishima Monjya Daruma"? Although, there are several restaurants here, but  if you came to Tokyo, you need to try Monjayaki! ※ Monjayaki:it is like Osaka Okonomiyaki.  It is one of a local food that cooks on iron plate, and put ingredients in loose and watery flour!
Day 2 
①Move into the wild life! Odaiba


Let's wake up early in the morning and start the 2nd day.  Here is the place where you can become a moving creatures and can became one page of an illustration reference book.  It is divided into several parts;  such as you can experience becoming a Basilisk and run on the water or  lion living in savanna and taking prey etc.
By actually impersonating animals, you can also learn, "wisdom" such as how various animals lives.
They are also selling original collaboration goods of the popular comic book,  "Attack on Titan" serialized at "Bessatsu Shōnen Magazine"!
It will takes about approximately around 2 hours to look and experience.  Please try experience the meaning of "living" of animals.
Details
◎Limited Period of Time:Nov.29.2017~Apirl.8.2018
◎Pleace check the URL for operation hours and ticket information.
URL:http://zukan-move.kodansha.co.jp/nareru/en/
②Commemorative photo with Life-size Gundam!
If you come to Odaiba, you can not miss the life-size Gundam in Odaiba City Tokyo Plaza! Let's take a commemorative photo with family and move to Decks Tokyo afterwards.
③Decks Tokyo Beach
Decks Tokyo Beach is a shopping mall with a motif of ship. The visitors can overlook Tokyo Bay from the deck, and the night scenery where you take a stroll while watching the sea breeze is beautiful, as well as during the daytime. At night, you can see various of illumination and it will be nice to shoot with the illumination on back. In the facility, there is shopping, restaurants, and entertainment such as "Tokyo Joypolis", "Legoland Discovery Center Tokyo", "Tokyo Trick Art Labyrinth" and "Daiba 1-chome shopping district" the town you can experience the retro atmosphere.



Let's have lunch in Decks Tokyo! There are wide varieties of restaurants at here, so please select your favorite one!
[Restaurant Detail]  http://www.odaiba-decks.com/news/shop/000228.html (JPN)
「Website] http://www.odaiba-decks.com/en/
There is one recommend restaurant I suggest. It is Japanese hamburg steak kids loves.
In the butcher's directly-managed store, "1129 by Ogawa", they offer premium hamburg (1320 yen) using 100% Japanese Wagyu beef. It is juicy and exquisite! You can enjoy delicious Japanese beef in the world while watching Rainbow Bridge at here!
Detail
[Operation hours]11:00~24:00 (L.O 23:00)
[Tel]03-3599-9211
[Place]Sea side mall6F
※Menu in English and Chinese
After you finished your lunch, let's go to Nishimatsuya. "Nishimatsuya" is a specialty store for children's clothing founded in Hyogo Prefecture in 1956. Selling from newborn clothes, mother goods, toys etc. with motto of high quality and low price products. It is attractive that the price is really reasonable! Not only for your own children, but also such as baby gifts to your friends and relatives is perfect.
Detail
[Operation Hours] 11:00-21:00
[Tel]03-3599-5365
[Place] Sea side mall 4F

 ◎ Let's have fun with children at LEGOLAND Discovery Center!
At "LEGOLAND Discovery Center", you can purchase LEGO goods as well as experience the attraction. It is so impressive! there are attraction such as "4D cinema" which can feel the world of 4 dimensions, "Kingdom Quest" which you can become the main character of the story, riding the tank and aiming the enemies with laser guns. Moreover, there is a type of attraction aiming for strongest Ninja, "Lego ® Ninjago" etc. It is a place where adults can enjoy along with their kids. The "4D Cinema" looks cool is not it?

At "Lego® Factory", you can learn the secrets how does this plastic will turn into the shape of  Lego®Block. There is a lot of things that you only can experience here and the things you can learn, so please stop by if you are interested.
Detail
◎Pleace check the URL for operation hours and ticket information.
URL:https://tokyo.legolanddiscoverycenter.jp/en/
④ A Magical World View! Enjoy the limited illumination presents by  "NAKED × Venus Fort"
Venus Fort is a shopping facility that imaged of Europe in the 18th century. There are about 160 shops are gathered in this facility. The ceiling of the atrium is an image of the sky, and  it will changes according to the time zone is mysterious. At that Venus Fort, they are now performing the "Venus Fort Lumina" from last year November 2017 to the middle of March 2018. They collaborates with NAKED INC., the company famous for projection mapping with the theme of  "The world of light created by Venus Fort."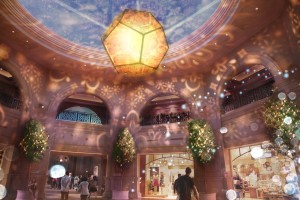 You can see fantastic streets made of beautiful light · snow crystal · stained glass at 5 spots on 2nd floor. Please enjoy "magical world" which is unfolded with music, "Production of light and shadow" by projection mapping and special lampshade!
Detail
[Access] http://www.venusfort.co.jp/multi/en/access/
For dinner, how about upgrading your dinner? At "Garden Dining" of "Grand Nikko Tokyo Daiba", you can enjoy a varieties of dishes what chef makes using the seasonables ingredients under the blue sky.  Please spend a wonderful time at terrace along with your meal.
Details
◎Pleace check the URL for further information.
URL: https://www.tokyo.grand-nikko.com/eng/restaurant/garden_dining/

Day 3

①Let`s eat delicious bread and get a plenty of energy!! MAISON KAYSER-Ikebukuro-



Let's walk up early in the last day and how about having breakfast at the French Bakery cafe, "MAISON KAYSER" ? At here, they provides self service breakfast from 8am to 10:30 am. You can enjoy  having a natural yeast bread and  popular croissants. Dare you must eat that crispy croissants if you come here! They also provides morning set menu with drink!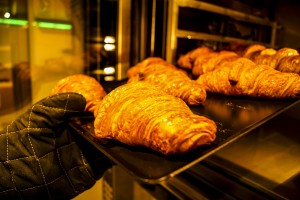 Detail
[MAISON KAYSER Ikebukuro Sunshine City]
[Operation Hours] Weekdays   8:00~22:00(L.O 21:00)/ Lunch 11:00~14:00
Weekends and Public Holidays 11:00~22:00(L.O 21:00)/ Lunch 11:00~15:00
[Holidays] 2 times a year (Irregular)
[Address] 1F, Sunshine Alpa,  3-1-2 Higashi Ikebukuro, Toshima-ku, Tokyo 
URL: http://maisonkayser.co.jp/
②Can not miss if you are animal lovers!! Let`s touch Aonyx cinerea at Kotsumate!
Let's go to "Kotsumate" after you finished your breakfast. At here, you can touch with  Aonyx cinerea, Sugar Glider and hedgehog.
The course is separated into 30 min and 60 min courses contains one free drink. Also can extend every 15 min.
[Price]
[30 min course] : 1000 yen (Below internediate: 800yen)Weekend and Public Holidays: 1300 yen (1000yen)
[60 min course] Weekdays:2000 yen (Below intermediate 1600 yen)Weekend and Public Holidays: 2600 yen (2000 yen)
※Extension fee 15 minutes: 500 yen (It may not be possible to extend depending on the situation)
The half of the course can be with aonyx cinerea, and other half can be play with sugar glider or hedgehog.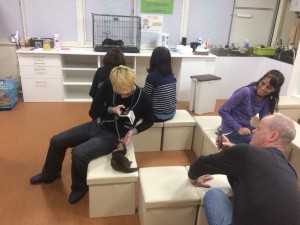 It is rare to see aonyx cinerea isn`t it?  It is so cute to see adorable face nearby. The body length is 41 ~ 64 cm, the tail length is 25 ~ 35 cm. They are very active and friendly!
The characteristic of sugar glider is  a leaping big eyes. The sugar glider is said to be lonely and  nervous character, but they will fawn upon to people when they get used to it !
Please use gloves when you touch the hedgehog. They fits in the size of the palm, the figure with rounded bodies is very adorable and can be healed!
Before you are touching animals, please observe some precautions that the staff will tell you! Such as flash photography etc is absolutely not allowed!
Detail
[Operation Hour ]11:00~20:00
[Holiday] Open throughout the year
[Address] 1F, Ikebukuro Hata Building, 1-40-3, Higashi Ikebukuro, Toshima-ku, Tokyo
Nearest Station: Ikebukuro
③Enjoy the lunch at NY Hamburger Shop "SHAKE SHACK Gaien Ichonamiki"♪
This is the first outlet in Japan. There is the famous Meiji Jingu Gaien National Garden gingko trees, and in autumn you can see a beautiful gingko trees blooming from the open-air terrace. On sunny days, it is nice to read books or human observation from the terrace while eating.
They offers hamburgers using 100 % Angus beef, hot dogs, frozen custard, wavy french fries etc. The picture in the front is the most popular "ShackBurger" and French fries.
For those who cannot take meat, how about " `Shroom Burger",  a hamburger using plenty of mushroom. They are using port petro mushroom for patty and sand  with two different cheeses.
They have many other menus to select. A hamburger that the whole family tastes on the terrace seems pleasant!!
Detail
◎Pleace check the URL for operation hours and ticket information.
URL: http://www.shakeshack.jp/location/gaien  (JPN)
③ Let`s touch the nature in Shinjuku Gyoen and have physical recovery!!
After lunch, take a walk while touching the natures at Shinjuku Gyoen.  Let's temporarily restore your tired body.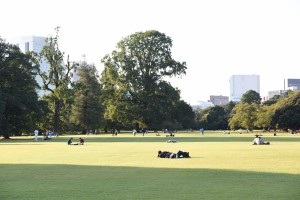 Details of Shinjuku Gyoen:
http://www.intheluggage.com/japan-tokyo-shinjuku-sightseeing-landmarks-parks--shinjuku-gyoen-national-garden.html


④
Get a souvenirs at Shinjuku BicQlo, Don Quijote and Matsumoto Kiyoshi!!
In the end, let's go shopping around at Shinjuku. Besides few famous department stores, Shinjuku has many shopping facilities. Since everything is settled in one place, you can quickly find what you want to purchase. Among them, this time I will introduce "BicQlo" collaborated by Bic camera and UNIQLO, Don Quijote where interesting products and foods are sold, Matsumoto Kiyoshi, the drugstore where can get a petit cosmetics and medicines are sold.
◎BigQlo
If you want to buy home appliances and low cost clothes, please go to "BicQlo! A major appliance store,"Bic camera" and "UNIQLO" incorporate together. The household appliances and clothing items are gathered in one place.
Please check here for further information about BicQlo:
http://www.intheluggage.com/japan-tokyo-shinjuku-shopping-electronics-electronics_retail_stores--bicqlo-big-camera-shinjuku-east-exit.html
◎ Don Quijote
"Don Pen", the official character of "Don Quijote" is a landmark of this general discount store.
They have foods,  alcoholic beverages, cosmetics, daily necessities, clothing items, party goods and miscellaneous goods. There are Shinjuku Kabukicho store and southeast shops in Shinjuku. This is a southeast store.
Don Quijote carries leisure supplies, interior goods, home appliances, mobile phones, brand-name items depending on stores. For home appliances, i recommend of buying at main electronic stores, but for cheap sweets, alcoholic beverages, daily goods, party goods are available cheaply. They also sell strange and weird things here, it may be interesting just to go around the store.
Detail
URL: http://www.donki.com/en/?pre=le
◎Matsumoto Kiyoshi
A landmark of yellow signboard, "Matsumoto Kiyoshi"  is a drugstore chain stores. If you want to buy medical goods, petit cosmetics and for a little daily necessary goods, I recommend here. They do weekly sales and Out-of-stock outlet sales frequently. Moreover,  they also sell Matsumoto Kiyoshi original "MK CUSTOMER goods" and sell a good products as good as possible at a low price.


Detail

URL:http://www.matsukiyo.co.jp.e.yy.hp.transer.com/
I have introduced a recommended schedule for 3 days. I hope you have a nice holiday!
>> Writer introduction