Comes Again!! Let's Touch the Deep Sea Species in Sunshine City Aquarium and Have a Limited Deep Sea Creatures Cakes!!
02/16/2018
The Sunshine Aquarium in Ikebukuro carries out deep-sea biological collection every winter! Deep sea creatures is only surviving in low humidity where the habitat temperature is around 10 ℃, and only can be seen in this season. This year, it is also exhibited at the Sunshine Aquarium's "Cold Sea" aquarium and part of the "Wonders of Living Things" aquarium.
In the aquarium, you can see "Flapjack octopus " that looks like a parachute when they swim, "swordfish", "Ascorhynchus japonicus", "Lithodes longispina" and colorful "Goosefish Chaunax abei ."
Goosefish Chaunax abei
Flapjack octopus
This is the representative of deep-sea species,  "Bathynomus giganteus."
By looking at different kinds of deep sea creatures closely, at here you can learn the things about them you did not know. Also, it  is the place where you can enjoy studying the life of how each deep sea creatures lives.
Let's Touch the Deep Sea Species!!
It is possible to touch the deep sea creatures while watching them, such as Bathynomus giganteus, Holothuroidea, Cervimunida princeps and Paralomis hystrix. Even though there is resistance to touching, it is exactly throbbing to put your fingers in the seawater.
[Operation hours]  Each Day  12:15~/15:15~
[Price] 300 yen (20 people in each capacity) ※Need to pay additional aquarium admission  fee
At last,  let's have a limited deep sea creature sweets at Kanaroa Cafe!!
It is a cafe collaboration with the brand "Sweet Aquarium" developed by Patisserie Swallowtail! The limited cute sweets can not be missed! They sell deep-sea creature cakes for 650 yen each,  with the motif of Sunshine Aquarium original "Flapjack octopus" and Bathynomus giganteus" in limited quantity! "Bathynomus giganteus cake" looks real! They also serve small snacks as well.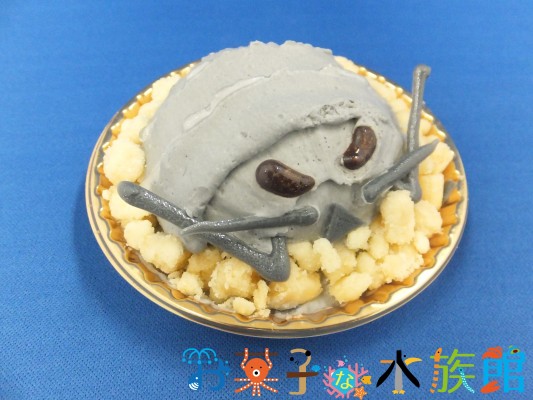 At "Shop Aqua Pocket" , they sells various deep sea living goods. Now, it is the chance for those who would like to see deep sea creatures or want to touch them! Please come over and visit the Sunshine Aquarium!
Detail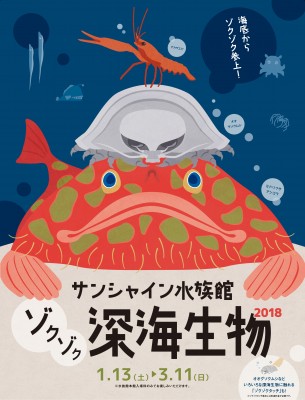 ■Sunshine City Aquarium
[Business Period]Jan 13, 2018~March 11, 2018
[Operation Hours] 10:00~21:00(Apiel~September), 10:00~18:00 (October~March) ※Last Entrance: 1 hour before the closing time ※May be changed
[Address] Sunshine City World import Mart Building(Roof)
3-1 Higashi Ikebukuro, Toshima-ku, Tokyo
[Admission Fee] Adults(Above Highschool)2,200 yen  /  Children (Elementary~Intermediate)1,200 yen, Child (4 years above) 700yen
URL:http://www.sunshinecity.co.jp (JPN)
※Sunshine Aquarium Guide: http://www.sunshinecity.co.jp/campaign/cp/pdf/aquaguide_english.pdf?_ga=2.55450795.1632110832.1516853488-284423611.1516853488 (English)
>> Writer introduction