4 Cafes & Restaurants that You Can Experience Japanese Winter Scenary "Kotatsu"
02/23/2018
Have you ever heard of "Kotatsu" before? "Kotatsu" is one of the Japanese heating equipment Japanese have been used since Muromachi period(year of 1336 – 1573). It is a table with an electric heater attached to the underside of the table, and it is one of the heating equipment we need during the winter seasons. Nowadays, the floor heating and air conditioner are already attached to their home, we may not see much people often use "Kotatsu."  This time, for those who want to experience this kind of traditional culture, I picked up few places.You can enjoy "Kotatsu" usually cannot experience except Japan home. Assume you will like it and want to go there once!  Let's begin!
A Place Where Can Relax with Surrounded Greenery:  Ryogoku Terrace Cafe (Ryogoku Station) 
"Ryogoku Terrace Cafe" is surrounded by "Kyu-Yasuda Garden" and you can view the greeneries  from the cafe. At here, you can enjoy well-balanced dishes  with bistro cuisine as the main dish and homemade sweets. In such a "Ryogoku terrace cafe", you can enjoy "Kotatsu garden" at the terrace seat in every winter. The "Kotatsu Garden" which experiences a unique atmosphere in Japan as if going to a cold open-air bath is extremely popular every year. A dishes have along with warmth of wooden interior will heal the visitors heart.
There are two hot pot courses combined with 90 minutes free flow drink: "Japanese Beef Red Wine Sukiyaki" and "Japanese Pork White Miso Shabu Shabu" that is perfect with sparkling wine. Please enjoy the hot pot plans mixed with Japanese and Western foods.


Japanese Beef Red Wine Sukiyaki
 Japanese Pork White Miso Shabu Shabu
※The contents may change depending on the purchase situation.
Detail
[Operation Hours]【Mon~Fri】11:30〜15:00 Close(14:30 L.O) 17:30〜23:00 Close (22:00 L.O) 【Weekend&Holidays】11:30〜23:00 Close(22:00 L.O.)
[Holidays] Open throughout the year
[Offer Period] Scheduled in till end of  April
[Address]1-12-21 Yokozuna Sumida-ku, Tokyo 130-0015
[Access] 6 min walk from JR Sobu Line Ryogoku station west exit ,  5 min walk from Toei Oedo Line Ryogoku station  A4 exit
[TEL] 03-5608-7580
URL: http://ryogokuterrace.jp/news/article.php?id=7476
For Large Groups: Honke Kanoya Kagoshima (Shinjuku Station)
"Honke Kanoya Kagoshima" is the place where can enjoy local cuisine and shochu in Kagoshima prefecture. Every year in winter, the "Kotatsu" seats are popular. The Kotatsu seats here are not a usual one we sit on tatami, and  it is  "Hori-gotasu."  The difference is a usual "Kotatsu" need to bend your knees to sit down, but  this "Hori-gotatsu" have a recessed floor so people can sit with their legs positioned as if they were sitting on a chair. You do not have to worried about getting your legs hurt. Prefer booking and the early booking is recommended.
Other than Kotatsu seats, there is counter seats and stylish "Terrace with Green Garden" with dramatically different atmosphere.  It can be used and can correspond in various situations.
There are many menus to select it from, but after all it should be a hot pot when speaking of Kotatsu in winter. The most recommendation hot pot is Shabu Shabu using Kagoshima pork what Honke Kanoya proud of. They are using both ham and belly pork meat, and it is nice to gather and have a pot with everyone! Since there are also repeaters to have this pot, please try it when you go.
Detail
[Operation Hours] 11:30~15:30(L.O.15:00) / 17:30~23:00(L.O Food 22:00, Drink 22:30)
[Holiday] Open throughout the year
[Offer Period] Scheduled in till early March
[Address] 5-24-3 Sendagaya, Shibuya-ku, Tokyo 151-0051
[Access] 4 min walk from Shinjuku station New south exit, 1 min walk from JR Yoyogi station west exit, 5 min walk from Toei Oedo Line Yoyogi station  A2 exit
[Tel] 050-5868-9494
URL: http://www.honke-kanoya.com/index.php
 For Dating, in Groups or for Girls Plan: BaneBAGUS Akasaka-mitsuke (Akasaka Station)
BAGUS Co., Ltd. is a comprehensive entertainment enterprise in Japan that develops mainly in the Kanto area such as billiards, darts bars, Internet cafes and karaoke etc. The Akasaka store has darts, karaoke, and  simulation golf etc. as well as restaurant. Every year in  winter season, the "Kotatsu terrace" is very popular.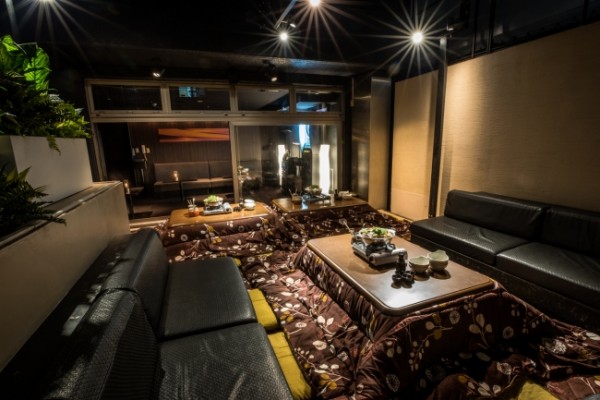 The room is divided into "Private Kotatsu Terrace" where you can taste the sense of private room and "Kotatsu Terrace Floor". Here, they offer "Terrace de Kotatsu Hot Pot Plan" for dish  includes free flow of drinks for 2 hours! The two types of hot pot can have it here, "Motsunabe" and "Seafood Shabu Shabu" which can enjoy both seafood and pork shabu-shabu can be enjoyed. The taste of the hot pot while watching the night sky in Tokyo is awesome! ※ Motsunabe is a Japanese pot that is made from beef or pork tripes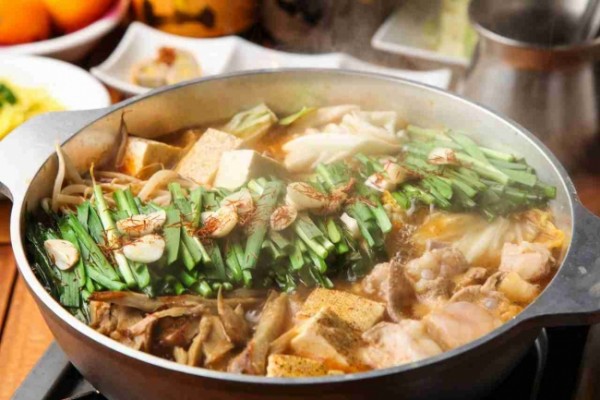 A Wonderful Service for Girls!
For girls who ordered, "Terrace de Kotatsu Hot Pot Plan", a five kinds of "Japanese Pattern Hanten" is available to rent. Also, they offer creamy"'White Oshiruko with Oiri' made it with plenty of milk added to white bean! Kagawa traditional confectionery sweet, "Oiri"  known as "Call happiness",  " is included. ※Hanten is  traditional Japanese short winter coat resembling a haori without gussets。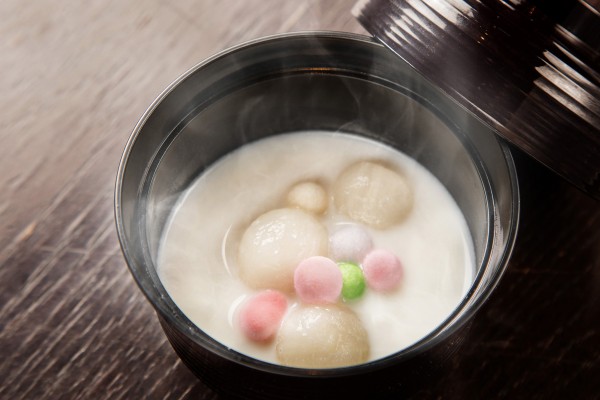 After you finished your meal, how about play darts or karaoke etc. It is also adjacent to the private room.
Details
[Operation Hours]
Mon~Sat: 14:00~5:00am 【6月~9月】Sat・Before Holidays:12:00~5:00am
Sun・Holidays: 14:00~23:00【June~September】12:00~23:00
[Holidays] Open throughout the year
[Offer Period] Please call for further information
[Address] 4F World Building, 3-10-4 Akasaka, Minato-ku, Tokyo 107-0052
[Access] 1 min walk from subway Akasaka-mitsuke station exit 10,  5 min walk from Akasaka station exit 1
[Tel] 050-3462-0770
URL: http://www.bagus-99.com/shops/bb_akasakamitsuke/(Official website)
URL: https://r.gnavi.co.jp/g486515/menu5/ (Terrace de Kotatsu Hot Pot Plan)
For Those Who Travel Alone or To Those Who Want to Relax: Cafe Stay Happy (Shimokitazawa Station)
"Cafe Stay Happy Shimokitazawa" is a cafe that managed by couples . It is "a place where you feel a connection with people", they opened with a desire to provide a stress free place.
The cafe is made of wooden interior and it can be said to be a place that falls into a feeling as if you are in your own house. It is a two storey building, and there is  cafe on the second floor. It is divided into counter seats, the table seats, and tatami seats which they called,"Yagura." At Yagura, the "Kotatsu"  is set up in the winter and the hammock in the summer season.
"Yagura" is divided into two floors. There is only few "Kotatsu" seats. From the top of Yagura, you can view the street of Shimokitazawa from the window. The bottom seat has low ceiling that can not able to stand, and there is bookshelf next to it. You can feel like you are at home, and can be relax while reading books.
Yagura (Top)
Yagura (Bottom)
※Yagura is a structures or building made of wood.


All the foods they provides here is organic. Please enjoy the dishes not only interior.
Details
[Operation Hours] [Mon, Wed~Sun] 13:00~23:00 [Sun] 13:00~22:00
[Holiday] Tuesday・Second week of Wednesday
[Offer Period] Scheduled in till early April
[Address] 2F,  2-29-14 Daizawa Sedagaya-ku, Tokyo  155-0032
[Access] 3 min walk from Shimokitazawa station
URL:http://cafestayhappy.com/?page_id=273 (English)
※Card is not accepted  ※English OK
Have introduced 4 cafes and restaurants which can go according to various situations. Please experience one of the Japanese culture, "Kotatsu" that can be only experience in this season!
>> Writer introduction