Experience the Loveliness of Aonyx Cinerea! Let's Go to a Cafe That You Can Touch the Aonyx Cinerea in Ikebukuro!
03/09/2018
While there are various of  animal cafes these days, I would like to introduce a cafe where you can touch a adorable  "aonyx cinerea." "Kotsumeito" is located in the 5th floor of the weed building, within 10 minutes on foot from the JR Ikebukuro east exit.  At here, it is possible to interact with animals such as sugar gliders, hedgehogs, besides aonyx cinerea.
◎Should I have to  book? When is the suitable time to visit? 
Currently, it is able to enter within 20 minutes or so even if you go just before opening. However, if you do not like to wait, it is smoother to go in late time such as afternoon. Since there are cafes handling aonyx cinerea is limited, it cannot be predicted and there is a possibility of waiting depending on circumstances, so in that case please be noted.
◎How much is the charge? Here is the course details!
The course is separated into 30 min and 60 min course contains one animal snack and free drink. If you feel you need more time after, it can be extend in every 15 min.
[Price]
[30 min course] : 1000 yen (Below intermediate: 800yen)Weekend and Public Holidays: 1300 yen (Below intermediate: 1000yen)
[60 min course] Weekdays:2000 yen (Below intermediate 1600 yen)Weekend and Public Holidays: 2600 yen (Below intermediate: 2000 yen)
※Extension fee 15 minutes: 500 yen (It may not be possible to extend depending on the situation)
The half of the course can be play with aonyx cinerea, and other half can be play with sugar glider or hedgehog.
Aonyx cinerea is a genus of Mustelidae. The body length of aonyx cinerea is 41 ~ 64 cm, the tail length is 25 ~ 35 cm. They will get stress out easily if they do not get in the water frequently, so they must be in a environment where they can bathe. It named,"Kotsume Kawaiso" in Japanese because "Kotsume" means,"small nail" in Japanese, and aonyx cinerea also has small nails. They are very active and friendly! Currently, it is also an animal that is regarded as an extinction crisis, and "Kotsumeito" is the one of the place where able to touch and see aonyx cinerea closely!
You are not able to touch baby aonyx cinerea, but you can see it closely from the cage. The two bottom pictures are when foreigners playing with adult aonyx cinerea at that time. When one was trying to feed a food, aonyx cinerea will extend a cute little hand from the cage for food! The snack ticket is included to the course, so it is possible to give a snack to your favorite animal once!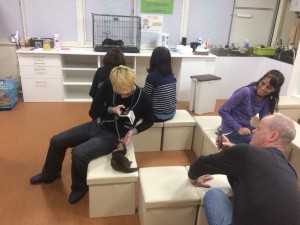 Look at this adorable face!! So cute!! It will heal you!
After you played half of the time with aonyx cinerea, let`s play with sugar glider which has a characteristic of is a leaping big eyes or hedgehog. The sugar glider is said to be lonely and  nervous character, but they will fawn upon to people when they get used to it !
Please use gloves when you touch the hedgehog. They fits in the size of the palm, the figure with rounded bodies is very adorable and can be healed!
Before you are touching the animals, please observe some precautions that the staff will tell you! Such as flash photography etc. is absolutely not allowed!
◎How to book?
Only Japanese is acceptable. Please book from the link below.
URL: http://ktm-kawaii.com/%E4%BA%88%E7%B4%84%E3%83%95%E3%82%A9%E3%83%BC%E3%83%A0/
◎In the shop, the menu and important notes are written in English. There is staff that can do simple English or  Chinese, but please note that it is not always.
Detail
peration Hours ]11:00~20:00
[Holiday] Open throughout the year
[Address] 1F, Ikebukuro Hata Building, 1-40-3, Higashi Ikebukuro, Toshima-ku, Tokyo
Nearest Station: Within 10 min walk from JR Ikebukuro Station east exit
>> Writer introduction