Lets Go To The Hottest Animal Cafe, "HARRY" The Hedgehog!!!!
06/26/2017
Hi everyone!!! This is Miki!  Nowadays,  there are a lot of different type of animal cafes in Tokyo. For people who not just love animals and  who want to have pets, but hardly difficult to have it due to apartment rules or other reasons, the animal cafe is the best place to chill out!
Today, we are here at the fashionable town, "Harajuku"! We heard there is a cute lovely hedgehog cafe, so we are deciding to visit to "HARRY" with Jaasir from England and Shisei from Taiwan! It is also my first time to visit animal cafe!  I am so exciting!!!
"HARRY" is located about an one minute walk from JR Harajuku station,  Omotesando exit or Meiji Jingumae station Sendagaya  exit 3. It is on the 4th floor of Champere Harajuku Building 2. When we go up to the 4th floor,  there is emergency stairs immediately on the left side. More than 20 people are waiting in line for their seats to see the lovely hedgehog at once.
In the back of it, there is a small reception counter and a small vending machine. The visitors need to buy the ticket for the seat themselves when the seat is available. It can be choose it from 30 min(1400 yen) or Set of 30 min+snack(1630 yen).  Just in case, please be noted that the snack is not for us, and  it is  for hedgehog, everyone!!! Okay?
Please insert your money to the vending machine and press the select button.  The ticket will come out and  please hand it out to the staff at the reception near you. Then the staff will write the time for you and now you are ready to play with the hedgehog!!!  It will be 30 min from the time they given.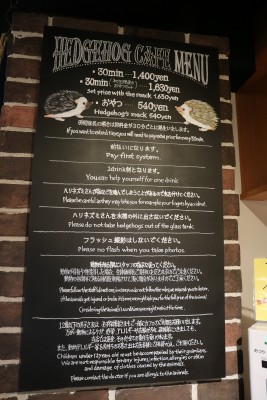 The extend can be done every half an hour. ※The time extend on weekend and holidays are prohibited due to crowdedness. Only on weekdays can be received.
It is cozy little cafe. After we arrived at our seat, at first what we need to do is sterilized our hands!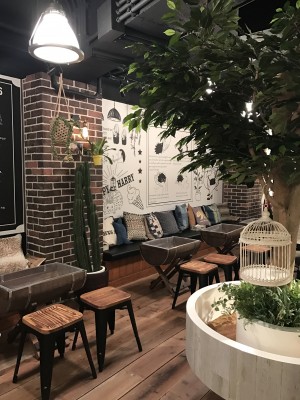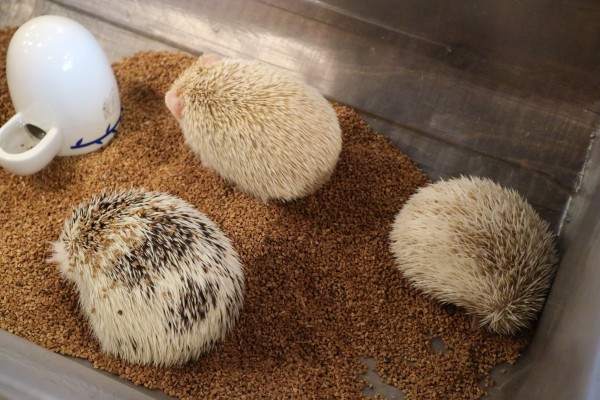 Receiving the  information from the shop manager, Mr. Kondo how to handle the hedgehog, then we are ready to touch them!
Me:"Okay...Gently,  scoop the hedgehog  inside the cage with two hands and flip it over and lay it down on the back. Hedgehog has bad eyes, so be careful not to put fingers near to eyes and nose.... Ah! Unlike what I had imagined, they are quiet and cute! Please wear your gloves before you touch because it is stingy!
Look at him!!! He is sleeping!!! The face he is sleeping on my palm is so adorable!!!"
I will not get tired even I watched him for a whole day! I do not know how many times,  Shisei and I was saying "So cute~!!"ahahaha
There was a girl and her parent sitting next besides us! We asked her to participate in our video!
All: "Thanks Riko for helping us making a video!"
Look like Jaasir and Shisei are having fun time chilling out with hedgehog with Riko~!!!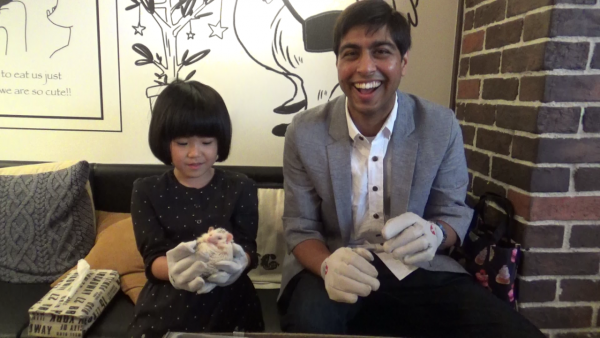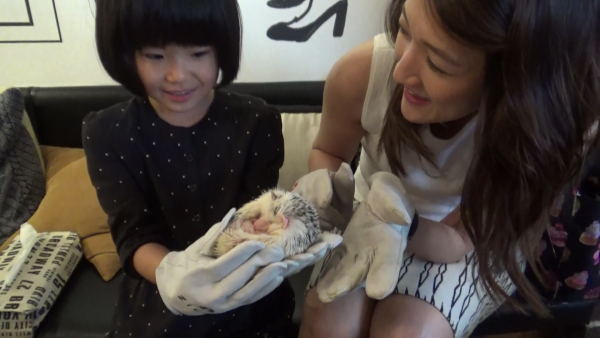 In far side of the room, there is drink self-service vending machine. Please free to have a drink while playing with the hedgehog!
Ah~!!! 30 min past away really fast!!!  =(  The hedgehog are all now entering to have a nap time! And seem Jaasir and Shisei had a good time in hedgehog cafe!
Jaasir:"It's a great trip for everyone to have some fun and play with hedgehogs! Japan is known for its fun and crazy cafes, so you may as well try to visit them all while you are around! A hedgehog cafe is also rare and interesting in itself so be sure to add it to your list!"
Shisei: "The small hand and feet, round body, and sleepy eyes・・・Feels like the hedgehog will take our daily stress away and grab our heart and be healed by just looking at them.  "HARRY" is the hedgehog cafe where we can touch cute hedgehog like them!  
You can spend a wonderful time with a hedgehog while diverging your stress and by having a cup of drink!  Everyone, please experience this moment!!!"
Thanks to Jaasir,  Shisei, Riko and Harry staff  for cooperating in our video today! =)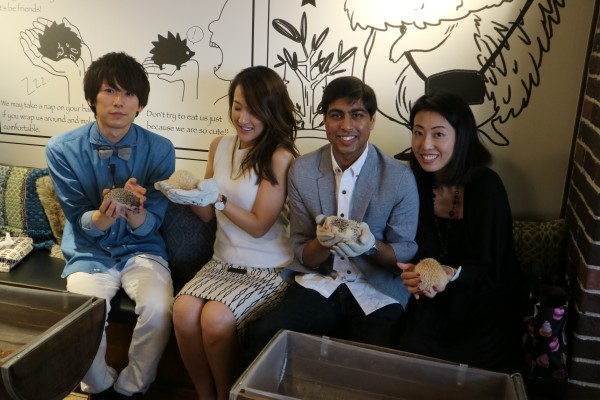 The animal cafe I went for first time was amazing and it was definitely the healing place! Please come down to "HARRY" the hedgehog cafe to see the adorable hedgehog! You cannot miss it!!!
[Information]
・Shop Name:Hedgehog Cafe "HARRY"
・Address:(150-0001) 4F, 1-13-21 Jingumae Shibuya-ku, Tokyo
・TEL:03-3404-1180
・Operation Hours:12-20時〔カフェの受付は19時までです)
・Charge Fee(Tax Included):
①30 min /1400 yen
②Set of 30 min+snack(30 min/1630 yen)
③60 min /2800 yen~(Only for reservation)
(For people who are concerned about waiting time, the booking is also available)
Please read the notes below:
※For people who had reserved, the extend time will be per hour
※Please be aware that cancellation of the reservation on the day, and 15 min delayed will be handled as canceled,  it will be charged full. However, if you made a call for delayed, it will be not handle as cancellation, but the time will be shortened
④Snack (individual)  540 yen
⑤Extend Time 1400 yen
・URL: http://www.harinezumicafe-harajuku.com/
(Video and photo shooting by Miki)
Shops and tourist spots that appeared in the guide articles
>> Writer introduction