A Fantastic Blue Night Sky Will Envelops You Around!! Let`s Visit the Limited Summer Event, "Milky Way Illumination!!!"
07/18/2017
Hi everyone! This time, we heard every year Tokyo Tower is hosting an amazing "Milky Way Illumination" event, so Shisei and I came here to have a look! Let`s go!
"Tokyo Tower" is a first radio tower in Japan was established in December 23, 1958. Nowadays, it is a symbol of Tokyo and one of the tourist spot been loved by all.
This  "Milky Way Illumination" event represents the fantastic "Summer Seasonal Tradition", the story of Orihime and Hikoboshi, the Legend of *Tanabata. We will guide you to a fantastic world to the outer staircase of the blue stars which continues to the observation deck, and to the large observation platform where the blue night sky spreads all over!
※*Tanabata (Star Festival) is known as the Star Festival, is a Japanese festival originating from the Chinese Qixi Festival. It celebrates the meeting of the deities Orihime and Hikoboshi which represented by the stars Vega and Altair respectively. It is a legend about two hard workers forgot about their work because they are so in love and been separated from her father on the opposite bank of Milky way. The Heavenly Ruler was upset of seeing this, the Heavenly Ruler promised and allowed them to meet on July 7, in once a year.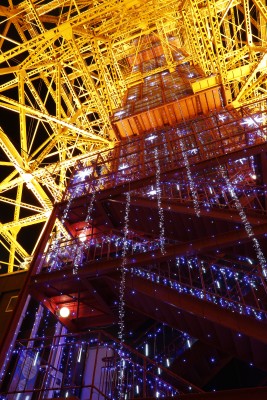 提供:クレジット(C)TOKYO TOWER
Here, we arrived at the outer staircase! When you look up from the bottom, aren`t they beautiful? The blue light is an image of stars. The colors of red Tokyo Tower and blue stars are in harmony! As if reminiscent of Orihime and Hikoboshi in the story, the 600 stairs leading to the observation deck seek something important like the story of Orihime and Hikoboshi, you may have a strange feeling like you are walking in the Milky Way. You also can enjoy the view of Tokyo while climbing the stairways!
Let`s experience climbing 600 steps too!!! Let`s go!
After climbing the outer staircase, you can receive a challenger limited, "Climbing Stairs Certificate" and free SAMURAI BLUE, "Blue Fire Sticker" that is not for sale! Please challenge and climb to the end!
Now, we arrived at 1st floor (150m) of main observatory. Lets step into the fantastic world where Orihime and Hikoboshi meet.
Wow, please have a look!!! If you look up, you can see a blue night sky spreading all over, a blue shiny star, a white Milky Way flowing with smoothness, and a white arc shooting stars that occasionally shows. It is as if you stepped into the very fantastic world! The light reflects to the floor and the window of observatory platform is beautiful!!
We came during the Tanabata events(7/1-7/7, so they were holding *Tanzaku Kazari. We decided to write our wishes on the piece of colorful strips and hang it to the observatory!!!
*Tanzaku is a strip of colored paper we use to write a wish and hang it to the bamboo tree in Tanabata season. Originally, it is a thick piece of paper to read out Japanese poem, such as Tanka and Haiku.
"Wonder what everyone are wishing for . . . "
"My wish is. . . What?! You want to know my wish? Nope, I cannot tell you that! It is a secret! lol "
After we finish writing the wish, let`s tied it to the bamboo leaf.  The strips filled with wishes will be dedicated to nearest Zojoji temple.
We heard they are hosting different kind of illumination on 2nd floor. "TOKYO TOWER SUMMER LIGHT FANTASIA" is a projection mapping illumination! You can enjoy 3 different type of projection mapping, such as AUROLA TROPICAL NIGHT(Facing to Tokyo Bay・Haneda), FIREWORKS & STARLIGHT SHOW(Facing Imperial Palace・Marunouchi), and TOKYO TOWER SEA(Facing Roppongi・Shinjuku), all of them are beautiful!
提供:クレジット(C)TOKYO TOWER
It is cool that the fireworks are stereoscopically projected!
提供:クレジット(C)TOKYO TOWER
There are also Sunflower, stained glass with summer horoscope etc., and it is projected according to BGM.
This is TOKYO TOWER SEA. It is feels like we are at the beach at night. The waves and sea creatures will show up in time to time.
During the "Milky Way Illumination" event, they also hosting the following SAMURAI BLUE (football) campaign below, so please also check that out!!!
①You can take a picture with SAMURAI BLUE at the west side, 1st floor of the main observatory (Direction to Roppongi・Shinjuku). Installing of "Blue fire photo spot!!"
②For those who used the "Blue Stars outer staircase" connecting to the main observatory during this time, and you can get a free "Blue fire sticker" that is not for sale!
③On August 31st,  the Tokyo Tower will light up to blue fire, wishing for a good fight of SAMURAI BLUE "the final round of Asian qualifiers(ROAD TO RUSSIA)"(Japan VS Australia).
How was it? This event lasts until Sept 3rd! If you are visiting Tokyo during this time, please check it out and enjoy this amazing illumination with your friends and your love ones!!
[Information]
"Milky Way Illumination"
・Event Date:June 1, 2017~September 3, 2017
・Operation Time:
Main observatory: 9:00~23:00pm
Outer Staircase (Weekdays): 17:00~23:00 Sat・Sun・PH: 11:00~22:00pm
(Cancel in case of rain) 
"TOKYO SUMMER LIGHT FANTASIA"
・Event Date:June 16, 2017~September 3, 2017
・Projection Time:
June 16th, 2017- August 3rd: 7:30pm - 10:50pm
August 4th - September 3rd: 7:00pm - 10:50pm
・Fee:  Entrance to Main Observatory
Adult (Above High School):  900 yen
Children  (Elementary ~Junior High Students):  500円
4 years and above and under Elementary: 400 yen
Address:4-2-8 Shibakouen Minato-ku, Tokyo
TEL:03-3433-5111
Shops and tourist spots that appeared in the guide articles
>> Writer introduction