BOTANIST Tokyo
07/28/2017
The "BOTANIST Tokyo" has opened the first flag shop on July 2017 at Harajuku Omotesando. Here is BOTANIST total life style store.

There are  2 stories, and on the 1st floor is select shop which is natural and organic products were gathered. They sell a wide varieties of items starting from best seller non-silicone shampoo and treatment (with silicone), natural cosmetics, variety goods,  oral care products made by natural plant-derived ingredients proposal by "diem" and "Natural Healthy Standard" which is health care products.
BOTANIST hair care can be selected from Moist or Smooth. Moist have high moisturizing and it is good for those who cares about damage hair, reduce the volume of your hair or who have thick hard hair. In other hands,  Smooth is for person who want to make your  hair to be soft from the roots, silky hair  and for those who have soft hair. You also can combine Moist and Smooth too.
Some may feel hair is sticky after using hair conditioner .  This is because BOTANIST hair conditioner had excellent  moisturizing, and many hair repair ingredients are blended. Many reasons seem to be caused by large amount being used, so please try adjust the amount once.
The varieties goods are cute too!! The limited pouch and bags you only can purchase here are also the items you cannot miss!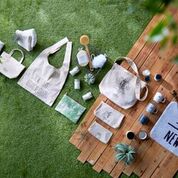 On the 2nd floor at "BOTANIST Cafe", they provide 4 different types of "BOTANIST Brunch Salad Set." Also, Vegan and Vegetarian can enjoy. ※A Set of soup, bread  and smoothie.
Besides this, they provides refreshing gin based cocktail using relaxation drink "Chill Out"!
The recently popular herb tea,"Butterfly Pea",  which is change to brilliant color and  5 different types of smoothie were also recommended! If you prefer non-sweet smoothie, I will recommend "GREEN MINERAL." The base is  spinach, kale, black sesame and use only banana for the sweetness. Other 4 smoothies include honey, so it is bit more sweeter. My recommendation is "ORANGE CAROTENE." It is not that sweet and also smoothie full of beauty components  mixture of  yellow pepper, carrot and cabbage etc.!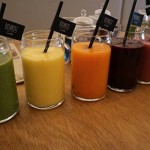 If you stopped by at "BOTANIST Tokyo", please go on the 2nd floor as well and next enjoy the taste and atmosphere!
[Information]
Shop:BOTANIST Tokyo
Address:1・2F,  6-29-2 Jingumae Shibuya-ku, Tokyo
Tel:1F Shop 03-5766-3777 /  2F BOTANIST cafe  03-5766-3778
Operation Hour:11am-20pm
URL: http://botanistofficial.com/
>> Writer introduction