Traditional Japanese Souvenirs You Must Buy When You Come To TOKYO
09/19/2017
What do you buy for souvenirs when you visit Japan? Shiroi Koibito or green tea flavor snacks? Today, I would like to introduce 2 perfect items for souvenirs only can buy it here in Tokyo!! Let's check it out!!  
Ginza Kikunoya
Ginza Kikunoya is a Japanese traditional confection (wagashi) shop established in 1890. Ginza Kikunoya have long history and is particular about how each Wagashi made. They only use natural ingredients, natural coloring, and they carefully making each one by craftsmen's hands. The "Fukiyose" is  one of the popular Wagashi from the time they established the store;  when you open it, it is colorful like treasure box.They provide the seasonal and standard cans.
"Fukiyose" is mixed of  traditional Japanese dry Wagashi, such as "Kompeito", "Rakugan", rice cracker, Japanese cookies etc., and all their products they are valuable about "Wa."  Furthermore, the elegant taste is made with the thought that each craftmen wishes to provide something relaxing.
This is standard items, "Registered trademark Fukiyose Special Can JAPAN (small can)."
It is the can  Japanese season  Wagashi are scattered around Fuji mountain. The four season of Japan are clearly expressed and it is perfect for Japanese souvenir.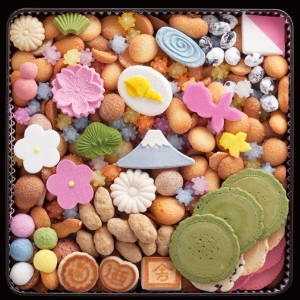 "Registered trademark Fukiyose Heart Biyori" is also standard item and the package is designed by illustrator, Uni Ota. She made it  so cute that she treat "Fukiyose" with pink heart and red snapper.
This is also unique Fukiyose you can not miss!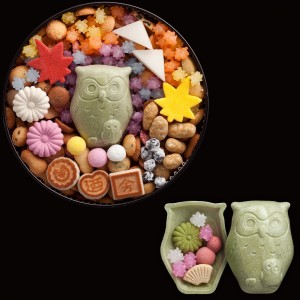 It is seasonal Autumn can, "Registered trademark Fukiyose Fukuro(owl)." The 8 happiness: good luck, love fortune, health, business, marriage, victory, popularity and success are gathered in one can. This only limited this year. Every year, they are providing different types of seasonal cans! From 15th of October,  "Registered trademark Fukiyose Zodiac" can be purchase! Please come by and try this elegant taste Fukiyose, you never had before.
Price
①  Registered trademark Fukiyose Special Can JAPAN (small can) 2,500yen(tax excluded)
②   Registered trademark Fukiyose Heart Biyori 1,000yen(tax excluded)
③   Registered trademark Fukiyose Fukuro(owl) 1,850yen(tax excluded)
Ginza Kikunoya
Address: 104-0061 Ginza Core Building, 5-8-8 Ginza Chuo-ku, Tokyo
Tel:  03-3571-4095
Tsuruya Yoshinobu IROMONAKA
The second item is from"Tsuruya Yoshinobu", this is also one of the Japanese traditional Wagashi shop from Kyoto established since Edo period.   Tokyo limited IROMONAKA is different to other Japanese standard Monaka and can be created your own. Monaka is made of bean jam sandwich by the thin wafers. "Tsuruya Yoshinobu" made the thin wafers colorful to attract the customers and separate the bean jam filling. The jam can be selected from 4 different taste. There is one seasonal jam and three standard jam to choose it from. The standard jam is "red bean","matcha" and "smooth red bean." The seasonal jam are from one of this 5 flavors they sell in a  year, which is "cherry blossom","rose","caramel", "chestnut" and "Yuzu." They are providing chestnut jam from September! Moreover, I also suggest you can try two different flavors in one time and have your own taste!
Tsuruya Yoshinobu recommended jam are"smooth red bean" and "red bean." They use "Umaji Dainagon" for the ingredients they normally will not use.  "Umaji Dainagon" is the finest among high-class Tanba dainagon red bean! Although, they made the jam sticky and strong sweet taste, so that even you sandwich with wafers, the wafers can be eaten crispy.
For foreigners, matcha jam is popular and season jam for Japanese, although how about trying the "red bean" and "smooth red bean"  jam what Tsuruya Yoshinobu are particular about!  
Price
IRONOMONAKA 2,808円 (tax included)
※They also sale individual.
Tsuruya Yoshinobu  Coredo Muromachi 3
Address: 103-0022  1F Coredo Muromachi 3, 1-5-5 Nihonbashi Muromachi Chuoku-ku, Tokyo
TEL:(03)3243-0551
Shops and tourist spots that appeared in the guide articles
>> Writer introduction