Beyond Your Imagination! 3 Traditional Japanese Sweets Which Continues to Evolve. . .
05/11/2018
Nowadays, many overseas sweet shops have landed in Japan, and due to the influence of SNS, such as posting on instagram, the Japanese traditional sweets also started to do model changes and continue to evolve new products. This time, I will introduce Japanese sweets that is perfect to post on instagram!
Odango: Shirokane Honki Dango
At first, I want to introduced is Odango. The foods that is a shape of rounded ball is called "○ ○ dango (dumpling)", but in general, it refers to Japanese sweets. It is a sweet adding water or hot water to the grain powder and make it rounded. The Dango on a stick is called, "Kushi Dango", and the standard taste is Mitarashi and red beans. Besides that flavor, there is Kusa Dango and Hanami Dango etc..*Mitarashi is a sweet soy sauce.
Mitarashi Dango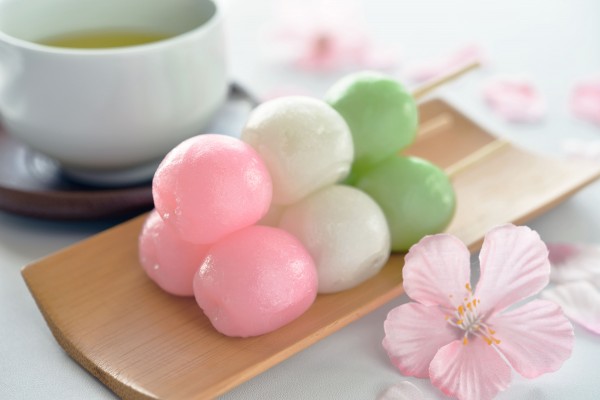 Ohanami Dango
This time, I would like to introduce a specialty shop,"Shirogane Honki Dango." It is the shop specializing in Dango using "Brown rice" attracting attention from the world! At here, you can eat Dango made from brown rice rich in dietary fiber, which is said to be "complete nutrition food" using 100% of brown rice of Koshihikari from South Uonuma.
At here, you can choose it from sweet to salty brown rice Dango, so there is a menu for those who do not prefer sweet flavors!
You can find it from the popular standard flavors: Mitarashi, Isobeyaki, red bean paste (chunky or smooth) to rare items: chocolate granola, Sichuan style hot crispy, and cheese walnut miso etc. Also, because there are wide variation of taste, it is interesting and perfect for souvenirs to have it on that day.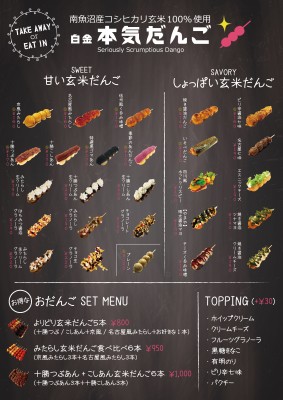 The grilled Odango looks so yummy!!
From the left: grilled soy sauce, Isobe, smooth sweet red beans, Nagoya style Mitarashi, and Kyoto style Mitarashi.
The "Seasonal red bean Dango" will change the taste depends on the seasons. It will be nice to try the seasonal limited taste when you visit at here.
The shop also offer other lunch sets and Odango sets with an reasonable price. It says that sake and Dango matches well, it turns into a retro Odango BAR from evening! They also provide brown rice Dango using Shichimi and chili oil etc., so you can enjoy various arrangements.
Detail
Shirokane Honki Dango
[Operation Hours]
Mon〜Sat: 11:30~15:00
※It will turn into bar from 19 pm to 24 am on weekdays 【BAR Luna Gena】
[Holiday]Sunday, Public Hoilidays
[Address]2F, 6-1-4 Shirogane Minato-ku, Tokyo
[Tel]03-3441-8355
[Access]
Bus:1 min walk from Ebisu 3 Chome
10 min walk from Hiroo Station
12 min walk from Shirokane Takanawa Station
13 min walk from Ebisu station
[URL]http://portward.jp/
Monaka:Azabujuban Wan Monaka Hanaichie
In general, "Monaka", is a sweets contain red bean paste filling and sand with skin made from rice cake. However, some contain mochi with the red beans and there is a various types of shape.
This time, I want to introduce the shop named,"Azabujuban Wan Monaka Hanaichie." The filling they are using at here is not sweet! Why? This is the reason! They used ingredients like miso soup, a variety kind of soups such as tomato and seafood base etc. They even have Ochazuke, porridge and risotto etc. are used instead of "red bean paste", so even those who are not good at sweets can eat! ※Ochazuke is a rice soaked in the tea with ingredients.
A little unusual "Monaka" is not it? It is a product that you can have 100 kinds of different taste, so is it also perfect for souvenirs.
The picture below is "Shark Fin" soup and Italian style "Minestrone" with tomato, zucchini and carrot. By freeze dry the ingredients, that will bring out the original taste, and it will turn into a elegant soup close to authentic taste!
The "Ochazuke" is also available from the classic ingredients such as salmon and kelp, as well as a variety of seafood, minced chicken, and mentaiko etc. This is the most popular "Sockeye salmon" and "Beef shigure." ※Beef Shigure is seasoned beef made by method for producing shimmered beef with ginger.
There is a wide varieties of types to choose it from! How about trying different tastes!
Detail
Azabujuban Wan Monaka Hanaichie
[Operation Hour]11:00~19:00pm
[Holiday]Second week of Tuesday
[Address]2-1-1 Azabujuban Minato-ku, Tokyo
[Tel]03-6453-8370
[Access]3 min walk from Tokyo Metro Namboku Line・Oedo Line "Azabujuban", Exit 4
[URL]http://www.hanaichie.com/
Daifuku: Tokatsu Ginryu Strawberry Daikanyama
At last, Daifuku is a soft rounded rice cake stuffed with sweet bean paste. There are few types in Daifuku, such as "Bean Daifuku" with black beans, "Japanese mugwort mochi" mixed with Japanese mugwort in mochi and others. Nowadays, there are plenty of variations other than the standard taste, including those with whipped cream and red beans inside etc..
At here, I want to introduced the shop in Daikanyama, "Tokatsu Ginryu Strawberry." This shop was opened by a farmer cultivating, "Ginryu Strawberry."
In general, "Strawberry Daifuku" contains strawberry inside the mochi with a red bean paste, but at here, they open the top middle of Daifuku, and put strawberry on the top. You can also experience the delight of making your own Strawberry Daifuku by putting the strawberry after.
In addition, the strawberry they are using is strawberries raised carefully in "Otofuke-cho, Tokatsu, Hokkaido." "Ginryu Strawberry" have "Sweetness" "Fragrant", and "Moderate sourness." In Daifuku, the red bean paste made from Otofuke-cho and whipped cream from Hokkaido are used. It is a product that complements the fragrance and sweetness of "Ginryu Strawberry."
Besides Strawberry Daifuku, they provide original soft ice cream and strawberry tart using Ginryu Strawberry. It is a shop that you can enjoy strawberries all year round. Please come by for those who like strawberry or Daifuku!
Detail
Tokatsu Ginryu Daikanyama
[Operation Hour]10:00 ~ 18:00
※Depending on the sales, it may close the business earlier.
Please contact the shop about the sales situation by phone.
[Holiday]Wednesday
[Address]1F Maison Koan NaDoarn-Knaph, 9-3 Sarugakucho Shibuya-ku, Tokyo
[Tel]03-6416-3434
[Access]
5 min walk from Tokyu Toyoko Line "Daikanyama Station" North exit
11 min walk from JR Line"Ebisu Station" East exit
[URL]http://ginryu.hokkaido.jp/
>> Writer introduction