For Foodies!! The Popular Ekiben that You Can Buy at Tokyo Station!!
05/04/2018
"Ekiben" is a lunch box for railway passengers sold at train stations and on the train. The rice balls sold in Utsunomiya, Tochigi in 1885 over 130 years ago are considered the first example of "Ekiben."  Having Ekiben while enjoying the scenery by riding the railway is exquisite! Also, Ekiben that is made with a plenty of seasonal and local ingredients will spills the smile and can feel like you are going on a trip even if you eat at home.
This time, I would like to introduce the store called,"Ekibenya Matsuri", in Tokyo station. At here, they have 200 kinds of Ekiben from each prefectures every day and many people are seeking what to buy on the way to their destination. Although, because they are wide variety of Ekiben to choose it from, I assume that most people will not know what to take. I had an opportunity to spoke with Mr. Izumi, who is popular been appeared on TV many times and have a long experience about Ekiben. From now,  I will divide into few categories from his recommendation to popular Ekiben among foreigners and Japanese! Here we go!
++Meat++
No.1 Gyuniku Domannaka : 1,150yen (Yonezawa, Yamagata)
Here is a popular long-series Ekiben from Yonezawa prefecture, "Gyuniku Domannaka."  It is a product that uses Yamagata rice called, "Domannaka" and put boiled sweetened Japanese Wagyu beef and minced beef on the rice. This Ekiben came out with the opening of the Yamagata Shinkansen (bullet train line). ※ Please note that Yonezawa beef is not used in this Ekiben.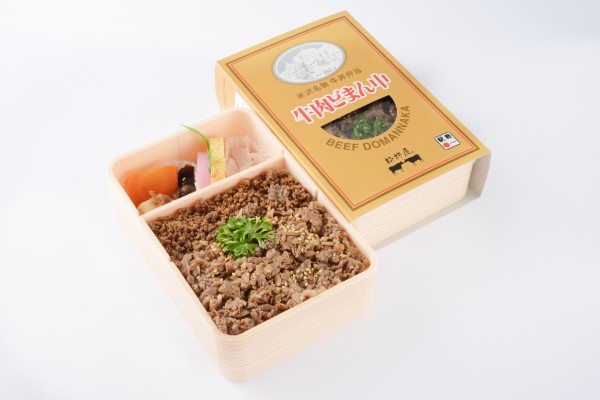 If you prefer to eat Yonezawa beef, the price will increase, but you can choose it from this two Ekiben, the "Special Charcoal grilled Yonezawa Beef Kalbi (1600 yen)" and "Yonezawa Beef Bento (2140 yen)."
 Top: Special Yonezawa Beef Charcoal grilled Kalbi       /   Bottom: Yonezawa Beef Bento
 Popular to Foodie:  "Torimeshi" 900yen (Takasaki Station)
This Ekiben is commodity selling from the year when the statue of Hachiko (a faithful dog), was built in front of the Shibuya station, Tokyo, in 1934. The rice is cooked with soy sauce flavor;  the chicken skewers, chicken teriyaki and cold chicken are all seasoned with sweet sauce in different and unique cooking methods.
 You Can Enjoy Like Freshly Prepared!! : Beef Tongue Bento 1350 yen (Sendai Station)
This "Beef Tongue Bento" from Sendai, Miyagi is No.2 Ekiben in "Ekibenya Matsuri." It is a mechanism that can warm Ekiben when you pull the string. The beef tongue is grilled piece by piece on charcoal fire and seasoned with special salt sauce. Please enjoy it with  delicious wheat rice!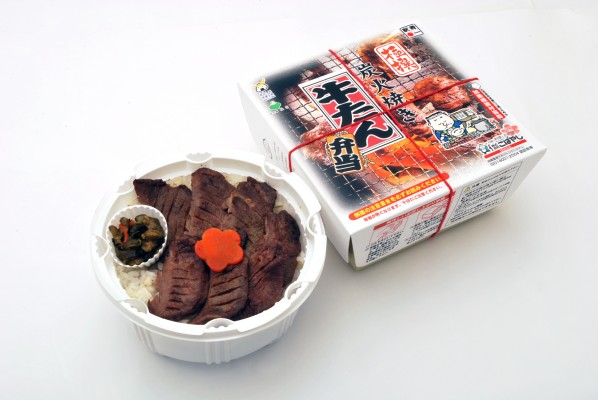 ++Seafood++
100 Years of Long History:Traditional  Press Horse Mackerel Sushi 1,250yen(Shonan, Kanagawa)
"Ofunaken" have history over 100 years since 1913, and there signature menu is "Traditional Press Horse Mackerel Sushi." It is a commodity made with traditional mixed vinegar that can only take two pieces from fresh horse mackerel.  Some may think that there is fishy smell, if you heard of horse mackerel, a lot of people dislike that, but they don't and it is also characterized by a soft lean body and not oily.
 Taste of the Seafood:  Ikameshi  650yen (Hokkaido)
From Hokkaido, I want to introduce "Ikameshi Abe Store Co., Ltd." which has a long history of establishment since 1903. The soft squid and rice cooked in sweet spicy "secret sauce" matches well, it is a product that can eat many so easily.
The cooking method is put raw rice (blend of glutinous rice and glutinous rice) in the squid; boil it in a way not have been changed from its founding since then, and put the boiled squid in "secret sauce" and season it!  This has become a product that has been loved for many years.
Sanin Tottori Kani Meshi (Tottori Crab Rice)   1,140yen
This is a Ekiben use plenty of crabs taken in the Sea of ​​Japan and put it in a cute crab container.  The rice is cooked using crab miso, and the crabs on top are also seasoned with local soy sauce. It is attractive that all the part of crab meat can taste with this one Ekiben!
Also,  there is one more features of this container!  They are using natural decomposition containers. As Ekiben, it is first in Japan, and do not have to worry about dioxin, it is decomposed into microorganisms in the natural environment, and environmentally it is a  friendly container.
Whether it sticks to history, "Fukkoku-ban Tai Meshi (Reprint Sea Bream Rice)   880 yen" from Odawara is a Ekiben that have not changed from Meiji era period is recommended.  Also, the attractive point about this Ekiben is the drawing of wrapping paper from the Taisho era.  In addition, the "Special Crab Meat Rice" from Fukui Prefecture is also a popular item using Canadian and American snow crabs.
 Fukkoku-ban Tai Meshi (Reprint Sea Bream Rice)   

++Others++
 For Those Who Want to Enjoy the Taste of the Long-established Store Dishes Easily: "Tokyo Bento" 1,650 yen (Tokyo)
"Tokyo Bento" is limited only at Tokyo station, which can enjoy the taste of long-established stores in Tokyo. Including the King Salmon pickled in sake lees of "Ningyocho Uokyu", beef Tsukudani of "Asakusa Imahan", the eggroll of Tsukiji "Sushi Tama  Aoki", and sweetened boiled vegetables of "Nihonbashi Daisou." As for rice, Akitakomachi is used, and small Japanese traditional sweet is  attached as dessert. It is attractive that the taste of a long-established stores can be easily eaten with this Ekiben! ※Tsukudani is a preserved food such as fish, shellfish seaweed, and beef etc. boiled in sweet soy sauce.
Ultimate Noriben:  "Nori Noriben" 900yen (Koriyama Station)
Fukuzuya, "Nori Noriben" was widely spread out in the word, after won the first place on the TV broadcast, "Ekiben Ranking." The Nori (dry seaweed) is the main ingredient of this Noriben. They use thick "Michinoku Kanryu-yaki(Cold-burned seaweed) Nori" from Sanriku coast, and has full of mineral. For Okaka, they use fried bonito flakes marinated with soba sauce.※Okaka: Mainly, it is made with bonito flakes, soy sauce and sugar.
Usually, there is Okaka and sweetened Konbu (kelp) together on the top of the rice and covered with Nori, but this ekiben is different. They made it like millefeuille and spread Nori  in two layers. On the bottom rice they put sweetened kelp, and Okaka on the top rice. The rice is from Koriyama brand rice, "Asaka Mai." The taste of the side dishes is not strong and  sweet, it is a ekiben that everyone can easily have it
 Phantom Ekiben in Tokyo:  "Tsugaru Menkui Kaiseki Bento Hitokuchidarake"  1350yen (Hirosaki Sation, Aomori)
This Ekiben only comes at night after 19 pm. They used plenty of popular dishes and ingredients from Aomori prefecture, and can have it all in a small bites. There are 24 kinds of Class B gourmet and Aomori specialties in this Ekiben.
++ Featured goods ++
Please Pay Attention to Seasonal Ekiben Using Seasonal Ingredients!
Many Ekiben are also available that can be tasted according to the seasons. It is also a pleasure to eat while feeling the season. The  "Seasonal Lunch Box Tohoku Cherry-blossom Viewing Bento (1250 yen)" is just perfect for Spring. From the wrapping paper, you can feel the Spring, and if you open the lid,  it is filled with local dishes of Aomori, Iwate, Miyagi, Akita, Yamagata and Fukushima prefectures!
For those who prefer bread than rice, how about eating "Ofunaken Sandwich (530 yen)? "Ofunaken" was the company started sandwich for the first time as a Ekiben in 1899. They use boneless ham of  "Kamakura Ham" founded in 1887 and can enjoy 2  kinds of taste, the boneless ham and cheese sandwich.
For Vegetarian・・・
There are a lot of vegetarian these days. The only Ekiben that vegetarian people can eat is "vegetarian lunch box (900 yen)." It does not contain any meat, seafoods, milk products, eggs, and has plenty of vegetables in it!
This is Popular Among Japanese and Foreigners!
If there are 200 kinds of Ekiben, it is hard to find which one to pick. The meat and seafood corner at the entrance are lined with popular items that matches the taste of Japanese. It is a items that do not mistake even you choose any items from there. The corner here is also recommended, but seem Kaisen-don and pressed sushi using seafoods are popular among foreigners. In addition, Ekiben which modeled for Shinkansen(bullet train) for children is also popular. Regardless of children, I saw a lot of adults take it on their hand. The most popular model is the limited,  "Shinkansen E7 System Bento (1300 yen)"!
This Ekiben is made it for children, so it contains wiener, meat dumplings etc. that children like, but it is probably good for foreigners to feel Japan, because Japanese onigiri "rice balls" are the main food of this Ekiben. The cute container will also be memories of the trip of Japan! ※Each rice ball contains salmon and  tuna.
This is only a part, and there are plenty of Ekiben that could not introduced. Also, have many other Ekiben for children as well. "Ekibenya Matsuri" is open daily from 5:30 am in the morning to 23 pm. There are a lot of selections to choose if you come  between 11 am to 13 pm. At realization sales corner on the right side of the entrance which changes every two weeks, they are selling fresh Ekiben. It is relatively crowded at any time of day, so it may be a good idea to decide in advance what you want to eat before you go.
[Shop Detail]
Operation Hours:5:30am -23:00pm
Address:Inside of JR Tokyo Station (Gransta), 1-9-1 Marunouchi, Chiyoda-ku, Tokyo
>> Writer introduction