This is How Japan Celebrates Valentine!! Here is the Recent Popular Chocolate We Recommend!
02/02/2018
Do you know how Japanese people celebrates Valentine Day`s? Maybe some of you know, the Japanese custom how we celebrate Valentine is different to other countries. In most countries, a guy who already in couples give flowers to his girlfriend  is common. In Japan is opposite. It is a day for girls to tell their own feeling toward the person they love with handmade chocolate, and sending the obligatory chocolate for those who do not have any feelings.  However, recently this customs are changing. A lot of girls giving "Tomo-choco (tomo=friend choco=chocolate)" to their friends(include girl friends), families, and co-workers as well to give thankfulness.  
You know Japanese custom already through here that handmade is for person you like. If you come to Japan in this season, how about enjoying the Japanese traditional Valentine`s Day that is different from usual one? There are wide varieties of chocolates you may will not see in other countries; from gorgeous one, a chocolate combined with "WA", with cute appearance, a chocolate that can make the person laugh and so on.  Today,  I want to focus on perfect obligatory chocolate that  can be handed over in each scene, to yourself, to friends and to families etc. Let's check it out!
Treat  for Yourself or To Girl Friends Morozoff Hitohira"Hohoemi" 7 Pieces
"Morozoff" is known as a pastry shop established in Kobe selling crispy handmade cookies and puddings.  The first beginning of "Morozoff" was as a chocolate shop in 1931.  In 1932,  they introduced the custom of "Giving chocolate on Valentine's Day" for the first time in Japan and now it is a Japanese culture these days. From "Morozoff" who is loved from such ancestry,  they are selling the cute flower motif chocolate!
I like to introduce the popular textile "Hohoemi" which is flower drawn by idyllic curves among "Hitohira" series collaborated with original textile "SOU · SOU" in Kyoto.
It is a original chocolate that combined with Japanese traditional Wagashi,"Monaka." In a box, you can enjoy 3 kinds of tastes: Strawberry Chocolate × Raspberry, Yuzu Chocolate × Yuzu and Milk Chocolate.
Please enjoy the chocolate combination with Japanese "Wa" and western mixed!
Detail

Morozoff Hitohira"Hohoemi" 7 Pieces
[Sales Period]:February 14, 2018
[Price]:1620yen(tax included)
[Where to Buy?]:ONLY AT: Matsuya Ginza, Takashimaya Nihonbashi, Keio Shinjuku, Odakyu Shinjuku, Matsuzakaya Ueno, Tamagawa Takashimaya, Arcakit Kinshicho
A variety of fun! Also a Souvenir to Home! "Caffarel Fiocco Blue" 20 Pieces
From the well-known Italian chocolate brand "Caffarel", I like to introduce Valentine limited,"Fiocco Blue 20 pieces."
Caffarel is a long established chocolate brand in Torino, Italy since 1826. All fourteen kinds, 20 pieces of chocolate are contained in a pretty blue can, including Caffarel popular  Gianduja. On the can, you can see children and cat playing happily at a shop in "Caffarel", and if you open it, as if there was a continuation of the story of drawing, it entered the world of fairy tales. I may can image the children are innocently playing with animals in the forest. It is a chocolate that can inflate imagination not just having it.   "Caffarel Fiocco Blue" , how do you want to describe the continuation of this story?
If you think 20 pieces is too much・・・
How about getting a  "Fiocco Rosa" There is 7 pieces of chocolate in a Bag can. ※1296 yen tax included. This also provide with cute can. It is shape of the bag, so I feel children will like it!
Detail
Fiocco Blue 20 pieces
[Sales Period]:Jan. 11, 2018 〜Feb.14, 2018
[Price]:3240 yen(Tax Included)   1 Can 20 pieces
[Where to Buy?]:Caffarel Gransta (Inside of Tokyo Station)
URL: http://www.caffarel.co.jp/
Let`s Enjoy Japanese Obligatory chocolate Culture! Who Do You Want to Give?
"Yuraku Confectionery CO. LTD",  the famous for that popular 30 yen chocolate bars  "Black Thunder" opened the Obligatory chocolate shop for the first time in two years in "Tokyo Okashi Land" of the Tokyo station Ichibangai. You will see a dazzling golden prominent exterior  and a powerful poster says,  "Obligatory chocolate just from a glance" ,  which never considered this as handmade. ※ Black Thunder is a national sweet which has been on sale since 1994 and boasts 130 million pieces of annual sales.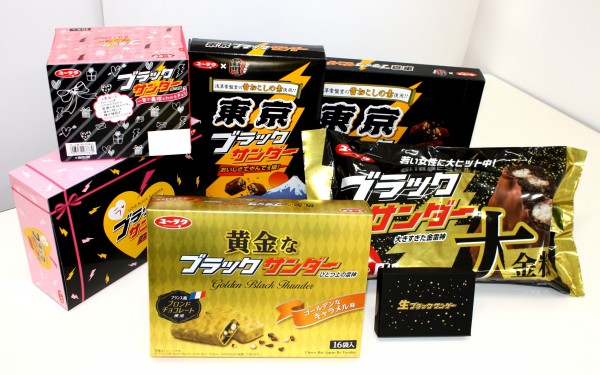 Let's me introduce in order from clockwise from top left.  Starting with the one using the Valentine package, to the right, there is "Tokyo Black Thunder" collaborated with "Tokiwado Kaminariokoshi Honpo" can taste the flavors of peanuts and brown sugar in the same time using "Kaminariokoshi ingredients."  The limited "Black Thunder Big with Gold Powder"  is  35 times big as the usual black thunder, it is perfect for a gift to who really appreciate, and on the bottom right, the "Black Thunder Ganache", is a rare item,  a combination of crispy biscuits and smooth ganache chocolate with sprinkled golden powder in gorgeous box. You also can not miss the "Golden Black Thunder", the caramel flavor Black Thunder using the blond chocolate for first time.
※"Black Thunder Big with Gold Powder : One bar per person and limited 20 each a day. ① 13:00~(10 each) ②18:00~(10 each)Scheduled to have Ticket Distribution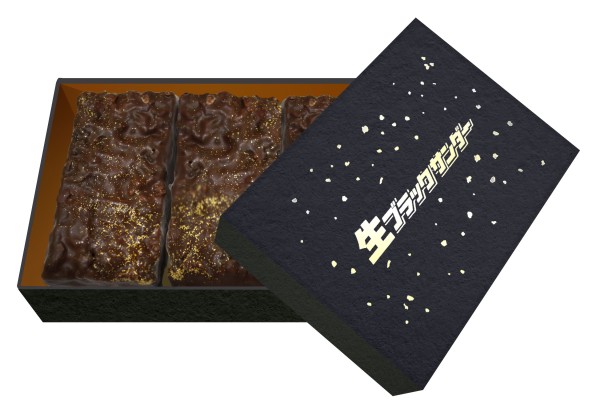 Special " Black Thunder Ganache" only can purchase  one box per person and limited 50 box a day. (① 12:00~(25 box) ②17:00~(25 box). Scheduled to have Ticket Distribution).  It is suitable to a favorite or an important person!
La · Black Thunder Minibar
If you want to send a thank you message along with the chocolate, how about getting the "Black Thunder-obsessive chocolate package." There are 5 different messages written on the each  package. Also, "La · Black Thunder Minibar" contains 6 different types of  interesting messages such as  "Possibly Obligatory Chocolate" or "Misunderstandable" etc., it may be interesting to be handed out to your friends and colleagues. Perhaps if you pass the chocolate with the message says, "Possibly Obligatory Chocolate", maybe he will get shy!
For those who need to distribute to a large number of people, such as a company, this is a reasonable  product! Is not it a commodity that can be handed casually regardless of ages too!!
Detail

Obligatory chocolate just from a glance
[Sales Period]:Jan 12, 2018〜Feb 14, 2018
[Price]:Below 1080 yen
[Where to Buy?]:Tokyo Station Ichibangai (B1) "Tokyo Okashi Land" Event Space
(Immediately from JR Tokyo Station Yaesu Basement Central Exit)

It maybe hard to check the products on your own pace during the Valentine seasons due to crowdedness.  I recommend that you narrow down the items you want in advance. I have introduced the items that is on the market, but  I feel it will be nice you can challenge and handed over your own handmade chocolate to your love ones too!
>> Writer introduction