There seems to be a benefit? The Lip Balm in a 12 Different Charms That Gives You a Luck!!
01/26/2018
"Fukufuku Lip" was released on November 2017, from Isshindo Honpo which was a topic in that Kabuki mask! It was released from such thought,  to want more people to wear the Japanese traditional charms more casually that is transmitted from long ago. By putting the lip balm in a charm symbolizing Japan's tradition, practicality, design combination, and happiness.
They stick into "charm", and have been using the method of weaving called, "Fujiyama Ori" which started in Yamanashi Prefecture Fujiyoshida City for more than 1000 years.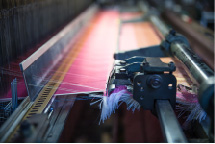 The color of  patterns that craftsmen handle one by hand in Japan are colorful and amazing! Certainly it is!! Since they are using a dyeing method called "Saki Zome" using spring water of Mt. Fuji, all the designs are finished in vivid color.
Season  Limited
The colorful charm of Mt. Fuji,"Mt Fuji Blue" symbolizing Japan with full moon have a sense of quality. Also, the chic  "Fireworks Black" expressed in gold thread and white thread is very delicate pattern, it is perfect for gifts to men.
They are also particular about the lip balm. Using 12 kinds of carefully selected plant-derived ingredients, and valuable essential oil from domestic yuzu for fragrance. It has also been said that Yuzu as  "to rid of bad spirits."
In Japan, "charms" is said to be returned as a habit once a year, but this it is not necessary, and feel free to carry around. The pattern is also designed in contemporary style, is not it a product that is pleasing to foreigners, for men and women, regardless of age, to yourself, or to friends.
They will develop several kinds of new patterns every seasons. The classic is eight types, but popular enough to sell staple items as well! As of now, the products which standardized goods will sold out in last minute, it is also difficult to stock, so if you find a pattern you want, please think that you are lucky and prefer to get it fast as you can!
Detail

[Where to buy?] LOFT and Tokyu hands, Isshindo "Fukufuku Lip" website
URL: http://www.isshin-do.co.jp/fukufuku.html
>> Writer introduction