Visiting the Sacred Power Places That Attracts Luck!! The 3 Recommended Shrine in Tokyo
12/08/2017
There are a lot of shrine in Japan, and it knows that over 100 thousand of shrine are exists in various parts of Japan. This time, I would like to introduce 3 shrines that attracts luck, few hot spots for sightseeing and gourmets spots for foodies!
The Recommend Shrine① Tokyo Daijingu
First shrine I want to introduce is,"Tokyo Daijingu." It is known as God of Love. They first established in 1880, in the land of Hibiya. After the Great Kanto Earthquake in 1928, they moved the shrine to Iidabashi, a 5 min walk from JR Iidabashi station.
As this shrine is very popular and known as God of Love, a lot of people comes here for worship. Let`s explain to you how to purify ourselves at Chozuya and how to worship to God.
Before proceeding to stand in front of the deity, as a manner, we need to wash our hands and mouth to purify ourselves. Usually there is dipper, however, this shrine does not have dipper, so please follow the instruction below.
①Please wash both hands
②Scoop the water with your both hands and please wash your mouth
※Please do not drink
③Wash your both hands again
When you are done, let's move on to worship! When you go in to Torii, please enter from the edge,  and do not forget to bow once! It was told that the reason why better not to walk in the middle is because it is a path that God enter.
This is how we worship. We need to bow twice, clap your hands twice, pray, and bow once again. First, please throw the money in the offertory box, strengthen your spine and nod. I think that there are more people who dedicate "5 yen (Goen) because we pronounce it same as, "Goen(ご縁=fate)." However, I always throw "1 yen, 5 yen and 10 yen" for worship. Unfortunately,  sorry I forgot the reason, but I heard it from the TV, and it is better not to throw only 10 yen because we also can read this word as "Toen (遠縁),  which  means "Distance relationship."
Then please bow  twice  deeply. After you bow, put your both hands to the high chest and clap your hands twice.  Put your hands together, thanks and pray to God. The bow once more before you leave.
At Tokyo Daijingu, they also sell standard charms and fortunate slip. The Love fortunate slip is popular and said that will come true! If you want to have a good relationship, I suggest you to do it!
※Usually,  it is necessary to return the old charms to the shrine you have purchased once a year. You also can send it back, but if you can not able to return in other reasons, it is better to ask whether you can hold on to it or not.
Detail
Address: 2-4-1 Fujimi Chiyoda-ku, Tokyo 102-0071
[Gourmet]  Kagurazaka Area
1)Canal Cafe
"Canal Cafe" is an Italian restaurant located in front of Iidabashi station. The restaurant is divided into dining and deck side. At the restaurant, they also hold parties such as wedding; and at the deck side is cafe & bar area where you can view the Kanda river and enjoy the restaurant menu more casually. Moreover, in cherry blossom season, it is one of the popular spot where you can enjoy full bloom cherry blossoms blooming Kanda river, and at that time it is crowded with lots of people!
Detail
Operation Hour:  [Weekday] 11:30-23:00
[Weekend & Holiday] 11:30-21:30
Address: 1-9 Kagurazaka Shinjuku-ku, Tokyo, 162-0825
Tel:03-3260-8068
URL: http://www.canalcafe.jp/
2) Torichaya Bettei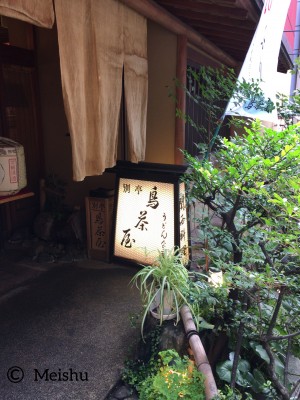 "Torichaya Bettei" is located in the back alley of Kagurazaka main street. Please walk Waseda street toward Kagurazaka station, make a left turn at Matsuya and right turn at Oyster bar restaurant. Make a right turn again at the next alley than can see "Torichaya Bettei" on the right side.
The main outlet is located in Waseda road when you are climbing the slope, however, the lunch menu is different to Torichaya Bettei. The main store provide "Torisuki (Sweet chicken skewer over the rice)" for lunch,  but at here, other than "Udon suki" which is the store signature of this shop, they provide "Oyakodon", which is also the popular dish among repeaters. You may need to wait for a while to get in, but you must try their dishes once. The "Oyakodon" has soup broth in it and very soft, although,  the egg is solid with large portion.  
The Torichaya`s Udon Suki is made it with handmade thick noodle. Udon Suki is a hot pot cooked like Sukiyaki style with  seafood, vegetables,  chicken and Udon. The udon is chewy and the soup is amazing! It  brings out  all the ingredients in the pot!  Moreover, the soup is gentle and it will warm your body and  you are not get tired of drinking it!
 ※Serve for 2
Besides this, there is Sashimi set etc. for menu, but if you are coming here for the first time, I prefer you to try "Udon Suki"  or "Oyakodon"!
Detail
Operation Hours:
[Mon~Fri]11:30~14:30(L.O.14:00)/17:00~22:30(L.O.21:30
[Sat]11:30~15:00(L.O.14:30)/16:00~22:30(L.O.21:30)
[Weekend&PH]11:30~15:00(L.O.14:30)/16:00~22:00(L.O.21:00)
Holidays:12/31~1/3住所:東京都新宿区神楽坂3-6
Tel:03-3260-6661
URL:https://tabelog.com/tokyo/A1309/A130905/13000398/
3)Kagurazaka Chaya Main Store
When you are walking up the main street of Waseda road,  you can see Dai-ichi Kangyo Credit Cooperative on the right hand side. When you turn right of that alley, then you can see a building renovated from an old private house with clam modern exterior. It is very stylish and the design that feels warmth of dark wood makes the interior more comfortable.
The menu they provide is green tea. Only at here, they provide food menu till 5pm for lunch, but I suggest you to have sweets! All the sweets combining with Japanese and Western confectionery looks good!  For those who loves Matcha also can not miss!
Starting from the popular sweet,"Japanese Chestnut Mont Blanc Tart", there is "Matcha Chocolate Fondue."   This "Matcha Chocolate Fondue", they combined the white chocolate and Uji Matcha from Kyoto,  and it  was broadcast on TV. You can enjoy dipping  fruits and Namafu (wheat gluten), and at last pour the chocolate on to the vanilla ice cream that will served later.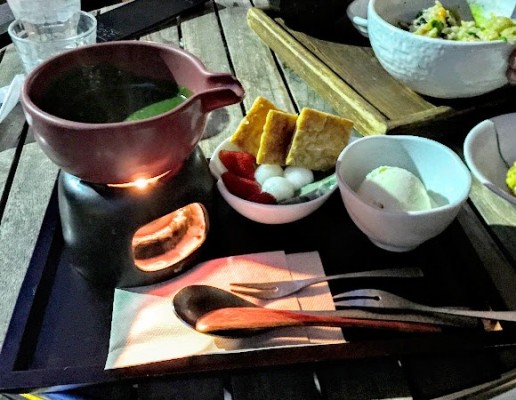 ©intheluggage
Their menu are full of individuality! Such as  "Matcha Frozen Smoa" and "Golden Egg Brulee Chiffon",  which is chiffon cake using eggs to become golden color, "Wa" parfait using plenty of Uji Matcha and cakes etc.! it is hard to decide which one to take. The drinks can be selected from English tea, Chinese tea, Herb tea, Japanese tea, and juice etc. There are wide variation of drink menu to choose. For individual drinks, it  includes small snack.
There is also baked goods for souvenirs!
Details
Operation Hours:11:30~23:00(L.O22:00)、Weekend/PH: 11:30~22:00(L.O21:00)
Address:5-9 Kagurazaka Shinjuku-ku, Tokyo, 162-0825
TEL:03-3266-0880
URL: http://saryo.jp/
[Sightseeing]Lets Walk Around Kagurazaka Area!
1)  You Only Can Have it Here!!   Pekko chan yaki   
©不二家提供
Immediately after Tokyo Metro Iidabashi Station B3 exit, there is "Fujiya Iidabashi Kagurazaka Store."  Peco-chan,  who is the signboard of the shop welcomes you at the store! Fujiya is a long-established food maker that manufactures Western confectionery. Speaking of Fujiya, cakes, country mams(cookies), milky(candy) etc. are popular in general, but here, the large muffin(Obanyaki)  that represent the face of  "Peko-chan" which is the symbol of the shop that continue from 1967 is popular!
※Obanyaki: also known as Imagawayaki. It is a round shape Japanese muffin/pancake containing  red bean, custard and etc
©不二家提供
The Peko-chan Obanyaki is cute! There are 10 varieties of tastes to choose it from. The 7 types of standard menu are: red bean, custard, cheese cream, chocolate, milky cream, country mam cream, and smooth red bean. Additional there are monthly, seasonal and salt stuffed Obanyaki.
 This is milky favor
Also Peko-chan's boyfriend, Poco's Obanyaki can be able to seen  it rarely. You are lucky if you can meet Poco!

"Peco-chan Obanyaki" is also one of the popular items for souvenirs among locals  in Kagurazaka area. Please stop by and you might be able to meet Poco!
※Please note that the information on the publication is as of December 2017
Detail
Fujiya Iidabashi Kagurazaka
Price:150 yen~200yen
Operation Hours: 10-20 pm (Peko-chan Obanyaki finish baking until 6pm)
Address:1-12  Kagurazaka Shinjuku, Tokyo, 162-0825
Tel:03-3269-1526
URL: http://pekochanyaki.jp/
2) Let`s take a walk around Hyogo Yokocho and Kakurenbo Yoko-cho after Peko-chan Obanyaki
Go up the slope straight in the direction of Kagurazaka station and turn right at the  Kagurazaka Wine Bar. You can see  a lot of restaurants that refurbished the old private houses. Kakurenbo Yokocho (Kakurenbo=Hide-and-seek)  is a side street connecting Kagurazaka Naka Dori and Hyogo Yokocho. Since the name was said to have been named as "a place that person will not recognize even you are chasing the person from behind who came here to play secretly."
Hyogo Yokocho is often used for TV drama. It is a cobblestone pavement together with a Kakurenbo Yokocho. It was said that it was named "Hyogo Yokocho" because there was a weapons store (Hyogo) of Ushigaruki castle during the Warring States Period. The narrow alley can feel the Japanese "Wa."
3) la kagu
Next, I will introduce "la kagu" opened in 2014. It is a concept store, the architecture, Kengo Kuma remodeled the book warehouse of Shinchosha built in the 1960s. The name "la kagu" is said to have been named because the Frenchman who lives in Kagurazaka was hard to pronounce "Kagurazaka".
The first floor is ladies ', the second floor is the men's fashion floor, and besides fashion, living goods, cafes and so on are included. Fashion is from the high brand to basic, and have as well as the original brand of "la kagu" which is popular. The items sold here are quite expensive because there are not so many in other stores available, but here is a shop you can enjoy even by simply stopping by at a glance. They  also have a workshop at lecture space "so-ko", and hold various events → http: //www.lakagu.com/event/
"Madoragu", the cafe from Kyoto they have inside of  "la kagu" provides light meals, desserts and cafes. It is a space you can relax and can see people drinking coffee and reading book in other hands. The limited "pudding a la mode" serve only 10 meals a day and thick egg sandwich are most recommended!  Also, the art is drawn on the takeout coffee cup and  fashionable!
Detail
Operation Hour: 11:00~20:30(Cafe  L.O 20:00pm)
Address:67, Yaraimachi Shinjuku-ku, Tokyo, 162-0805
URL: http://www.lakagu.com/
The Recommend Shrine② Kaichu Inari Jinjya
Shin-Okubo is one of the station in Yamanote Line, also known as Korea Town. In this area, there are a lot of Korean shops are gathered. Such as Korean restaurant, supermarket,  K-pop goods etc., and you may feel you came to Korea. After you exist JR Shin-Okubo station, turn left, and head straight about 405 ft down at Okubo street, you can see the Inari Shrine, "Kaichu Inari Shrine" on the left side.  This Inari Shrine is famous for those "Who want to win the lottery", or  "Who have a goal you do not want to miss" in exam or love etc.
©intheluggage
First,  let's use Chozuya and worship to God. Different to Tokyo Daijingu, we will be using the dipper.
※
①Take the dipper with your right hand and fill it with water. Hold the dipper on your right hand. We will do one circle with this water, so please be careful not to use all the water at once.
②Pour some water over your left hand to rinse it.
③Shift the dipper to your left hand and rinse your right hand. Take the dipper with your right hand again, and pour water into your left cupped hand and rinse your mouth.  
※Please do not put your mouth directly to the cup or drink.
④Lastly, rinse your left hand once more.
⑤Stand up the dipper with your both hands and wash the handles with the leftover water.
※For the next person, please put the dipper facing down.
For worship, it is same need to bow twice, clap your hands twice, pray, and bow once again. However, there is one difference to Tokyo Daijingu. After you throw the money in the offertory box, you need to ring the bell and then worship to god.
Detail
Address: 1-11-16 Hyakuninn-cho Shinjuku, Tokyo
[Gourmet]  Shin-Okubo Area
If you come to Shin-Okubo, you must try Korean food in Korea town!
1) Popular! Derikaondoru Shin-Okubo Main Store
©intheluggage
A wide varieties of Korean foods can enjoy it at here. The menus they have more than 40 different types of foods will definitely will attract the customers!  The lunch menu are all below 1000 yen. There are Sundubu-jjigae, bibimbap, Kalguksu (Korean.noodle), cold noodle etc.include 6 small side dishes. Although, there is a la carte menu that are not in lunch menu, and you can also enjoy it during lunch time!
©intheluggage
It is nice that lunch open until 4pm. It is also easy to get in and have lunch alone, but it will be nice if you come with group, and order few different kinds of dishes and share.
Detail
Operation Hours: 10am-25am
Address: 1F SK Building, 1-3-20 Hyakunin-cho, Shinjuku-ku, Tokyo
Tel: 03-3205-5679
(2nd Outlet opens 24時間営業)
URL:https://tabelog.com/tokyo/A1304/A130404/13042278/
2)  Kuruma Sanpa
"Kuruma Sanpa" is located in the main street, Okubo street, on the right opposite of Seoul market. It is on the 2nd floor of Myeon- Dong Cosmetic. At here, you can enjoy Korean barbeque with 15 different types of fresh vegetables.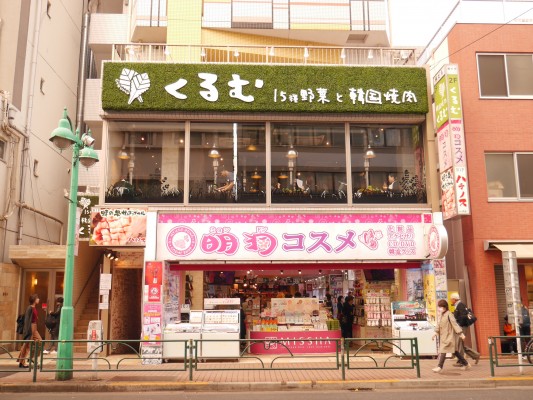 ©meishu
"The Selected Samgyeopsal Korean Barbeque Course" that can have it from 2 pax are the most popular menu. The reasonable price for 1580 yen is also attractive! In the menu, you can selected one dish from 12 different kind of menu: rice, noodles, or appetizer + 15 varieties kind of vegetables + Selected meat from 14 kinds + daily side dish and handmade Kantenjyan (the seasoning that made it with vegetables and miso paste).  
©intheluggage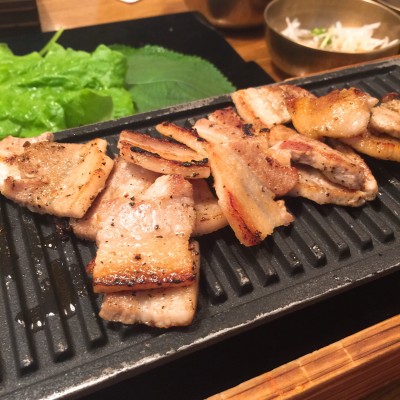 ※The dish picture is an image, it is different from the actual ones
Besides course, there is a la carte menu. There are only 5 kinds of dishes that can be choose it from: daily lunch, Sundubu, Doenjang-jjigae, cold noodle and  daily bibimbap. The lunch dessert, hot chili  pepper chocolate fondant chocolat and Makgeolli roll cake looks good!  If you have not tried hot chili pepper chocolate yet, maybe you can try!
Sundubu
Cold noodle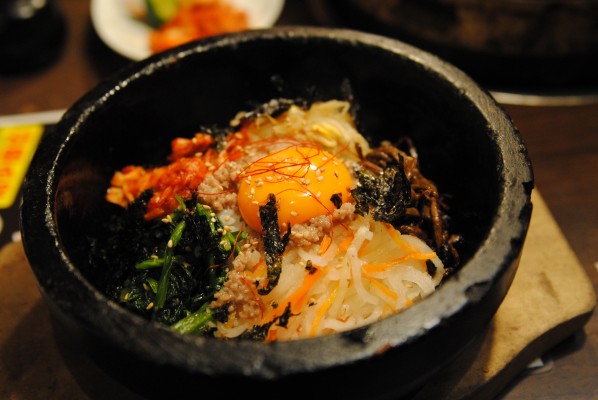 Bibimbap
※The dish picture is an image, it is different from the actual ones
This restaurant also open until 4pm for lunch. After 4pm, they offer dinner menu, and Korean barbeque course will be the price of 1980 yen,  for a set of Kurumu vegetables and one meat selected from 17 kinds.
Detail
Operation Hours:
〔Mon~Thurs・Sun〕
Lunch:11:00~16:00(L.O.15:00)
Dinner:15:00~23:00(L.O.22:30)
〔Fri・Sat・Before public holiday〕
Lunch:11:00~16:00(L.O.15:00)
Dinner:15:00~23:30(L.O.23:00)
Address:2F Hayashi Building, 2-32-2 Okubo Shinjuku-ku, Tokyo
Tel:03-3200-6969
URL: https://tabelog.com/tokyo/A1304/A130404/13155099/
3) Awesome  Bulgogi that You Can Not Miss!! Halleluah  Shinjuku Main Store
"Hallelujah Shinjuku Main Store" is located in the alley  on the way heading to Okubo street from Shokuan Street. It is a  2 minutes walk away from Seibu Shinjuku Station. This store is  known as the restaurant what sells the best Bulgogi in Shin-Okubo area.
©intheluggage
The lunch menu is reasonably priced at 500 yen to 800 yen with a wide varieties of choices. There is also a Samgyeopsal course of 1500 yen and 1980 yen, limited for lunch that can be eaten by two or more people. Unfortunately, the Bulgogi can only ordered from the a la carte menu,  also offer at lunch. There are two kinds of Bulgogi, beef Bulgogi  and spicy cheese Bulgogi. If you come here, you have to ordered popular bulgogi or else there is no meaning that you came after all!
The Bulgogi is 1980 yen per serving. Please be sure to visit and eat it as it is worth the effort to eat the meat which is steeped with sauce!
Detail
Operation Hours:Lunch:12:00~15:00  Dinner:17:00~23:00
Address:1F Shirahagi Building, Hyakunin-cho Shinjuku-ku, Tokyo
Tel:050-5868-6399
URL: https://tabelog.com/tokyo/A1304/A130404/13000016/

[Sightseeing]Let`s Explore Korea Town!!
Okubo street has many shops such as Korean cosmetics, food stores, Korean star goods and so on! It can say that it is perfect place for Korean lovers.
MAP: http://www.wowsokb.jp/map/wowsokb.pdf
From now, I will introduced few sightseeing spots. Let`s start from JR Shin-Okubo station!
When you leave the station and proceed to the right, you will see blue sign board it says, "Kanryu department store!"
©intheluggage
If you enter, you will see most shoppers are ladies! That should be!  Here, you can purchase goods such as popular Korean star DVDs and posters, and many people comes here looking for it.
©intheluggage
Leave the Kanryu department store and go straight to the Ushikari Yanagicho station to the right, there is Korean supermarket, "Seoul Market." If you want to buy Korean ingredients and foods, please visit here. You can get a things that you can not find at  normal supermarket..
©intheluggage
It is sold also in the Seoul Market, but on the other side of the Seoul market, there are Tteokbokki and Hotteok shops on both sides of the convenience store "Mini Stop". There are various shops and food shops when you are walking, and it is fun to watch.
 Hotteok   
※ Hotteok: It is similar to Japanese "Oyaki" and the one of the Korean local foods sold at strolls etc. in winter. Inside there is sweet syrup in it.
Tteokbokki
※The food picture is an image, it is different from the actual ones
Along Okubo Street, there is a shopping complex, "K-Plaza" that includes restaurants, Korean style shops, fashion, cafes and so on. Also,  walking down the main street (Okubo street) there are many small alleys. The restaurants and cafes establishments are almost concentrated, but it may be fun to explore the alleys too.
 Okubo Street
Go pass the Seoul Market and if you go further more straight ahead, there is convenience stores,"Three F."  Turn right at the corner there, then you will see there are few cafes and shops. This street is also known as "Ikemen-dori" There are many cosmetic shops, also Don Quixote is there, and it is feel like walking Takeshita street in Harajuku. This road hits to the Shokuan Street.
It is Korea Town, so for foreigners, it may not a place to feel traditional culture of Japan. However, as you came to the shrine, maybe it is interesting just to see how Japanese Korea Town is.
The Recommend Shrine③ Hie Shrine
Hie Shrine is located between Akasaka Mitsuke, Kokkai-gijidomae, Nagata-cho, Akasaka, and Tameike Sanno Station. It is famous as a god of childbirth and birth delivery. Unlike other shrines, it is wrapped in mysterious atmosphere. The Sanno Festival is the one of the Edo Sansei Festivals, and famous festival  held in mid June every year. It is regarded as one of the Tenkai Festival with the Kanda Festival and the Fukagawa Festival.
The Torii of front entrance,  is stairs we called, "Otokozaka." On the left side, there is gentle slope,"Sanno Onnazaka." The nearest station is Kokkai-gijidomae station. When you go in the Torii, please also do  light bow as I have told in Tokyo Daijingu, and try  enter from the side. After you climbed "Sanno Otokozaka" or "Sanno Onnazaka", let's start from purify ourselves at Chozuya. At here, we  also use dipper,
※Same way as kaichu-Inari Jinjya. 
After you finished, please go through the shrine gate to Shaden.
※ "Shaden" is main building of the shrine.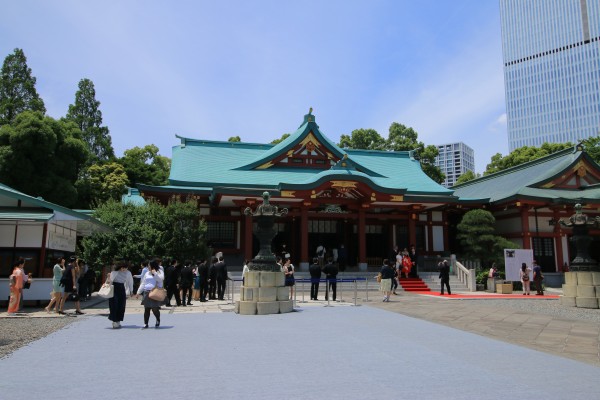 When you go in, isn't it  beautiful? I really like the architecture here.  You can also see the one of the highlight, the statue, the God of the Monkey.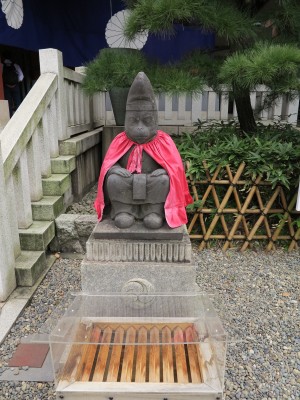 There is a monkey statue of a couple in front of the "Shaden."
This is what this shrine is different to other shrine. "Why there is statue of monkeys?" I will explain to this answer now! Monkeys are said to have been honored as gifts between god and human beings from long time ago. Since the main mountain of god is known as Oyama Kuinokami, the monkeys which was also said to be the guardian of the mountain specified as a servant of god.  It is thought that it is superior to "Saru" (Masaru), "The devil leaves 魔が去る(Magasaru=cursed)", and it is placed as a god of luck and as a talisman. Moreover, many people come to receive prayers of business prosperity and marriage, thinking that the monkey, "猿(en)" brings "縁(en=edge)" from reading the same sound.
The statue holding a child monkey is a female. It is said that there is a benefit of child gives, easily delivery,  for marriage and many people come here to worship. In addition, male monkey statue, it is said that people have a benefit in development of "business prosperity" and "business success". The monkey, which had been regarded as the guardian god of the mountain, is said to have produced and raised living creatures, and it has been transmitted in the sense of "to develop".
To worship, it is same as others. You need to bow twice, clap your hands twice, pray, and bow once again. After you clapped your hands, please thanks and pray to God,  and do light bow again!
After you worship, let`s walk to the back of the "Shaden." There is one more spot that you can not miss!! There is red "Senbon Torii" in Inari-sando. As some of you know," "Fushimi Inari Taisha Shrine" is famous in "Senbon Torii", but here also have considerable sights!!
There are few shrine entrance to "Shaden." If you do not prefer to climb stairs or slope, there is escalator to Shaden from Shin-sando near to Tameike-Sanno or Akasaka station. However, you may not feel that you came here if you use escalator. My suggestion is to enter from the main gate (Omotesando)  then at last go to Inari-sando and back to station is the best way. Inari-sando nearest station will be Akasaka-mitsuke station.
Detail
Address:2-10-5 Nagata-cho, Chiyoda-ku Tokyo, 100-0014
[Gourmet]  Akasaka Area
1)Excellent Dandar-mian! Uzumaki Bekkan  
"Uzumaki Bekkan" is a shop popular with Dandar-mian.It is open only at weekdays from 11:30 pm to 14:00 noon. The menu offers only Dandar-mian and Wonton noodles, and there are only five seats. The shop is located in a difficult area where hard to find, but many people comes here for this noodles .
Just a spicy, creamy and rich white sesame soup is excellent! It is really sad that I can not able to get the photo from this shop, but if you like spicy food you must have a try!
Detail
Operation Hours:11:30-14:00 (Holiday:Weekends, Public Holidays)
Address: 1F, 3-6-6 Akasaka, Minato-ku Tokyo
※Card is not acceptable
URL: https://tabelog.com/tokyo/A1308/A130801/13185421/
2)Kyoto Cusines Yakenbori Akasaka
"Yakenbori Akasaka",  the black building renovated from an Japanese old private house with clam nostalgic exterior. At here, the customers can enjoy the Kyoto cuisines. The dinner is expensive, so I prefer you to dine in lunch time instead. There are 4 lunch set menus to choose it from:
①Yasaka: Kyoto style egg roll for main dish, Akadashi (blended miso soup), Jyako(small fish), small side dish,  pickles and rice.
②Kamogawa: grated yam over the rice, tuna, salmon roe, poached egg.
③Sagano:  Bean curd with meat, Akadashi, Jyako, small side dish,  pickles and rice.
④Chef`s course: Eggroll, grilled fish (seasonable), Sashimi (Seasonable), warm dish, rice, pickles, Akadashi, Jyako, small side dish, and dessert.
Besides this, there is also a la carte menu. The most popular menu is eggroll, they will cooked it right after they received the order, and you can enjoy the fresh one! It is excellent taste as it has soaked in plenty of soup stock!  The rice also comes out with "Ohitsu."
※The wooden container for rice
It is a recommended place for those who want to taste the Japanese cuisines at the Japanese traditional interior. The threshold seems high from the viewpoint of the exterior, but if you enter, the counters are available, and even one person can enter easily.
Detail
Operation Hours:
[Mon~Fri] 11:30~14:00(L.O.13:30)17:30~23:00(L.O.21:30)
[Sat] 11:30~14:00(L.O.13:30) 17:30~22:00(L.O.20:30)
Price:①-③ 1100yen(Tax included)、④4200 yen(tax included)
>Address:3-19-5 Akasaka Minato-ku, Tokyo
Tel:03-3582-2270
URL: https://tabelog.com/tokyo/A1308/A130801/13002749/
[Sightseeing]Find Out the History of Japan
1)National Diet Building
Have you ever visited the National Diet Building? We can see inside? I think that some people thought it this way. Actually, you can visit for free! Wouldn't it be a good place for those who like Japanese culture and politics. The National Diet Building is close to the Kokkai-gijidomae station and Nagatacho station, and it is also about a 15-minute walk from Hie Shrine. The building was built in 1936, with the House of Representatives on the left and the House of Councilors on the right. You can not visit the main meeting from the hour before the scheduled opening time, but usually you can visit from 9am to 4pm, and can have a tour every hour. The staff will guide you for free, and can learn about the history.
When enter the entrance, there is a central hall with a height of 30m or more. There are four bronze statues here. The one is known as the liberal democracy movement, Taisuke Itagaki who served as leader of the first party "Liberal Party"; the first Prime Minister of Japan, Hirofumi Ito; Shigenobu Okuma, a meritorious person in establishing political affairs of the parliament; and for some reason, the fourth one is empty. There are various reasons why and it is not fun to talk all about it at here,  so please discover it out when you visit there!
For some reason, you can see the indoor lamps are all facing upwards. Why? It is because when the Emperor visits here and if the lamp faces downwards, the shadows will appear.  That is the reason why they are turning the lamp upwards, so as not to step on that shadow. As I go through the National Diet Building, I know that various ideas are being done and it is fun to ask!
In House of Representatives tour, you can see the main conference hall.
National Diet Building has plenty of places to check it out! In the lobby at House of Councillors, there is a space  you can experience sitting down on parliament seats.

In addition, there are more than 10 shops in the National Diet Building. If you feel hungry, you also can use.
Detail
Operation Hours: 8-17pm
Tour time: 50~60 min
House of Representatives(Everyday)9:30,10:30,11:30,13:00,14:00,15:00
House of Councilors(Weekdays)9am-4pm(Every hour on the hour)
Reservation: No need Only for those more than 10 and above.
Address: 1-7-1 Nagatacho, chiyoda-ku  Tokyo,  100-0014
URL: http://www.sangiin.go.jp/japanese/taiken/bochou/kengaku.html
2)Hotel New Otani  Japanese Garden  
The Hotel New Otani established in 1964, and it is one of the largest hotel located in Akasaka-mitsuke station. There is one beautiful garden you should not miss at here. The history is old, it has been said for about more than 400 years ago. This garden was from Naoaki Ide, who was a family with a mighty power from the Edo shogunate. After that, became as a Fushiminomiya Mansion and known as a beautiful garden. After the second war, Fushiminomiya tried to let go this beautiful garden and handed over to foreigners. By founder of Hotel New Otani, Yonetaro Otani thought that it was regrettable to sell  this beautiful garden to foreigners, so he decided to bought it from them. At the request of the government for the Tokyo Olympic Games in 1964, the Hotel New Otani was established in this area, from which the garden is part of the hotel.
There are three entrances: The main banquet hall level, the garden tower lobby level and the garden court 2nd floor. When entering the garden from the main banquet hall floor, you can see first is a red-brown cobblestone brought from Sado Island, and it is regarded as the biggest stone in Japan. Others: Various stones and fossils such as Karesansui,  Sado's fossil, Jade rock, Sanbaseki stone are seen. About 350 red and black Koi (carp) swim in the big Seisen pond, and heron and ducks will also fly over. You can also see small birds such as herrs and bush warbler.
Karesansui
※Karesansui: It is a way to describe the landscape garden without not using  any water.
The red Taikobashi surrounded by Seisen pond is perfect spot for photo shooting! It also may be nice renting kimono and walk along the garden.
There are few restaurants that can able to see the Japanese garden above or near such as Garden Lounge etc. You can see it from a different line of sight from walking. Unlike during the day, illumination at night is also attractive!
Detail
Hotel New Otani
Address:4-1 Kioi-cho,  Chiyoda-ku Tokyo, 102-8578
TEL. 03-3265-1111
Operation Hours:6:00am~22:00pm
Illumination:
Spring(From mid March) 17:45~24:00
Summer(From mid May) 18:15~24:00
Autumn(From beginning of September)17:45~24:00
Winter(From beginning of November)16:30~24:00
Fee:Free Admission
URL:http://www.newotani.co.jp/tokyo/garden/
I introduced three power spots and neighboring spots that draw luck! Did you have any  special place that attract you? I hope that you have an edge!
>> Writer introduction