Let`s Go to the Best 5 Downtown Shopping District!! Enjoy Cheap and Awesome Gourmet You Should Not Miss!!
12/22/2017
The area where many shops are gathered is called "Shotengai (shopping district)". It is characterized by the fact that shops such as:  restaurants, shops, fashion etc. are tightly gathered on both sides of the road. There are also many old individual shops there.  Depending on the shopping district,  it is a place where you can feel the nostalgia of Showa period and the vibrancy of downtown. This time, I would like to suggest some recommended shopping district!
The Longest Shopping District in Tokyo,  "Togoshi Ginza"
Firstable, I would like to introduce is "Togoshi Ginza",  which is located between Tokyu Ikegami Line "Togoshi Ginza Station" or Asakusa Line "Togoshi Station." In 1923, after the Great Kanto Earthquake, the people who was damaged in downtown Tokyo, and Yokohama  who suffered from many damage gathered at Togoshi Ginza, which was a factory area at that time. Also, after "Togoshi Ginza station" opened in 1927,  the shops that already there concentrated in the station, it had been said that was the beginning of the current shopping district.
When the townscape of the bricks of Ginza was damaged and it was in danger of disposal after the Great Earthquake of Tokyo, they thought of using the Ginza bricks to fix the bad road.  It is said that it was named "Ginza" because they went to Ginza 6 chome (6th avenue) to take over the bricks. Many shopping district called "Ginza", but here in "Togoshi Ginza" is officially certified as a replica of Ginza.
Nowadays, it consists by 3 shopping district promotion associations, and there are about 400 shops along the shopping district. There is Oimachi Line, "Togoshi Park Station"  within 10 minutes of walking distance from Togoshi Station. The transport is very convenient, it is also one of the popular livable place,  and Togoshi is placed frequently in "Ranking of town where people want to live." Moreover, "Togoshi Ginza" is known as shopping district for 2nd rate local food gourmet.
©michaelvit
The "Croquette" is popular in "Togoshi Ginza." There are "old-fashioned croquettes" that the butcher shop is sipping, but also please pay attention to the original croquette that each shop creates! Among them, "Oden croquette" which Oden specialty shop "Goto Kamaboko store" is providing is popular!  When you open a round shaped croquette, there is the ingredients of chopped oden and potatoes, and on the middle there is Japanese Oden radish that you can not miss for Oden! This croquette is seasoned with Oden soup stock, it is a bit different taste with ordinary croquette.
©jun560
Detail

Goto Kamaboko Store
Operartion Hours:10am-8pm
Holiday:Tuesday
Address:2-6-8 Togoshi Shinagawa-ku, Tokyo, 1420041
Tel: 03-3781-5686
※Nearest Station: Togoshi Station A2 Exit
The Chinese cuisine, "Nishikiro" sells "Gyoza Croquette" which wrapped Gyoza dumplings with potatoes and fried. This Gyoza croquette contain plenty of green onions, and  feel like eating fried dumplings rather than croquettes, but it is perfect for drinking! Speaking of croquette, it is standard to eat with sauce, but it is also interesting to eat this croquette with a Gyoza sauce.  ※ You can purchase from 4 pieces.
There are "Tuna Croquette"  from fried chicken specialty store "Chicken and Deli",  and unusual croquettes such as  "Foie gras croquette" from restaurant,  "Western food Touka." If there is something that is attractive, it might be nice to have a try. ※ Foie gras croquette is 300 yen per piece, you can purchase from 2 pieces.
©michaelvit
Besides croquette, there are other recommend shops too!! The animal donuts from the popular donut store, "Floresta", the appearance is so cute, and I assume you want to post it on the instagram!!
①Donut Store,  "FLORESTA"
It is a donut store established in Kyoto."Floresta" means "forest" in Portugal. Since "Forest" is in touch with many plants and animals, it is named for the way the store want people and people to be connected like that. There are also pretty donuts such as seasonal ones, variety donuts, children's popular animal donuts, etc. and from classic ones! There are nine kinds of classic ones, and for variety donuts, there are 100 kinds! It is surprise you with many types they have! ※ The variety donuts are different depending on the day and stores.
©Tokutomi Masaki
The "Donuts" of "Floresta" chooses domestic, organic ingredients, and materials not contain additives as much as possible. They are delivering freshly prepared donuts everyday, and that is the secret of popularity.
The donut which I want to pay attention is "Parent and Kid animal donut".  The animal donuts are so cute, but "Parent and kid animal donut" is as its name suggests that children's donuts are on top. It heals just looking at it!
©Japanexperterna.se
Details

Operation hours:10am-20pm (Only take out)
Holiday:Irregular
Address:2-18-8 Hiratuka, Shinagawa-ku Tokyo, 142-0051
Tel. 03-6426-2890
URL: http://www.nature-doughnuts.jp/index.htm
②Taiyaki-ya Omedetaiyaki Honpo Togoshi Ginza
"Omedetetaiyaki" is tasty enough to make you smile when you eat, like how they represent the face of their Taiyaki! The classic is custard, red bean, and Okonomitaiyaki. They are using 100% red bean from Tokachi, Hokkaido, and the paste is not sweet, it is just perfect! Exquisite balance with fluffy dough, it still good even it gets cold!
This is red bean
"Okonomitaiyaki"  is the popular menu I recommend! The ingredients inside is same as Okonomiyaki.  There is plenty of cabbage sand with bacon etc.  from top to bottom and thick sauce inside. It is so good, you may be addictive with this taste! You really need to try!!
※Okonomiyaki is a Japanese-style pancake made from egg, flour, and water. They mixed those ingredients with cabbage, red ginger, seafood etc. and baked it.
Details

Operation hours: 11am-19pm
Holiday: Obon (mid August), end and beggining of the year
Address:1F, Togoshi Kogawa Building, 2-13-8  Hiratuka Shinagawa-ku, Tokyo 142-0051
Tel : 03-5751-1887
URL: https://www.jc-comsa.co.jp/brand/product_sales/omedetaiyaki/


Around Togoshi Ginza, there is "Togoshi Park", which is one of the parks representing Shinagawa Ward, and the atmosphere of the garden in the Edo period is preserved. Also,  "Togoshi Hachiman Shrine" which was established in 1526 is one of tourist attractions.
 Where You Can Feel Good and Old Downtown  Yanaka Ginza Shopping District
Yanaka Ginza is located a 5 min walk from JR Nippori Station. There is a place for sunset view called, "Yuyake Dandan" and can see shops are lined up when you look down from there. It can be said that it is a downtown shopping area that makes you feel nostalgia of the good old days. In the past, it was said that it is a city of cats because there were many cats in front of shopping districts and shops. Nowadays, it is as a sightseeing spot, it became known also to foreigners, and many foreigners besides locals will visit here.
Those who have already read the article of "A Walk in Yanesen" introduced earlier, I think that you will know sweets and goods related to cats are sold at this shopping district. Nowadays, cats can not be seen on the street so much, but it is a perfect place for cat lovers:
◎A Walk in Yanesen
http://jp.intheluggage.com/japan-tokyo-ueno-travel_guide-guide_sightseeing--%E8%B0%B7%E6%A0%B9%E5%8D%83%E3%81%95%E3%82%93%E3%81%BD.html 
This time, I like to introduce some shops that I recommend that have not introduced yet.
①Ikayaki Yakiya
First of all, I would like to introduce Osaka style Ikayaki store, "Ikayaki  Yakiya",  have it on the left hand side right after you go down the stairs of "Yuyake Dandan." Unfortunately, this store only opens on weekend and public holidays. The Yanaka`s speciality, "Ikasen" is the signature, and Ikayaki is sand it with crispy squid rice cracker. You can have it holding it on one hand, and it is perfect for strolling around for foods while walking. There is also "Ikayaki" that you can have it from 220 yen(2017.12). From plain flavor, Ikayaki with egg, mayonnaise, cheese, and kimchi  etc. It is perfect to have it with soda or  beer, you may get addicted to it.
※Ikayaki=There are two different type of Ikayaki. It can be just grilled squid which grilled with sweet dark soy sauce, or can be like omelet that contains flour in a dough like Okonomiyaki, it has chopped squid inside  and make it like crepe.
Detail
Operation Hours:10:30~19:30(Only weekend and Public Holidays)
Address:3-11-15 Yanaka Daito-ku, Tokyp,  110-0001
②
The Outstanding Japanese Beef Minched Cutlet!!  Meat Suzuki
The next thing I would like to introduce is "Meat Suzuki"  croquette and beef mince cutlet that are frequently picked up in television and magazines. The croquette is floury, however,  you must try the popular beef mince cutlet (200 yen) !! They are using brand beef such as Omi beef etc., and inside is so juicy! One is quite a big size, the food  accumulates in stomach easily.
Detail
Operation Hours:10:30~18:00pm
Holiday:Monday (Irregular Tuesday)
Address:3-15-5 Nishi Nippori Arakawa-ku, Tokyo
③ Have a Queue Throughout the Year!!
Shaved Ice Store  "Himitsudo"
At last, the place I will introduce is shaved ice store, "Himitsudo."  It is not in the shopping district, but if you go down "Yuyake Dandan", and turn left right away,  and go straight down, you can see this  shaved ice store.
©cyberwonk
In a small shop, you can eat shaved ice throughout the year. It is a popular store  waits around one hour to enter. The shaved ice has a large portion, and it is a convincing price. You can enjoy the original "Himitsudo" shaved ice which varies according to the seasons and different from other stores.

Summer Limited Plum & Pumpkin Cream Caramel
The picture on the front is pumpkin cream caramel. They used plenty of pumpkin to make this syrup. The ice is fluffy and smooth, it is easy to eat. The portion looks big, but can finish it all!
Detail
Operation Hours:10am-18pm (Depends till 8pm)
Holiday:Monday (October~May:Tuesday), August: No holiday
Address:3-11-18 yanaka Daito-ku, Tokyo
URL: http://himitsudo.com/
Anyways Everythings is Cheap! Historical Place  "Jujo Ginza Shopping District"
"Jujo Ginza" is a shopping district that was built in the Showa era, 1977, and it located immediately after leaving the north exit of Jujo Station of Saikyo Line. In this shopping district, about 200 stores are gathered. We also can say as far as the whole city of Jujo can be called a shopping district, because there is "Fujimi Ginza shopping district", "Central Ginza shopping district" and here. Today, let's apply to the spot  in the most popular "Jujo Ginza shopping district."
The "Jujo Ginza"  has many delicatessen shops and many people come here because  it is cheaper than other shopping districts. It is a nice food kitchen for housewives or person who is living  alone! As well as when you are having trouble preparing supper for dinner, or a day when you feel like, "I want to have something that what already done", this is the best spot to solve those kind of  problems.  From now on, I will introduce some of the recommended delicatessen places that you can buy only at here.
①Delicatessen Aisaiya  Main Store
It is a delicatessen store mainly using Japanese chicken. This store has  2 shops in Jujo shopping district. At the shop, 10 classic daily grand menus: Chicken cutlets, chicken steak, fried chicken, hamburger steaks etc. are available. Apart from the standard, they also offer about 50 items from the semi-grand menu, and have a large selection of side dishes to choose.

It is cheap using Japanese chicken with this price! The chicken cutlets are quite big, so it seems to be full with one piece. In addition, it is attractive that Yakitori (chicken skewers) can buy from around 60 yen, because usually it cost around 100 to 200 yen! There are liver, leg, chicken skin, chicken tail and so on.

The hamburger what they confidence about, the ingredients are interesting. Originally, they use cucumber pickles as you see in hamburger stores, but here they used Japanese pickled (radish) instead. They sand the bread with beef patty, tomato, lettuce, Japanese pickles with several sauces.

※ The second store has the same menu as the first store, but also different menus
Detail
Delicatessen Aisaiya  Main Store
Operation Hours:11am-21pm (will end if stock finish)
Holiday:Irregular
Address:1-8-1 Jujo Nakahara, Kita-ku, Tokyo
URL: http://aisaika-souzai.com/menu.html
②Kamataya
"Onigiri" is one of the traditional Japanese foods in Japan. Here at "Kamataya", they sells about 42 kinds of rice balls at affordable prices, such as standard salmon, cod roe, as well as original items: crab meat, hamburger steak, lotus root, which are not seen in other shops. The price is also 110 yen! I thought I want such a place like this and  would be nice in central of Tokyo. If there is about 42 different kinds of flavors, I feel that I do not get tired of buying two everyday!
Detail
Opeartion Hours:6:30am~17:30pm
Holiday:Monday
Address:3-29-15 Kamijujyo, Kita-ku Tokyo
URL:https://tabelog.com/tokyo/A1323/A132304/13008764/
※CASH ONLY
③Chicken Ball For ONLY 10 YEN!!! Toridai
"Toridai" is famous for chicken. The most popular menu is Yakitori and chicken ball can get for ONLY 10 yen per piece and that became a topic on TV! Even if you buy 10 pieces, it is only 100 yen! It is such a popular store that many people come to buy for this. The chicken ball is crispy outside and  juicy inside. Even it is just 10 yen, there is meat in the chicken ball property. Yakitori is small, but easy to eat, you can taste the savory taste grilled with charcoal fire.
※The maximum purchase of chicken ball is 50 pieces per person.
※After 6pm there is sales!
Details
Operation Hours:10:00~20:00
Holiday:Sunday, Irregular Holiday
Address:1-4-11 Jujo Nakahara, Kita-ku, Tokyo
④ Only 30yen For Croquette and Yakitori For Just 50~80yen!!! Delicatessen  Miyahara  Jujo Ginza
If you want to eat more cheap ones,  I suggest you to go to "Delicatessen Miyahara Jujo Ginza." The one of the recommend here is an old-fashioned croquette and yakitori that can be eaten at 30 yen! Because it is only 30 yen, it is small compared to ordinary, but if you are eating a variety of things around here, it is reasonable price! Other sales item and featured items of the day are also lining up. The 4 meat dumplings or Teriyaki chicken balls for just 100 yen (30 yen each) are also cheap enough to keep your eyes on. Especially, the one I want you to pay attention to is Yakitori. It is only from 50 yen to 80 yen! You may not find any places other than Jujo Ginza shopping district, as long as you can eat negima (leg with green onion), tsukune, salt-roasted chicken, chicken skin, and bonjiri etc. at this price. It is very gentle to your wallet, it is convinced that this cheapness makes it possible to have a long queue!
Negima
※The picture is an image. It is different to the actual ones.
At here, I have introduced a lot of reasonable foods. You can see a lot of few places sells Yakitori here. There is also a taste of your choice, so you can buy one each and do a ladder, too! If you think that you can not eat too much, since you came all the way to here, you can bring it back to the hotel and have it for lunch or dinner is also a choice.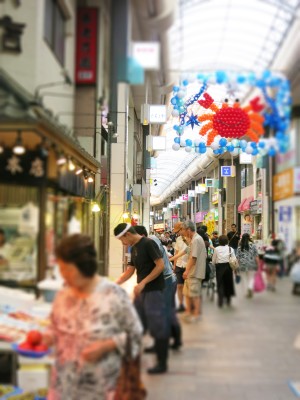 Ameyoko Ueno
Ameyoko is a shopping district located on the western side of the railway viaduct and underpass, connecting from Okachimachi to Ueno of the JR line. In this 500m shopping district, there is about 400 shops are gathered. Here is very lively place, and can see a lot of locals and foreigners visiting here. When you hear the word Ameyoko,  I think that there are many people describe of a Tatakiuri (a seller who sells products at a greatly reduced price with a showy performance),  but in addition to that, there are stores and restaurants that handles Asian foods are now concentrated.
Ueno also has a stroll street village called,"Ameyoko Yatai", which is a perfect place for eating, but I assume you can not feel Japan, because mainly Taiwanese cuisines,  Korean and Thai food etc. are gathered. As I think it same as when I  go for trip, some may will feel like,"I prefer locals foods  instead of  eating other countries foods." To whom  thought this way, this time I will skip that and introduce few reasonable restaurants you can go!
①Can Eat Curry For 500 yen!!  Curry restaurant  "Crown Ace" 
It is a curry restaurant that can be eaten under 500yen. It is recommended for those who like retro curry which comes at the time of Japanese student had in school cafeteria. There are chicken, pork, cutlet etc, and the most popular curry is pork cutlet which can be eaten with 500 yen. We buy tickets first and give it  to the staff for ordering. After you ordered, the curry comes out  surprisingly fast! For people who do not have much time, it is recommended. However, since fried foods are in a deep-fried already,  if that is OK, the cutlet curry may be reasonably priced.
Detail
Operation Hours:10:30am-21:25(L.O)
Holiday: Wednesday
Address:6-12-11 Ueno Daito-ku, Tokyo
URL:https://tabelog.com/tokyo/A1311/A131101/13008521/
※CASH ONLY
② Ameyoko Grilled Tripe Sakaba Tonbo (もつ焼酒場 豚坊)
For those who want to go to retro stroll style bar, how about going here to "Grilled Tripe Sakaba Tonbo."  The speciality dish is Yakiton (grilled pork skewers). At here they only serve mainly  hormon and tripe, although, you can have it in reasonable price.
Detail
Operation Hours:16pm-23pm
Address:110-0005 6-11-6 Ueno, Daito-ku, Tokyo 110-0005
URL:https://tabelog.com/tokyo/A1311/A131101/13059196/
③ Minatoya Food Main Store
At "Minatoya Food Main Store", they provide "Kaisendon" using the fresh fish directly from Tsukiji. You can have Tekka-don, Toro Salmon, Tuna, Negitoro for just 500 yen!
There are many shops in Tsukiji that can be eat from around 700 yen minimum, but here you can have it for reasonable price from 500 yen!
©sinkdd
This is red  tuna bowl. Because it is red tuna,  there is no oil on, but the color is not bad and fresh!
©intellidryad
There are lots of different types of bowls to choose it from. Other than that, Takoyaki is also popular here, so how about having it with together!
Detail
Operation Hours:11am-19pm
Address:4-1-9 Ueno Daito-ku, Tokyo
※CASH ONLY
④Grilled Horse Tripe Daitouryo(大統領)
"Daitouryou" was founded in 1950, and their selling point is grilled horse tripe that rarely can eat. The shop name "Daitouryou",  which means "President" gave us an impact! Do not forget to eat "Daitouryou special stew" which has not changed from the time they founded for many years. It is attractive that it is open from noon,  and the skewers are  less than 200 yen. It is a place that is easy to enter even for having one cup of beer and leave.
Innards stew
※The picture is an image. It is different to the actual ones.
Detail
Operation hours:10:00~24:00(L.O.23:30)
Address:6-13-2 Ueno daito-ku, Tokyo
URL: https://tabelog.com/tokyo/A1311/A131101/13124105/
※CASH ONLY
There is also other places such as cheap Japanese bar opens 24 hours and selling alcohol for just 190 yen per glasses named, "Ikkenme Sakaba Okachimachi Ameyoko" and "Saketei Juraku", provide fish directly from Kyushu and Kirishima Chicken from Miyagi. There are a lot  of shops looks nice when you are walking, so it may be nice to go into the place you like!
©michaelvito
⑤
Speaking of Ueno, You Can not Miss This Long Established Anmitsu Store!!  Mihashi Anmitsu
If you want to eat sweets, then how about stop by at "Anmitsu Mihashi Ueno." This is a store  established in 1948, and famous in Anmitsu. It is popular among people for long decades because they are particular about the ingredients what they provides. They made Anmitsu using smooth red bean from Tokatsu, Hokkaido, handmade black syrup, "Kanten" what artisan particular about, and "Gyuhi" which looks easy,  but hard to make.
※"Anmitsu" is a traditional Japanese dessert, it is made of the followings: Kanten (agar jelly=pure form of gelatin made from seaweed), cooked read peas, sweet red bean paste, Shiratama (sweet dumpling made of sweet rice flour called, "Shiratamako", fruits(orange, cherry etc.) with Kuromitsu (sweet black syrup) and scoop of ice cream.
※Gyuhi is one of the ingredients for making Japanese Wagashi. It made it with Shiratamako/rice flour kneads with sugar or glutinous syrup.
Detail
Operation Hours:10:30~21:30(L.O.21:00)
Holiday:January 1
Address:4-9-7 Ueno Daito-ku, Tokyo
URL:http://r.gnavi.co.jp/kdg1rpec0000/
Harajuku for Elderly, Sugamo Jizo-dori Shopping District
At last I want to introduce is "Sugamo", where we also called,"Harajuku of elderly."
As soon as you left Sugamo Station at North Exit, there is "Sugamo Jizo Dori shopping district". Along the shopping street there is "Togenuki Jizo Kougan Temple", and on the south exit, there is one of the gardens, "Rikugien" designated also as a special scenic spot of the country.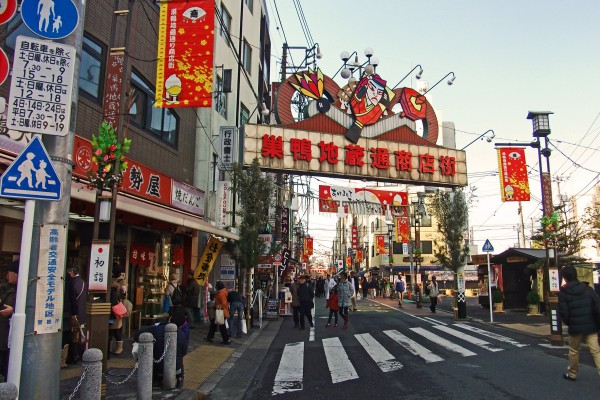 Unlike other shopping districts, "Sugamo Jizo dori shopping district" have many fashion, restaurant, and Japanese sweets stores etc. It is not a place to eat and stroll around, but I thought that it might be a place to feel intimate with lively vibe, unlike other places.
If you think of Sugamo, some may describe "red underwear" which is said to have good luck, and a popular "Sugamo warm pant" from Ms. Matsumiya. There is also shoes and hat stores,  in addition to the other places, maybe you can find some good value items.
From now, I will introduce few restaurant and Japanese sweet stores you can go!
①Cafeteria Tokiwa
©kinoko-no
The "Tokiwa Shokudo (Cafeteria Tokiwa) is the homey nostalgic restaurant can feels the atmosphere of Showa period, and always crowded with customers. At here, you can enjoy the homestyle homemade Japanese dishes. They provide few set  menus such as fish lunch and  mixed fried set, also Sashimi, stir fries, and fried dishes etc. as a la carte. It is a place feel free to enter also alone,  "just for few cup of beer with snacks and go home."  There are a lot of Japanese cuisines in Tokyo, but it is hard to find the place where can have Japanese homey taste and this is it!
©kinoko-no
Detail
Operation Hours:10:00~23:00(L.O.22:30)
・Weekday 11:00~15:00 (No smoking) ※Other time is available
・Weekend and Holidays: No smoking
Address:3-14-20 Sugamo Toshima-ku, Tokyo
URL: https://tabelog.com/tokyo/A1323/A132301/13012336/
※CASH ONLY
②Birthplace of Shio Daifuku!  Ganso Shio Daifuku Mizuno
The "Ganso Shio Daifuku Mizuno" is Japanese sweet store known as the birthplace of Shio Daifuku, and  was established in 1937. They are using carefully selected domestic ingredients, and by not using automatic mochi maker machine, they can make the Shio Daifuku more firm and elasticity. They put plenty of  bean paste inside and the taste is not that sweet. In addition, they sell a large selection of Japanese sweets,  such as dango, rice dumplings with mugwort and etc. In the coffee space, they offer menus such as ramen, Anmitsu, Ozouni, Salt Daifuku ice etc., and menu according to the four seasons.
※Daifuku is a round shape mochi and has red bean paste  inside. "Shio" means salt.
Detail
Operation Hours:9:15am-18:30<
Address:3-33-3 Sugamo Toshima-ku, Tokyo
③Oimoya-san Okinobu Sugamo
This is one of the recommend Daigakuimo store. ※Daigakuimo is fried sweet potato knead with sugar syrup. It is a sweet potato specialty store operated by sweet potato merchant store "Kawako Shoten." The origin of "Daigakuimo" was said that one of the restaurant owner near University of Tokyo thought of making some sweets to students on the days when the sweetness was short, and made Daigakuimo. The fried sweet potato knead with their original syrup is awesome! At here,  there is 4 different type of Daigakuimo.
Komachi=Delicate and elegant sweetness. It is difficult to cultivate and valuable.
Satsuma=Sweet, elegant taste, and soft.
Miyabi=It is moist, excellent in color and taste.
Kamote=Golden color and refreshing taste
The store also provide purple sweet potato soft ice cream only sales in Sugamo and Asakusa main store!  It is a soft ice cream that has rich sweet potato taste and attractive for those who loves potato!
Detail
Operation hours:10am-19pm
Address:4-29-1 Sugamo Toshima-ku, Tokyo 170-0002
④
Raijindo Sohonten
It is a rice cracker store suitable for eating while strolling around. The Warisen (broken rice cracker) is very roasted with soy sauce flavor, and to make the soy sauce easier to soak in, they break the rice cracker purposely. To be able to try the different types of strong taste, there is Warisen, which they dip into soy sauce from twice to ten times. It maybe suitable for those who like dark soy sauce rice cracker.
When you enter the store, they sell a wide varieties of rice crackers from wet rice cracker, garlic, chili pepper, natto cheese, and rare rice crackers! If you like rice cracker, please stop by!
Detail
Operation Hours:9am-18:30pm
Address:1F takemae Building, 3-33-23 Sugamo Toshima-ku, Tokyo
That was the 5 shopping districts I introduced! Is there a shopping district you want to go?
most of the shops will not accept credit cards, so please bring cash with you! Enjoy!!
>> Writer introduction