[Chain Stores] The 5 Best Cheapest Restaurant That You Do Not Get Tired and Can Not Miss!!
11/13/2017
"I came to Japan for trip, but the prices here are so high and my daily budget is not enough   … =( Although, I want to enjoy the Japanese foods in reasonable price." I feel some tourists is thinking this way.  From now, I will send you the best information for those who wants to have Japanese foods in reasonable price.
Saizeria
"Saizeria"  is very reasonable family Italian restaurant in Japan. "Saizeria" had started their business from the  tiny western restaurant in 1967, and in the year of 1973, they reopened as an Italian restaurant. At that time, Italian restaurant was expensive so most were hesitate even "Saizeria" provided  the customers half of the price of high standard Italian restaurant. The establisher thought  how he can satisfied everyone and bring the customers to his restaurant for his foods? To that answer, what he did  was reducing the cost of the menus to 70 percent, and make it easy for customers wallet. As a result, a lots of people came and queue the line everyday. Next, what he thought was how he can reduce the line? Than he thought of making the business more larger. Even now,  "Saizeria"  always aiming for a restaurant where customers can go whenever they want to go. It is also lovely that price range of the foods have not changed since that time!
Saizeria`s  one of the popular dish is Milano Doria(299 yen) and a glass of Italian wine that cost only 100 yen! This cost can be maintain because they have their own factory and farm in Australia and Japan, also purchasing house wine, noodles and olive oils etc. from Italy local brand in cheap price are the reasons. If you think it normally, it is hard to provide Italian wine for 100 yen per glass! Furthermore, the food they provides used selected ingredients too.
Besides Milano Doria, there is other popular dishes among students, which is  Foccasia, tiramisu that you can have it for under 200 yen, and salad! You will received a change even though you order a glass of wine, one side dish and main with dessert for 1000yen! There is also seasonal menu and kid menu. It is a family restaurant where everyone can enjoy from kids  to adults!
Shop URL:http://www.saizeriya.co.jp/
※The operation hours will be change depends on the outlets
Fujisoba
Soba is one of the Japanese traditional food. It is processed using buckwheat flour made from the grain buckwheat raw material. It is custom to be eaten in year-end in Japan, and it is one of the old food in Japanese history. By region, the taste of the Soba is different and taste preferences can be divided broadly depends on the person. At Fujisoba, you can have cold and hot noodles in reasonable price. It opens 24 hours, so it is lovely that can go anytime when you are hungry. My recommendation is cold Tanuki Soba.
This is cold Jumbo Tanuki Soba
The Soba soup they are boast about,  they are not using preservative,  and fresh noodles directly sent to each store every morning, the Fujisoba is a chain store, however they provides the same taste with standard Soba restaurants! They only provide hot items, but  Udon is also available.
Shop URL: http://fujisoba.co.jp/
Hanamaru Udon
Hanamaru Udon is one of my recommend Udon shop. Udon is a thick noodle made it with flour.  They established in Kagawa prefecture in year 2000, they opened their first store outside of Kagawa in 2002, from then, they increased their shops. At  Hanamaru Udon, they use Sanuki Udon which is traditional food in Kagawa. In Japan, Inaniwa Udon from Akita is famous, but also Sanuki Udon will be count as one of the top 3 Udon . The noodle is thick and chewy.
kakedashi Kakeage Udon
How to order:
It is self order. The good thing about here is can customised by our own. Choose Tempura etc, select the amount of Udon, select whether cold or hot, and tsukedashi or kakedashi.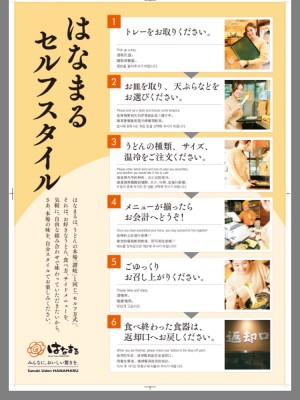 There are no any food additive inside the soup and Udon such as bleach and coloring. Hanamaru use fresh noodle for the noodles and "Irikodashi (dried sardine broth)" for the soup, although use soft water to pour out the taste of soup stock. They also commitment to take soup in stores everyday and divide tsukedashi and kakedashi.
I like bukkake. However, hot kakedahi Kakiage Udon, Kitsune Udon,  Beef Udon or cold oroshi soy sauce is also recommended! Moreover, the Salad Udon, the combination with salad and udon is extremely good combination, its suitable for those who wants to have vegetables once a day.
Bukkake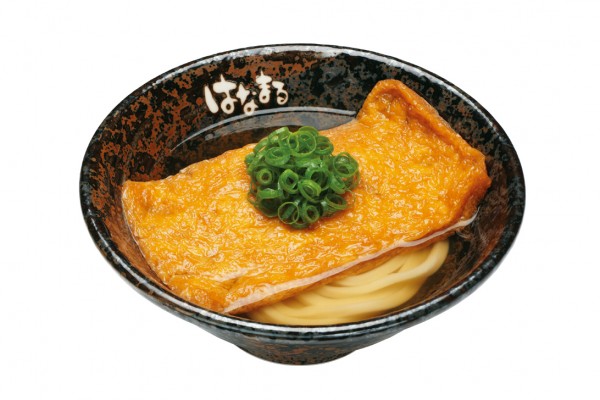 Kitsune Udon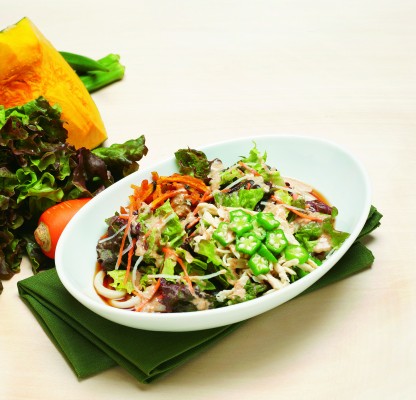 Salad Udon
There are also set menu.
Shop URL: http://www.hanamaruudon.com/
Yayoiken
Yayoiken is Japanese restaurant provide a set meal. If you want to eat Japanese traditional food in reasonable price, this is the place! There are wide varieties of foods such as set meals, bowls, and side menu etc. Although, there are also varieties of kid`s menus.
"Yayoiken" use 100% Japanese rice. For set menu and in the morning, the customers can choose it from 16 grain rice or white rice. There are also seasonal menu besides standard menu and will not get tired of going there everyday. If you want to eat the traditional breakfast what Japanese eat, you need to try!
Shop URL:http://www.yayoiken.com/
 Bikkuri Donkey
At last, I want to introduce is hamburg restaurant,"Bikkuri Donkey." They only sell hamburg at here, so for those who can not eat meat will be rejected, but it is suitable for those who want to have a large portion of meat in cheap price or for meat lovers.
There are two  types of dishes, one is Burgdish which provides the meal by one plate, and Burgsteak which provides by iron plate. The hamburg is the same, so please choose whether you prefer in one plate or not. The popular dish is "Curry Burgdish."
Besides this, there are combo with hamburg and beef stew, and  beef square cut steak with fried shrimp. The most hamburg can be selected the sizes of the meat. For Burgdish, there is also "Oyako Burgdish 450g" for sharing with kids.
Shop URL:  http://www.bikkuri-donkey.com/
I have introduced a popular chain restaurant where children to adults can enjoy! Please visit when you come to Japan!
>> Writer introduction