My Favorite Top 3 Ramen in Shinjuku
12/21/2016
If you think of famous dish in Japan, maybe some of you think of  ramen. Depends on the shops,  they have their own individual ramen. The noodle is usually one kind type, but some places provides their  handmade noodles, and or ask for special orders to noodle shops. How the noodles made is depends on the shop characteristic. Moreover, each shops have their own original  soups. The make soups from few hours or till few days, that makes the soup more rich and delicious. The soup you see normally is tonkotsu(pork stock), soy sauce, miso, and salt.
Now,  you know a little bit about ramen! Today, I will introduce  3 unique ramen shops in Shinjuku!
Ichiran
First, I want to introduce, "Ichiran" in Shinjuku Kabuki-cho. This shop is very popular in using special flour for the noodles, and it is handmade by professional. The texture of this noodle is way  different than the noodles made by machine. The soup is made from  long research, so I assume you definitely love the taste! Chashu is also made from high quality pork loin and special water. The one ramen bowl is made by fastidious food ingredients!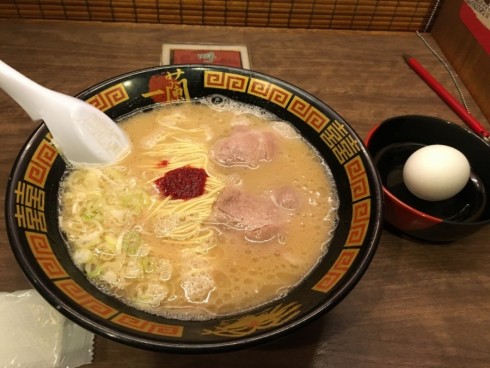 How to buy:
1.Please select  the ramen from vending machine.
2.For the seat information, please find the seat written "空(empty)" and head to the table.
3.In the order form, please check your favorite taste and press the buttom than call the staff.
*Order form: The thickness:(light・normal・thick), Heaviness:(none・light・normal・heavy・very heavy), garlic, spring onion, chashu(have or not), the amount of special sauce(hot chili base sause), and how hard the noodles want to be.
The interior:
All seats are individual, you do not have to worry about others while eating. Maybe you think it is weird, but this is because they want the customers to enjoy the delicious ramen. I think you feel interesting if you see this for first time. You can feel the individual Japanese culture. Besides that, please keep in mind you will queue for coming here!
Hakata Fushin
Hakata Fuushin is cheap delicious ramen shop. The yellow signboard gives an one attraction, and you will recognize the shop immediately. This shop recommendation is Tonkotsu Ramen. Special pork stock with thin noodle is very delicious, and it is only just 550 yen, the price is also attractive! You can put: black pepper and white sesame, red ginger, spicy leaf mustard, and etc, it will make the ramen more good! Moreover, you can have "FREE 2 noodle refills" that is the most attractive about this store! Just in case, you can not have soup refills.
Before you order, you can choose the hardness from soft,normal,hard, and very hard. Soft is 50 sec/normal is 25sec/hard is 15sec/ and very hard is 7 seconds, you can order by  choosing  how the noodles want to be. If you do not  have any specific thing on your mind, you can choose normal. If you are ramen lovers, please go there  once!  
Ramen Jiro
Japanese cuisines are popular in small amount dishes and simple taste. In Ramen Jiro located in Kabuki-cho can satisfied your stomach , and this shop is known as the texture of the soup is very thick. The soup of the ramen is used to boil the pork, so there is individual taste. The most attractive thing about this shop is the gorgeous chashu and a large quantity of vegetables. Moreover, you can have vegetables, garlic, and oil topping for FREE!!! Ramen Jiro is the famous ramen shop so please be aware of lining up. Therefore, you need to walk out right away after you finish your meal for next customers.  For those who have a small appetite like girls, it is impolite if you only ate small amount and  un finish the dish  so please  be careful! (*Even the very cheapest one, there is double the amount of normal ramen shops. If you think you can not finish it, please make the noodles small amount or half size before you give the food ticket to the staff). If you are ramen lovers, please go to Ramen Jiro and enjoy this taste!
>> Writer introduction