Welcome to Heaven In Akihabara!!!
02/01/2016
It is no exaggeration to say that every ACG (Anime/Comics/Games) fan in the world knows Akihabara, a city that exists as a gap between two dimensions and three dimensions. If you are an ACG fan, it is a holy ground you would like to visit, once in your lifetime!
Today we would like to guide how to move around Akihabara.
After arrival at JR Akihabara Station,  you will see the promotional advertisements of stores handling ACG-related products, everywhere in the station.
Among them, you will find the ad of MANDARAKE, with a photo of a model costume playing! Just as expected!
The first destination of today has an impressive strength of advertising, overspread on tall buildings,  after exiting the Electric Town Gate of Akihabara Station.
On the building of today's second destination, Sofmap, there is a promotional ad of "Charlotte." You will get captivated by the ads and costume players walking on the streets, but lets head to our first destination, MANDARAKE, first!
MANDARAKE is located at a 4 min walk from Electric Town Gate of JR Akihabara Station! The external appearance is jet black and mystique, but there inside is a 2.5-D world full of treasures!
The 1st floor is the purchasing corner, and from above the 2nd floor you enter the real world of MANDARAKE!
On the 2nd floor there are costume play goods, wigs, all types of dolls, and magical girl items. Every transformation items of Sailor Moon and Card Capture Sakura, the aspiration of girls, is here.
How about make your dream of becoming a magical girl?
On the 3rd floor there are many animation sells storyboards, scripts, newly published comics and books published shortly after the war!
The gathering of treasures is beyond imagination, having weekly magazines of the Showa era, scripts difficult to obtain and even out-of-print Manga.
The 4th and 5th floors handle items for each men and women. The variety of product assortment is more than you can imagine, so you may be able to find the item you were long looking for or may find books, CD, goods that you thought you would never be able to get. It is a splendid space that satisfies both men and women!
The 6th floor sells CD/DVD/game software and game hardware. You can able to find every game software, game machine, and masterpiece vintage DVD-BOX. You may reunite with a treasure.
Finally, the 7th and 8th floor crammed with TOYS(vintage alloys, vintage plastic models, soft vinyl, Tokusatsu, Crows, action figurines, railroads, mini-cars, erasers), cards (ACG,CARDDASS, telephone cards, bromides, Bikkuriman, minor stickers) . Everything at here are rare items you have never seen before.
Once you go to MANDARAKE, you will understand and realize why people say, "There is nothing you can not get at MANDARAKE!"
Lets go on a treasure hunting journey at MANDARAKE right away!
After reluctantly leaving MANDARAKE, lets move on to Sofmap/Akihabara Amusement-Kan (Hall).
Sofmap/Akihabara Amusement-Kan (Hall),  is a comprehensive software specialty store, highly recommended to people who are in to games and also Anime!
The 2nd floor has new game machines/software, the 3rd floor has used games/software, the 5th floor has new Anime/game software, and the 6th floor has used Anime/game software.
These floors we have introduced are there for you to get the keys to enter the 2D world.
If you want to go more deeply, the 4th (hobby floor), 7th (idol and event floor), and 8th floor (event floor) are the boundaries of 2.5-D and 3D. It is so much fun to get your game machine on the 2nd, 3rd floors and buy the game software you wanted on the 5th and  6th floors.
It is also great to look for character figurines and trading cards, after thoroughly playing your favorite game. I also recommend, meeting cute idols and livening up at regularly held events, on the 7th and 8th floors.
Sofmap/Akihabara Amusement-Kan (Hall) is a place where you can enjoy in various ways. Don't miss it!
At last, we would like to introduce the final destination, KOTOBUKIYA! The holy ground of "Moe (in "Moe"-full Akihabara: KOTOBUKIYA)"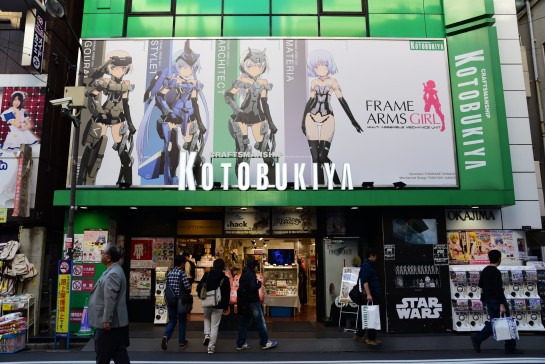 Obviously, KOTOBUKIYA's figurines have the No.1 splendor and cuteness of all! The character figurines made at KOTOBUKIYA are so exquisite, they look as though they are really alive! When you go to the popular LoveLive corner, it feels like you are really meeting the idols!
The "Tokenranbu"-related items, extremely popular among women, are in short supply! We are also mortified, we couldn`t able to get them!! Every figurine you see is so cute that, it makes it very hard for you to control yourself and your wallet!
Lets fight against our rational mind while feeling love at KOTOBUKIYA!
There are so many splendid places in Akihabara, but we can`t able to introduce them all! Everyone, if you have a chance, please visit Akihabara and go on a journey of your own 2.5-D!
Shops and tourist spots that appeared in the guide articles
>> Writer introduction