Nostalgic Atmosphere~At Stationary Cafe
02/01/2016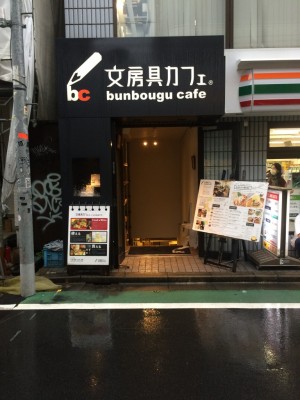 Japanese stationery has high quality, sophisticated design, and unique ideas, it is loved from all around the world.
'Stationery cafe' has the following concept: 'Something new may be born by encounters of people and stationery'. This time, we will introduce suitable items we found here as Japanese souvenir.
The stationery café is about 5 minute walk from Omotesando Station in Tokyo Metro. It is located in a bit secluded quiet place from the main streets in obscurity.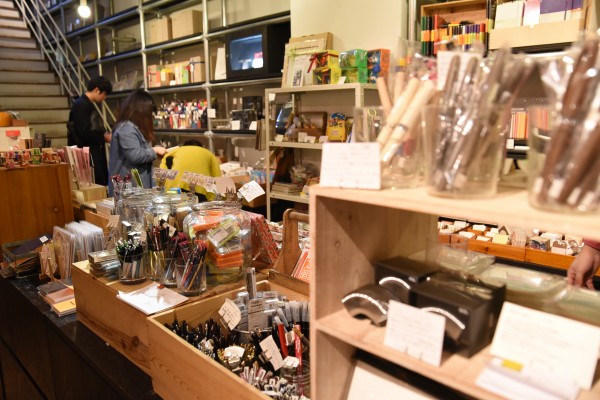 To enter, you go down stairs leading to the basement floor, and you can see the display of stationaries are beautifully arranged there.
This place is the stationery sales corner, and notebooks, pens, individual taste tags, original stationery, etc. are closely arranged.
The shop is not so large, there are items selected with preferences, so you may gaze at them with forgetting time unintentionally. Here are some items suitable for souvenirs.
1.'Tofu Block Tag (Firm・Silken)' 626 yen
This product is a memo pad whose package entirely imitates the appearance of tofu. You may be surprised and reach for the memo pad unintentionally, when it is put on your desk.
When you open the lid, simple quadrate white memos are contained inside.
2. Lunch box-like Memo Pad 496 yen
This product is the memo pad that imitates lunch meals with colorful Japanese paper packages, and are beautiful.
When you open the box, lunch meal-patterned memos are contained inside. There are various lunch meal patterns such as hinomaru bento and maku-no-uchi bento etc.
You feel excited everytime you open your lunch box.
3.Furukawa Shikoh Co., Ltd. Fumikoh Suzuka 648 yen
Fumikoh is a thing to cover incense with Japanese paper. It enables you to present slight perfume to the other person by enclosing it when you send a letter.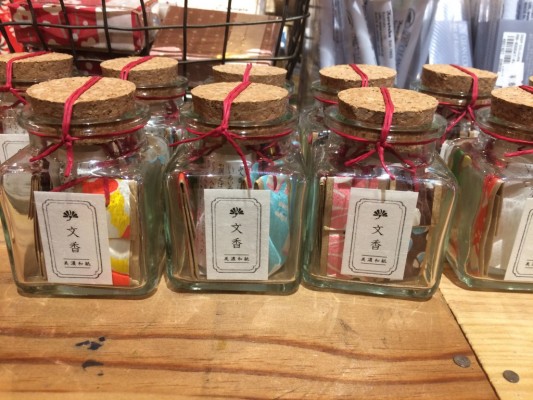 You might thank you to the items that you can enjoy the culture to give incense to letters, which continues from Heian period in Japan, easily even nowadays. It is sure that your impression will remain in the memory of the person who receives the letter with such nice perfume.
4.Ton-Ton Paper Sumo Wrestling 1,620 yen
The game of Japanese children 'Paper Sumo Wrestling' appears in fancy design.
The rule is the following: put 2 paper craft mascot characters on the sumo ring facing each other, make them fight with patting the edge of the ring, and the character that falls is the loser.
There are many cute mascot characters that make Japanese old tales and twelve horary signs motives.
We briefly introduce this shop, but in the stationery café, there are not only the items that we introduced above. There are also typical Japanese items and the high quality stationery that Japan is proud of as well.
Although, there is a corner where you can try pens and markers freely, a café which has its original menu making stationery as motif, a library where you can read hundreds of books about stationery, and so on as well as the sales space.
The stationery cafe is the space which makes stationery fans overwhelmed with happiness.
You must go there and touch these stationeries, to discover Japanese technology and unique ideas.
>> Writer introduction