What?! A Hotel Where Robot Serves The Guest?!  -Lets Stay In Unusual Hotel That Can Only Experience Here In "Henna Hotel Maihama Tokyo Bay"-
03/01/2018
The "Henna Hotel(weird hotel)" are operating as a hotel with increased profitability by introducing robots to reduce the personnel expenses. They opened the new hotel in Maihama on March 15, 2017. It is the second facility following Huistenbosch in Nagasaki, Kyushu.
Furthermore, it is one of the hottest hotel in Japan as a  "Hotel Where Robot Serves The Guests", and certified as Guinness records.
"Henna Hotel" was realized to comfort at the time of customers stay aiming at a low-cost hotel, and which realized high productivity at the world level! It is an unusual hotel that "Robots Serve The Guests"  and i feel the most people might difficult to imagined. To get rid  off  that doubt, let it  find out more about  "Henna Hotel" is!
140 Robots Are Welcoming The Guests!
When you enter the hotel, it will be impressive to  tyrannosaurus robot in the main lobby entrance!  Furthermore, the fish robot are swimming inside the water aquarium and I  can say that it is a place like you are in the  theme park rather than hotel. The fish robots moves are accurately reproduced , it may think the real fish is swimming! There are 140 robots altogether, and 9 different  kind of robots are in operation.
In front desk the guests mainly used touch pannel themselves. The two robot dinasous will help procedures check-in and check-out in 4 different languages <Japanese・English・Chinese(simplified)・Korean>. The multilingual correspondence are possible.
AI Equipped Communication Robot "Taipa" Are Activating In Each Guest Room!
There are 100 rooms in the hotel. The rooms are available from 2~4 people maximum.
The hotel prepared 3 types of rooms: standard twin, standard triple, and corner twin. The bath, toilet and washroom are individual and separated, and it can not  able to see it in other hotels that much. During your bath time, I feel you can relax and rid off all your tiredness without not thinking about others.
All the beds mattress they used are made from  the same products they used as  seats of  Shinkansen. They offer a nice comfortable sleep!
In all the rooms there is communication robot,"Taipa." A robot equipped with Artificial Intelligence, so they can recognize by guest name and face. Just talking to "Taipa", it is a robot that can handle indoor remote control operation, such as on/off aircon and TV,  reading aloud forecast and news etc. Although, "Taipa" will change the response depends on how you touch;  it is a robot that have a capable  knowledge  technology, and can enjoy from kids to adults!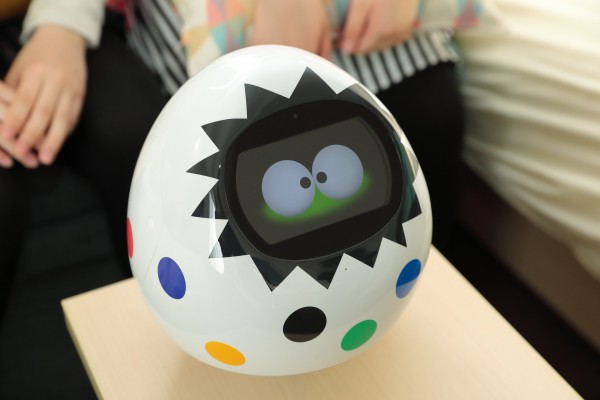 The Tokyo Disneyland is near from the hotel, at night the guest may able to see the firework from the window depends on which way the room window is facing. That is amazing isn`t it!
Time Travel To  Dinosaur World! Restaurant Jurrasic Diners
It is a restaurant that  feels like  you have jumped into the Dinosaur World! It is a unique restaurant with a motif of cave.
The restaurant is a buffet style with  a wide varieties of Japanese, Chinese and Western cuisines. The most I wanted to pay attention to is "Power Salad." It is one of the attractive salad bar that can have all 4 elements: vitamins, mineral, protein and dietary fiber in one bowl! There is also a corner where the guests can make their own original parfait. Certainly, it is a restaurant for kids but also for adults to enjoy their meal!
Operation Hours:6:30am~9:30am
Price:Adult /1,800yen、Under Elementary Kids/900yen、Under age of 3/Free
Seats:50 seats
Only 7 Human Staff In A Hotel!
Here, it is organized by  7 human staff in all time zones. If there is emergency or robot breakdown etc. the staff will correspond you right away, so no need to worry about anything!
Please stay once in this "Henna Hotel Maihama Tokyo Bay" and enjoy the hotel service which you can not able to enjoy it at other hotels!
Information
Henna Hotel Tokyo Bay
[Address] 5-3-20 Fujimi Urayasu-shi Chiba  (279-0043)
[Tel] +8147-316-2828
[For Booking] maihama@his-world.com
[URL] http://www.hennnahotelmaihamatokyobay.com/en-gb/ (English website)
※Check-in: 15pm~12am/ Check-out:  untill 10am
[Access]
①Walk
18 min walk from JR Maihama Station
②Bus
From JR Maihama Station South Exit Bus Terminal No.2
2 stops away riding  "Tokyo Bay Bus Line 9 /Line 37" Get off at "Fujimi 5 Cho-me"
※There is Limousine Bus from Narita/Haneda airport to Tokyo Disneyland(JR Maihama Station)
・80 min from Narita Airport
・50 min from Haneda Airport
③By Car
About 5 min from Metropolitan Express Coastal Line "Urayasu Lamp"
[Car Parking]
As there are limited numbers of parking lots, please make your reservation. The reservation can be done 2 weeks before from your stay.
[Price/Operation Hours]
・Charge Amount (Advanced Booking)
[Weekdays]   Lunch 12:00pm~Next day lunch 12:00pm 2000yen
[Weekend/PH] Lunch 12:00pm~Next day lunch 12:00pm 2500yen
・Charge Amount (Only That Day)
[Weekdays]      【Regular】0:00~24:00 30min/300yen
                 【Maximum】15:00~Next day 10:00am 1500yen
[Weekend/PH]  【Regular】 0:00~24:00 30min/300yen
                 【Maximum】15:00~Next day 10:00am 2000yen
Shops and tourist spots that appeared in the guide articles
>> Writer introduction