About An Hour From Shinjuku! Let`s Find Out the Charm of Mt. Takao!!
10/13/2017
"Takaosan" is one of the mountain in Tokyo, and the elevation is 599.3m. It is very near from the central area; it takes about an hour using Keio Line from Shinjuku to Takaosan-guchi station, and a lot of climbers and tourists will come here to visit! While the visitors are hiking, there is "Takaosan Yakuouin", which is a temple was established in year of 744 and designated for culture property. It is also known as one of the legend that "Tengu(a long nosed goblins)" have lived. Takaosan received 3 stars from "Michelin Green Guide Japon", and  there are a lot of tourists facilities around the station!
This time, I want to introduce the hiking course in "Takaosan", where is the place can clean one`s body, touch the nature and remove your daily stress away!
Which Course Do You Prefer? Please Select From The 7 Courses!!
Firstable, let`s see all the courses, and choose which course is more suitable for you!
①Route 1: Main Course
This is a route can see Monkey Garden ( Wild Flower Garden), Tengu seating cedar, Jyoshinmon, Yakuouin, Kasumidai observatory, and Octopus cedar etc. which is known as power spot. Between Jyoshinmon and Yakuouin, it is separated into two ways, and can be choose it from "Onna zaka" which has gentle slope, and "Otoko zaka", which is need to climbing the stairs. How long it takes: About 90~100min / About 40~50min by using cable car. Restroom: ○
②Route 2: Forest・Roop Course
The route 2 is a route course that surrounding Octopus cedar, and you can see a plants and  can touch the natures. How long it takes:30 min  Restroom:○
③Route 3: Plant Course
It is a course you enter the street from the left side of Jyoshinmon when you walked halfway of the route 1. It will head directly to the top from here. Near the top, there are Katsuki forest and can see autumn leaves in autumn. This course is relatively easy to walk, however there are a lots of evergreens, so it is suitable for people who loves natures.  How long it takes: About 50~60min   Restroom: ×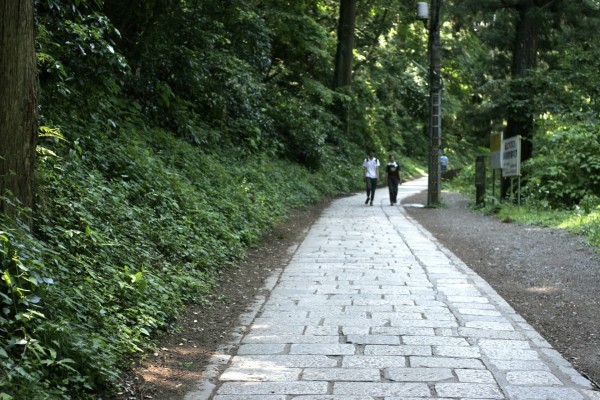 ④Route 4: Woods and Animal Course
This is also the course directly to the top at Jyoshinmon when you walk halfway of the route 1, and enter from right side this time. It is only a course have bridge and it is one of the popular route. How long it takes: About 40~50 min   Restroom: ×
※NOTE
When you go down, you will bump into  Iroha Forest Course, but please do not go to this direction because it is unable to go back to the Takaosan-guchi where you came  from.
⑤Route 5: Nature Course
It is a roop course that lap the summit of a mountain. The routes 1,3,4,6 and Inari-san course are connected at here. The interest point is can see most oldest cedar,"Egawa cedar" that was planted in late Edo period. How long it takes: About 30min   Restroom: ○
⑥Route 6: Woods and  River Course
It is the route course walking the small river and head to the top from the foot of the entrance(Kiyotaki station). It is a popular course that visitors can hear the sound of the water and  the bird singing.  The alley is narrow and it is hard to walk, so the difficulty is high. Moreover, there is also Biwa waterfall, where the visitors can experience the waterfall training if you reserved→ http://www.takaosan.or.jp/english/asceticism.html (in japanese).  How long it takes: About 90min   Restroom: ×
⑦Inarisan Course
It will be the most difficult course from any other courses. It will takes about an 1hr and half from Cable car, Kiyotaki station to the top of the Takaosan. A lots of cedar and Hinoki are along the way, and if you walk halfway, it can view Shinjuku area from the observatory. Restroom:×
Let`s Me Introduce Few Recommend Courses For You To Enjoy!!
① For Begginners!!
It is a course you climb from Route 1 and go down from Route 4. Lets walk from the foot of the entrance of Takaosan, Takaosan-guchi station without not using the cable car or lift. Firstable, you can see is Konpira observatory. At here you can see the view of Shinjuku area.
If you walk about 50 min from the Takaosan-guchi, the monkeys are waiting for your visit at Monkey Garden! You can see different kinds of monkeys and here is a place must visit for animal lovers. Moreover, it can also see a wide varieties of plants at Wild Flower Garden!!
Entree fee: Adult 420 yen Children:210 yen
Operation hours:9:30 to 16:00pm (March and April:10am-16:30pm) →http://www.takaotozan.co.jp/sp/monkey/info.html
After you exit from there and walk more further, there is Octopus cedar. It is also known as cedar brings good luck, and as you see it looks like octopus legs and mouth. There is a strange legend that a cedar bend the roots in one night to avoid from being cut, because the roots was on the way of the road.  
After you passed Jyoshinmon, it separate into two ways. The "Onna zaka" which has gentle slope and "Otoko zaka" with a lot of  stairs. Both streets will connect together before arriving Yakuouin, so please choose the way you want to climb.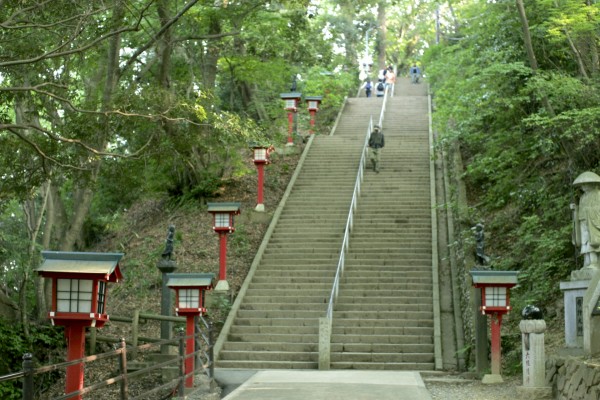 Otokozaka
It will take about 20 min from Monkey Garden to Yakuouin. After you climbed up either Onna zaka or Otoko zaka, please try the popular sesame dango at "Gongenchaya" along the way to Yakuouin!
However, please save the space for lunch!!
Arrived at Yakuouin!
At Takaosan, there is a legend that Tengu lived at here, so there is also the statue of Tengu. As a discipline to protect in accordance with Gohonzonsama, Tengu have a role to bring many benefits, such as fortune-telling and amulets. There are two statues, one is "Big Tengu", holding a fan brings good luck. Other one is "Small Tengu" which cut off the devil.
Try Shojin Ryori You Only Can Have It Here!!!
"Shojin Ryori" is a vegetarian foods based on Buddhist precepts, not using any animal ingredients, green onions, garlic and stimulating ingredients such as red peppers. Mostly, they use vegetables and a varieties of beans for ingredients. At here, the visitors can have a lunch set using a seasonal vegetables!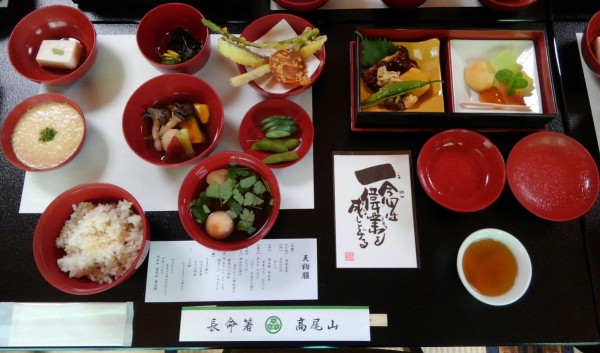 Takaozen
Please see the link for the menu→http://takaosan.or.jp/shojin/(Japanese)
For reservation:  042-661-1115 (Only Japanese. From: 8:30am~16:30pm)
There are also seasonal menu to select. The operation time for lunch is from 11am to 14pm. As soon as seats are gone, the lunch will be end, so I suggest you for reservation.
After you finished your lunch, let`s head to the top! Depends on the weather, you can able to see Mt.Fuji!!
Let`s Go Down From Route 4: Woods and Animal Course♪ 
Let`s walk back along surrounded by greenery. Different to other courses, there is the bridge and it shakes a little, so it is full of thrilling! Also, can see all kind of animals such as insects and wild birds etc. through the seasons.
On the way, it will connect to the main course Route 1 at Jyoshinmon. There are foods and souvenirs stores along the way, so it maybe nice to look around while going down! If you feel tired, there are cable car or lift from Takaosan station to Kiyotaki station!
※PASMO/Suica are accepted
②For Middle Level & Expert
Let`s Climb From One of the Famous Course With Waterfall and River
This course have a lot of small rivers and  it is a course full of minus ion. The alley is narrow and it is hard to walk, although you can hear the sound of the water and birds are singing, and can see  autumn leaves in Autumn. It is a popular course that will have one way regulation in high seasons like Golden week or Autumn leaves seasons. While you are walking, there is Biwako waterfall, and if you climb furthermore, it will connect to Inarisan course on the left side, but please just keep moving along the way till you can see stepping stones. If you see the stepping stones, you are almost reach the top!
Different to Route 1, there are no stores till you reach the top, so when you come down, I prefer you to go down from the Route 1 and see the spots such as Yakuouin, Octopus cedar and Monkey Garden etc. It is nice to enjoy Shoujin Ryori at Yakuouin, but also possible to bring your lunch box with you and have it along the way. There are other few  restaurants too, so please also use that.
Information
Takaosan Cable Car:8:00-21:15pm
Lift:9:00-16:30pm
Takaosan Visitor Center: 16pm
What Should I wear?
In currently on the news,  there is problems that a lot of tourists came for hiking wearing flip flap and heels without not thinking anything. Even the elevation of the mountain is around 600m, please be careful what you wear and wear flat shoes for safety. The weather sometimes change easily, in case, please bring warm clothes like sweater, umbrella or raincoat, clothes, drinks and snacks(like bars).
Let`s Remove Your Tirdness After Hiking!!
How about going to Onsen the station and remove your tiredness away? At "Keio Takao Onsen Gokurakuyu", there are 5 different types of bath, sitting bath and sauna. The 5 types of bath are: "Cypress bath" which is micro bubbles bath are said to have the same effect as bathing in a forest, while tiny micro bubbles remove impurities from the skin. The "Theme bath" which is changes in seasons, a "Carbonated hot spring", the bath promotes healthy blood flow and metabolism, "Natural hot spring outdoor rock baths", which bubbles up from 1,000 meters underground, and cold bath.  The "Natural hot spring outdoor rock baths" can choose it from warm and hot water.
The "Keio Takao Onsen Gokurakuyu" hot spring are said that it help with muscle pain, joint pain, stiff shoulders, joint stiffness, bruising, cold sensitivity, recovery from exhaustion, and overall health. Definitely, it will remove your exhaustion from the hiking. Moreover, there is also relaxation service.
Keio Takaosan Onsen  / Gokurakuyu
Address:193-0844 2229-7 Takao machi Hachioji, Tokyo
TEL:042-663-4126
Operation Hours:8:00~23:00(last Entry: 22:00)
Price 
Regular: Adult(Above intermediate) 1000 yen
Children(4 years old ~ Elementary)500 yen
Season price(1/1-3, Golden week 11/1-11/30):Adult(Above intermediate)1200 yen
Children(4 years old~Elementary)500 yen
 
>> Writer introduction