There was a Facility Where Single Woman Could Easily Spend?! 3 Facilities Where You Can Choose According to Your Mood!!
04/06/2018
Nowadays, the number of low-cost airlines, LCC has increased, and many female travelers come to Japan by themselves or in groups. In addition, some countries close to Japan also come here to enjoy traveling even on weekend. This time, we picked up the facilities that we can spend a little more reasonably than staying at a regular facilities! The place where you can take a shower and relax while waiting for first train to the airport, a place when you missed the last train and nowhere to go, or a place to relax and spend your spare time etc.
These are the  places where even ladies can feel free to spend their time. It is open 24 hours, so can be enjoyed anytime you want!
For Those Who Loves Books: TSUTAYA BOOK APARTMENT(Shinjuku Station)
"TSUTAYA BOOK APARTMENT" created the concept of a space of a coworking space and a space that can relax while surrounded by books. Made the green carpet like a lawn and it is like being in a park outside.
On the 3rd floor, there is starbucks coffee, and on the 4th floor is a co-working space where you can enjoy reading books and opening the laptop while having a coffee in other hands.
On the 5th and 6th floor, there is a reading space where you can take off your shoes and relax. There a various books are stocked in this floor, and also shared spaces and single room booths are installed. It is a relaxing space that can not imagine of being  in Shinjuku. 6th is a floor for ladies, and there is a 12-seater tatami area where girls' associations can open. It is also a pleasurable place to relax open for 24 hours! In the 5th floor, lockers, shower rooms and powder rooms are available. It can be a place where you can relax with your roomware (roomware is available at here with additional charge).
 6F 
5F
5F Powder Room
On  the basement, there is  "TSUTAYA BOOK APARTMENT" selected the book shop and the place where you can enjoy sake. The 1st floor has a chic exterior family mart!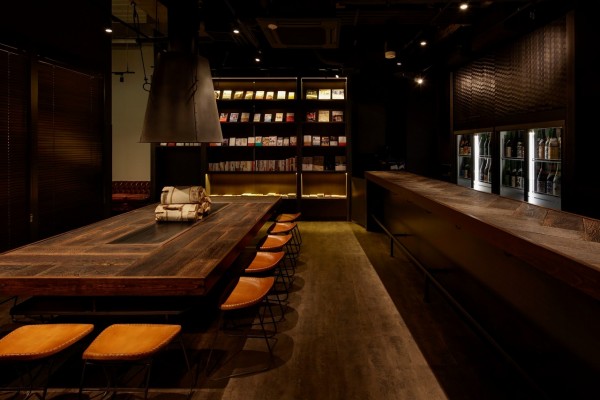 Detail

①COWORKING SPACE
Operation Hours:24 hours/Fee:500 yen(every per hour)
※For the Coworking space, 100 yen is charged first as a  additional fee.
②RELAX SPACE(※Tax excluded)
Operation Hours:24 hours/Private room fee:500 yen(every per hour)
※For female floor only, 100 yen is charged first as a additional fee.
※For the private room, 500 yen is charged first as a additional fee.
※Shower room :500 yen each Room wear: 1,000 yen
※Tax Excluded
[Address] 3-26-14 Shinjuku Shinjuku-ku, Tokyo
[Nearest Station] 1 min walk from JR Shinjuku station east exit
[URL] http://tsutaya.tsite.jp/feature/store/tba_shinjuku/index
Sauna facilities exclusively for women: Ruby Palace (Higashi Shinjuku Station)
The "Ruby Palace" is where you can experience 4 types of sauna and public bath at any time for 24 hours! It is a sauna facility dedicated to women and are rare in Japan.
Here is the admission fee! the price is just nice, and not expensive.
・1,800 yen(4hrs)
・2,200 yen(10hrs)
There are four kinds of saunas: "Maifan stone sauna (additional charge 200 yen)", "dry sauna", "far red sauna" and "Japanese mugwort steam sauna".
The Maifan stone sauna is a sauna that experience with a low temperature of 50 degrees while sleeping in a room. Because it is strong far red, it warms from inside of the body, it is characterized by high effect at low temperature.※Maifan stone is also known as "bakuhanseki (Jp. 麦飯石)," and is a special mineral rock used in Chinese medicine to treat various skin diseases.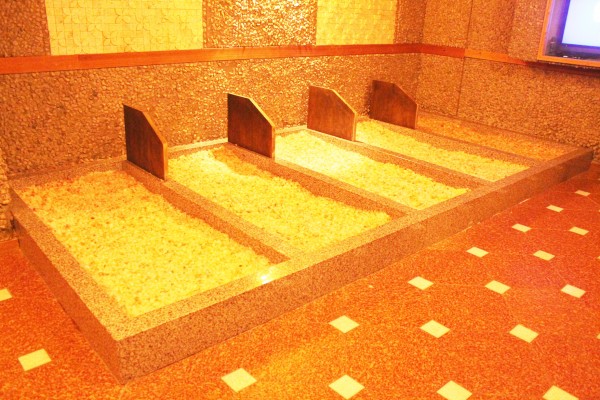 The dry sauna is a sauna that encourages perspiration by hot high-temperature heat while enjoying the warmth of music and wood, and enjoying a refreshing feeling when sweat vaporizes.
Far-red sauna is a far-infrared sauna. It is said that infrared ray helps blood circulation of the skin and also activates metabolism. It is also used to treat skin diseases. The temperature is kept at 50 - 60 degrees, and it is also a sauna of wooden construction that can relax. There are bed chairs besides the chair, so you lye down and can spend comfortably.
Japanese mugwort scent "Japanese Mugwort steam sauna" is said to moisturize the skin, prevent drying skin and also have a warming effect to warm the body. It is also good for treatment and prevention of colds, asthma, skin diseases as an herbal remedy for wounds from long time ago. The scent of Japanese mugwort will heal you while you are in the room..

The bath here they are using is soft water, and it is said to make skin more beautiful, it will not makes your skin stretch out, to have good blood circulation, and also overwork recovery!
You can also enjoy Korean body scrub and esthetic at additional charge!
After the sauna, why not remove dirt and horny pores with Korean traditional body scrub? This is also has a massage effect! Before doing body scrub, it is said that it is better to take a sauna and just rinse it with hot shower, and please do not wash your body with body soap first to make the skin gentle. Here is the  price is here!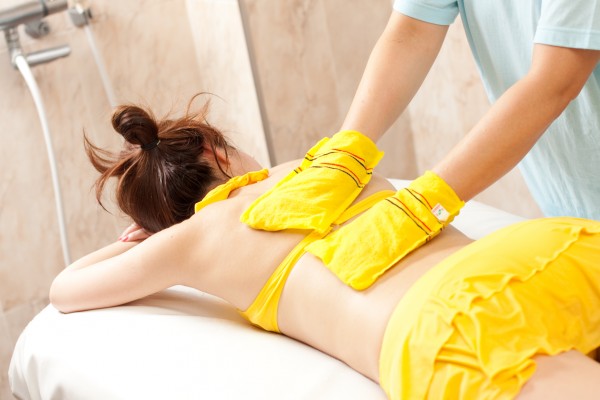 ・Korean body scrub (30 min)3,000yen
・Korean body scrub(40min)4,000 yen
・Additional body scrub(10min)1,000yen
After a body scrub, "oil massage" seems to be recommended for keeping warmth and metabolism! Be in the sauna for 2 to 3 minutes before the oil massage! After massage, it is effective to use the sauna again! However, please use a low temperature sauna and avoid hot saunas and bathing.


・Oil Massage(40min)4,800yen
・Oil Massage(50min)6,800yen

There is also esthetic, common restroom and cafe. Recommended for  who want to emphasize beauty in petit travel!
※Please note that due to the cleaning time, sauna and bath can not be used every Tuesday from 6am to 9:30am
Detail
[Address] 1-12-2 Okubo Shinjuku-ku, Tokyo 169-0072
[Nearest station]
5 min walk from Seibu Shinjuku Line【Seibu Shinjuku Station】North exit
9 min walk from JR Yamanote Line【Shin-Okubo station]】, 15 min walk from【Shinjuku Station】
5 min walk from Toei Oedo Line【Higashi Shinjuku Station】
[Tel] 03-5272-0080
URL: http://www.rubypalace.com/index.html 
For Those Who Wants to Get a Sleep Even For a Short Time!Enjoy the Hospitality that Feel You Are in the Inn: Nadeshiko Hotel Shibuya (Shinsen Station)
"Nadeshiko Hotel Shibuya" is a capsule hotel with an image of japanese,"Wa." It is a hotel limited only for ladies handled by USEN Co., Ltd.,  which is the company provides music broadcast service. It is located 10 minutes from Shibuya station and 3 minutes on foot from the Keio Inogashira Line, "Shinsen" station. Even it is a capsule hotel, you can experience the feeling of being in the inn. In the public bath, the picture of Red Fuji is drawn on the wall, and the guests can enjoy Japanese Hinoki Bath  and Goemon Bath.  Those who are not good at large public bath, also have a shower booth.
The bedroom is dormitory and there is  LED lighting, power plug and USB charging. You can also enjoy Japanese culture by wearing your favorite original Yukata and Tabi for the inside of the building. The Wi-Fi, PC, lockers and  free amenities are also offered. Amenity is in the purse of Japanese pattern. It also becomes a souvenir, so even if you finish using it, you can put something else and carry around.
Free Tatami space is a shared space where you can enter and leave freely for 24 hours. There is a computer, free tea, coffee and sweets. If you are hungry, there is convenience store within 1 minute on foot from the hotel.
The hotel also do a Kimono rental photo shooting service in additional charge for those who want to try on Kimono and shoot on the street! It may be nice for those who want to experience the Japanese traditional culture.
The hotel price starts from 6,900 yen, and the price will be higher depending on the season. For price rates and cancellation fee, please see the link below.
URL:http://nadeshiko-hotel.jp/stay.html
Detail
[Address] 10-5 Shinsen-cho Shibuya-ku, Tokyo  150-0045
[Tel] 03-5489-3667
[Nearest Station ]  10 min walk from Shibuya station,  3 min walk from Keio Inogashira Line [Shinsen] station
URL:http://nadeshiko-hotel.jp/
※Japanese and English is available
Guest House for Foreigners: IKIDANE HOUSE Asakusa Hatago (Asakusa Station)
IKIDANE HOUSE Asakusa Hatago is located 10 minutes away from Asakusa Sensoji Temple and 20 minutes away from Tokyo Sky Tree. It is quite inconvenient to head to the station or walk with your luggage to here, but because it is located in Asakusa, there are many tourist spots to see around.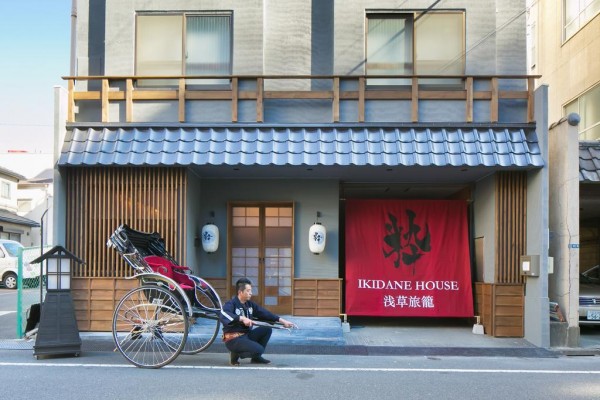 The interior is like a "ryokan" that combines contemporary and Japanese "Wa" that does not seem to be a guest house.The room is divided into a private room, premium dormitory, female only and co-dormitory. The private rooms are using tatami mats, fusuma and shoji, and low small dining table we called,"Chabudai" etc. The private  room  has a double room for 2 people and Japanese style room for 2 ~ 3 people. Also  have private bathroom and toilet.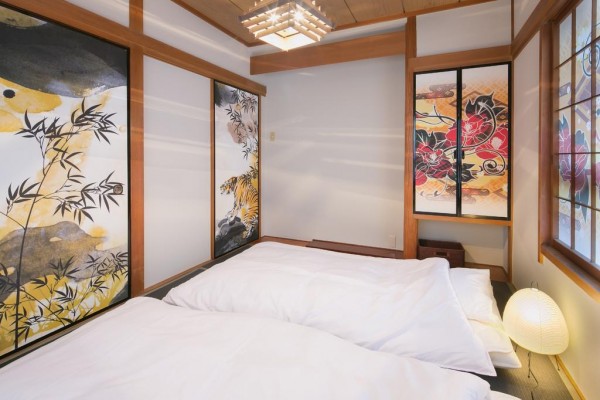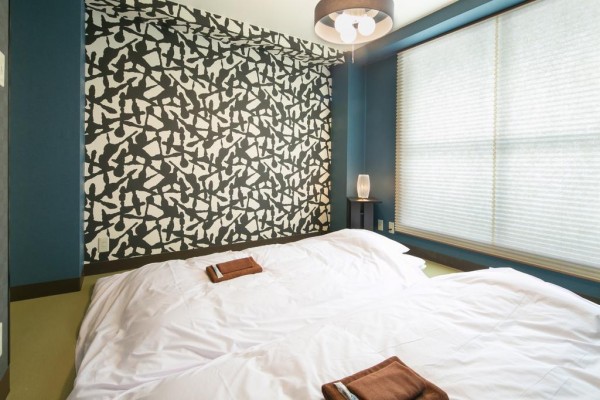 Double room
This is premium dormitory and community dormitory. How about using a private room if you came in a group and  use a female dormitory if you travel alone?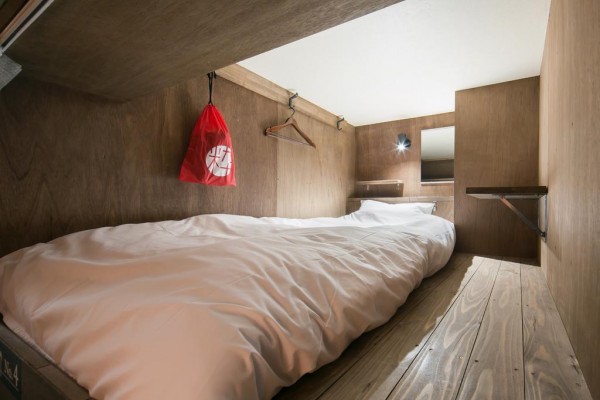 At here, you can enjoy hot bath anytime for 24 hours.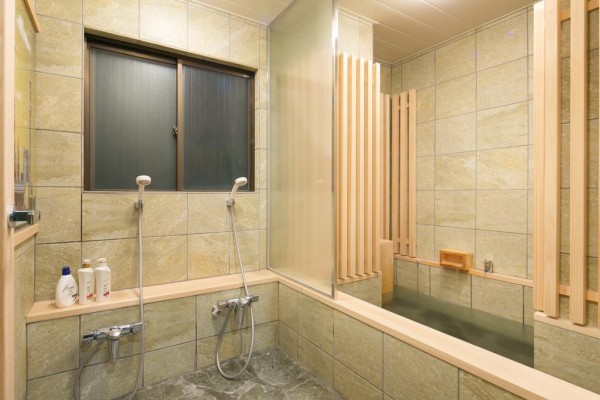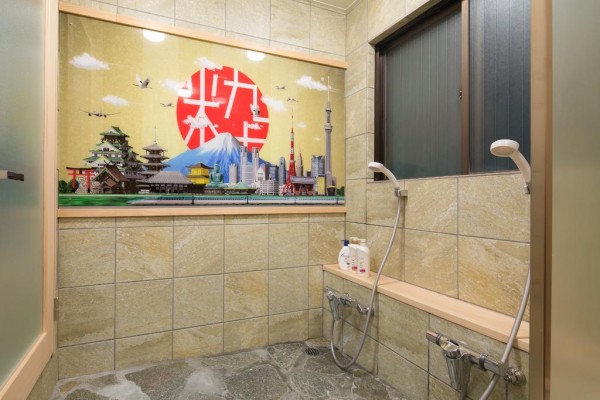 How about relaxing on the rooftop during the day! If you come on Summer time,  it seems that you can see the fireworks of the Sumida River in the summer at night.
Detail
[Booking] You can make reservations at each accommodation online site.
[Address] 4-27-6 Senzoku Daito-ku, Tokyo,111-0031
[Tel] 03-6802-4012
[Access] 20min walk from Asakusa Station
Rakuten Travel URL: https://travel.rakuten.co.jp/HOTEL/166338/166338.html
I picked up few facilities that can rest without worrying about the time. TSUTAYA BOOK APARTMENT and Ruby Palace can be a place where can kill the time compared to other two facilities.
>> Writer introduction