You Will Regret If You Do Not Get It!!! Let`s Get Panda Xiang Xiang Birth Aniversary Sweets!!
01/05/2018
Baby panda "Xiangxiang(香香)" showed up first time in public on December 19, 2017  at  Ueno Zoo. "Xiangxiang" was born in June 2017,  between mother panda, "Shinshin (真真)" and father Panda "Leelee(KAKA)." In Ueno Zoo, it is popular to be taken up in news as a baby panda was born after 29 years' absence! Many visitors hit by lottery comes here for the first time to see Xiangxiang playing with Shinsin. Xiangxiang how she plays innocently is adorable, it is enough to see and can be healed ♪
Due to release of baby panda, "Xiangxiang", the limited panda goods are on sale in various places. This time, I will introduce the three best items for best for souvenirs and it`s also good for photo!
Tokyo Banana Panda 『Miituketa (I found it)』 Banana Yogurt Flavour
The first one I would like to introduce is "Tokyo Banana Panda",  "Miituketa."  It  was released on the 20th of December from the popular Tokyo souvenir store, "Tokyo Banana", the confectionery company using bananas in their products. This package is a special version of celebrating the birth of Xiangxiang! Illustration depicting the moment when "Tokyo Banana Panda" caught in panda's nose and it's so cute!
Look! When you opened it, the panda is drawn on the fluffy sponge cake! You need to see this, it` so cute! There are 3 kinds of pandas with different poses in the box randomly!
The banana yogurt cream is inside the dough, they made it in a gentle taste with love by the meaning of panda to grow up gracefully.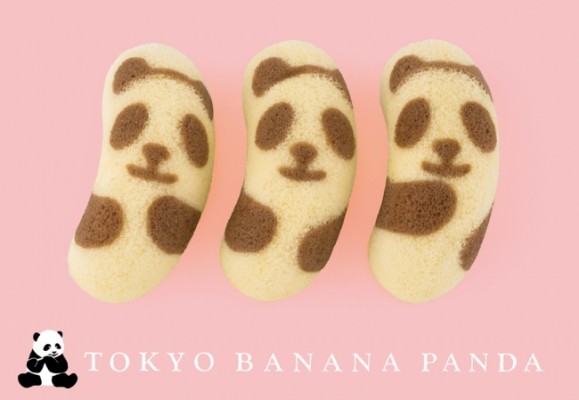 Look the Package!!
How about holding a "Tokyo Banana Panda" box and posted on the instagram?
Since the illustration of panda`s face is packaged on one side, if you put the box to your face  and take a picture.... Here you Go~!!! You are now become panda too!! Hahaha,  a little playfulness is also drawn on the package!
Detail
【Name】 Tokyo Banana Panda 『Miituketa (I found it)』 ※Banana Yogurt Flavour
【Price】 4 pieces (515yen), 8 pieces (1,080yen), 12 pieces (1,595 yen)  ※Tax included
【Sales Period】A Whole Year
【Where to buy?】 JR Ueno Station・JR Tokyo Station・Daimaru Tokyo Department Store, Tokyo Solamachi ※Please see the Tokyo Banana official website for detailed sales location of each facilities → http://www.tokyobanana.jp/products/banana_panda.html
Ginnobudou " Panda Sugar Butter Sand no Ki "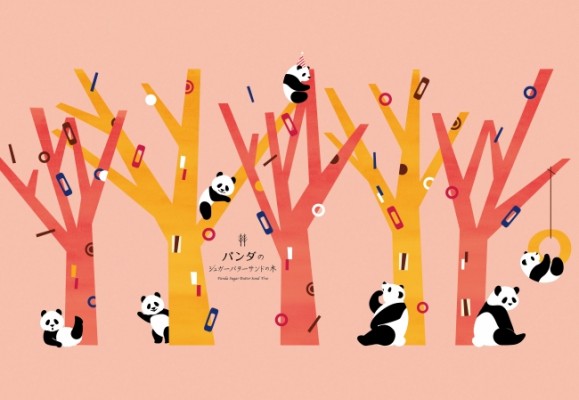 The "Sugar Butter Tree" from Ginnobudo(Silver grape) is the cereal sweets speciality store, and  selling, "Panda's Sugar Butter Sand Tree"! From the package is very cute, you need to check this out!
Xiangxiang Become Railway Stationmaster!
For the memorial of  "Xiangxiang"  became the railway stationmaster of Ueno station, the package is an image of Xiangxiang as railway stationmaster! Xiangxiang is wearing a stationmaster`s hat and holding a heart in her hands is so adorable! ! It is a gift that will pleased also for children, as well as a small gift!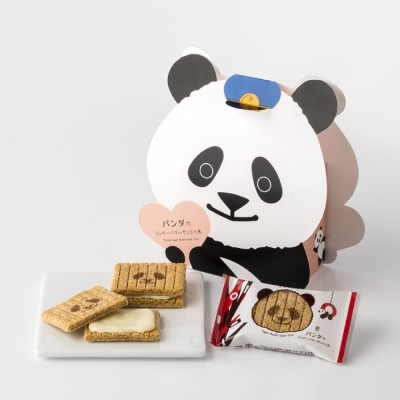 The Panda face is depicted on the crispy cereal dough, and the dough is sand it with white milk chocolate!
Detail
【Name】Panda Sugar Butter Sand Tree  (5 pieces)
【Price】540yen(tax included) ※Some stores: 21 pieces for 1,620yen (tax included)
【Sales Period】※A Whole Year
【Where to buy?】Sugar Butter Tree  JR Ueno store・JR Tokyo Station store ・Tokyo Solamachi etc.
【URL】http://www.sugarbuttertree.jp/sand_panda.html
Yokumoku  Panda Peti Cigar
At last, I want to introduce is a "Cigar", the standard souvenir from Yokumoku.
This item is baked with plenty of butter and wrapped the dough in a shaped of a cigar.
The crispy moist texture and elegant taste is still popular among of all, it have not changed for ages since 1969. To celebrate Panda's public release, they are providing a packaged items depicting Panda's parent and child.
The illustration depicted on the front is like Xiangxiang want to coax to her mother Shinshin! It is so adorable isn`t?
※The stuffed animal  is not included.
The can container is perfect for souvenirs for home use and also for distributing to large numbers! The illustration that parent and kid are playing is also drawn here.
Detail
①
【Name】Panda Peti Cigar
【Price】 1,080yen(tax included)Peti Cigar 16 pieces
【Sales Period】 Matsuzakaya Ueno Department Store, Ecute Ueno, Tokyo Station Ichibangai
【Sales Period】 Until 31st of  May, 2018   ※May have changes
②
【Name】Cigar (Panda Design)
【Price】670 yen (tax included) Cigar 10 pieces
【Sales Period】 Now on sale
【Where to buy?】 Matsuzakaya Ueno Department Store, Ecute Ueno, Tokyo Station Ichibangai, Tokyo Brand Store South Exit Shop, Daimaru Tokyo Department Store
【URL】 https://news.walkerplus.com/article/129568/
Besides Panda peti Cigar, the items will be selling for a whole year. The Panda motif sweets will definitely get attractive from kids to adult! How about getting for yourself or as for Tokyo souvenirs?
>> Writer introduction