Let's Go To Tsukiji Market♪ Experience The Fish Market In Japan!
05/11/2017
Tsukiji Market is one of the 11 markets in Tokyo located in Chuo-ku, Tsukiji. This Tsukiji market is the largest fish market in the world.  If you are looking for sashimi, the most definitely saying here is the place to eat tasty sashimi. Moreover, a lot of traders and general people come here to purchase.
Lets visit Tsukiji Tuna Wholesale that you cannot experience elsewhere!
Visiting Tsukiji Tuna Wholesale Market
Let's wake up early in the morning and visit Tsukiji Tuna Auction Market!
Many people are visiting here to see this Tuna bidding market regardless of Japan or abroad.
First, there were a lot of tourists visiting here to experience the tuna auctions. The visitors were impolite and ignored rules. In 2008, the market had banned all tourists from the auctions because the problems they caused. Later in 2010, the market decided to  reopen the tuna auctions to the public. However, there were no improvement so the tours have been prohibited finally. The following year, they started to reopen the tune auctions again by narrowing down the time and numbers of people than before.
How Can I Visit?
1
■Visitors Registration:1st Floor of  "The Fish Information Center" (By the Kachidoki Bridge entrance).
■Visitors Registration Time: 5am in the morning
■Numbers Limited:Up to 120 people。※On a first-come, first-served basis. No reservation
Noted:In case of many visitors, there are cases where time may be advanced. It says that visitors registration time starts from 5am, but there is a case that numbers of people will arrive before 5 am. To make sure you can experience the tuna auction, you may need to arrive earlier.
Please read this before visiting:http://www.shijou.metro.tokyo.jp/english/pdf/pdf/english/tsukijiguide.pdf
■Holiday:Closing days and New Year`s Holiday (December~Mid January)
For the details, please refer, "Holiday Calender" http://www.shijou.metro.tokyo.jp/calendar/2017/
2
■Tour Time: The visitors are divided up into two groups of 60 according to their order of arrival
[First half] 5:25~5:50am
[Second half] 5:50~6:15am

※PLEASE DO NOT do the following below.
・Taking the photo with flush at Tuna Auction Market
・Bringing suitcase and or large bags
・Smoking (all the areas)
・For those who come with a wheelchair (please be note to bring someone with you when you enter)
・Entrance with kids and baby chair
・Entrance with bringing hazardous materials and pets
・Visiting in a tour and group are forbidden to enter. Please visit in small numbers
The hall is very slippery, they are not responsible for accident etc.
Although, you need to visit here in the early morning. I think that it is a wonderful tuna bidding experience you should never miss!
It is also interesting to see the moment each fisherman`s fish raised  the  price of tuna is attached!
After the Visiting, Let`s Have Delicious Sushi!
We can say that the most popular sushi restaurants in Tokyo are Sukiyabashi Jiro and Kyubei in Ginza. Although, as some of you know, it is hard to visit and very expensive. I think that everyone wants to go to the best quality sushi restaurant with a reasonable price. Next, I would like to introduce two popular restaurants  that you can have only here and directly from Tsukiji!
Sushidai
Main Store 寿司大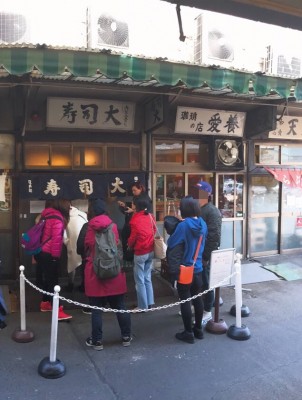 This is the most famous sushi restaurant in Tsukiji market.
Some will line up before the opening, and it is normal to wait for 2,3 hours in weekend. "Nigiri Set" is 2600 yen and  "Manager Omakase Set (10 pieces) " is 4000 yen. The high quality Neta(fish topping) directly from Tsukiji and Shari(sushi rice) are outstanding and reasonable to eat as this price♪  For "Manager Omakase Set", at last Nigiri you can ask for favorite Neta.
Since the reception ending tag comes out before 1 pm, I recommend visiting here before lunch.
[Shop Data]
Address:(104-0045) 6−21−2 Tsukiji Chuo-ku, Tokyo
Opening Hours:
[Mon・Tue・Thu~Sat]5:00am~15:00pm
[Wednesday] 5:00am~14pm (May have stop for ending the acceptance of the queue)
[Closed] Sunday/ PH・Irregular(Depends on Tsukiji Market・Wednesday)
Daiwa Sushi   大和寿司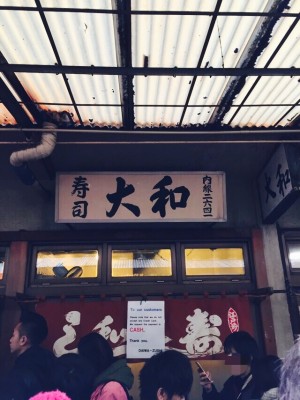 This sushi restaurant is also popular and can see a long queue before it opens. The characteristic of this restaurant is Neta(fish topping)! It's thick and tasty! The popular menu is "Omakase Set (7 Nigiri+roll)", 3500yen.
[Shop Data]
Address:(104-0045) 5-2-1 Tsukiji Chuo-ku, Tokyo
Opening Hours:5:30am~13:30pm (Closed on Sunday)
There are also Kaisen-don, and if you walk outside of the market, there are also many  restaurants that provides sea foods, egg rolls, appetizers that match with beer!  Maybe you can walk around and seek for foods here rather than go to restaurant!
>> Writer introduction