Let`s Go To The New Facility "GSIX" Where Luxury And Art Intersected!!!
05/01/2017
On the site of Matsuzakaya in Ginza 6 Chome, the complex facility,"GINZA SIX" opened as a largest scale facility  than other department stores in April 20, 2017! The "Life At It Best" is the concept of this shopping mall, and  it is a place where all the brands and foods from all over the world are gathered.
The Logo with a strong vision has an impact, the simple exterior that appearance incorporating "Wa." Although, the interior is a western style design, but  it also incorporates "Wa" here.
It is the place where to discover, the start point, meeting point  and creating as a place where people and town connect to culture again.
First of all, let`s pay attention to the appearance and arts!
6 Global Luxury Brands Decorate the Front Entrance Of "GSIX"! What Is the Store Concept Each Store Has?
The luxury brands that decorate the front entrance are: DIOR, VALENTINO, CÉLINE, FENDI, SAINT LAURENT and VAN CLEEF & ARPELS! The brand slogan "Where Luxury Begins"; when they think about what is the "New Luxury" is, they named it as the reason for wanting to be a place to keep learning and searching for answers. Lets look how each brands has its own distinctive interior and exterior!
■DIOR
The exterior expresses a unique design veil that evokes the clattering noise. The simple interior emphasizing white color is like a gallery.
■VALENTINO
Like Valentino, they used metal mesh in whole surface for exterior. The interior will completely change, like in Palace, it reproduced their individual space.

■CÉLINE
CÉLINE made it  the exterior with warm feeling and a unique world view. They represent the appearance with ceramic using Japanese soil with motif of globality and time. They also used nature materials in the interior such as soil and rock.
■FENDI
"FENDI" want to realize "Rome" in their interior and made the exterior with motif of "Italian Civilization Palace." the white arch is the accent and it has become a cute appearance.
■SAINT LAURENT
SAINT LAURENT used a white and black marbles luxuriously in their exterior, and the space of an image of modern and creative Art Déco.
■VAN CLEEF & ARPELS
Like VAN CLEEF & ARPELS, they made the appearance surface changing from jet black to gold. They strongly launching the Art Déco design in their interior stair handrail, wall surface, and inside the elevator etc.
Let`s Pay Attention to Interior Of Western Design Mixture With Japanese "Wa"
"GSIX" exterior is designed by Yoshio Taniguchi, the Japanese architect. He imaged of "Hisashi (eaves)" and "Noren (which is the Japanese shop curtain that have split in the middle)" He incorporating Japanese traditional style, it can be said that it is an appearance that came from Japan` unique hospitality,"Omotenashi." First, it may only think as simple building, but as I heard the words of "Hisashi" and "Noren", I can understand and it is interesting to know how his image was built in this exterior. Am I the only one who think it is "Interesting?"
To complement the interior with a simple exterior is the interior made by French interior designer, Nicolas Gwenael. I can say that it is an art, and he was particular about all of his interior.
Enter the entrance and go up to the second floor, there is a big atrium at the corner as an icon. It is a designed that the light comes out from the entire building, and the subtle space, colors and temperature differences drawn by him are well represented. It is difficult to express it good and convey, but it is a calm space with warmth. Moreover, by having interior intersecting the aisles where shops lined up, it can imagine the old Ginza alley. Exactly, it can feel the space like you are window shopping the shops that are just on the road. All of Mr. Nicolas interior have stories, from mattress, sofa, handrail of the stairs and ceiling. Thinking of it from the viewpoint of the visitors. Please go and enjoy how the story is designed!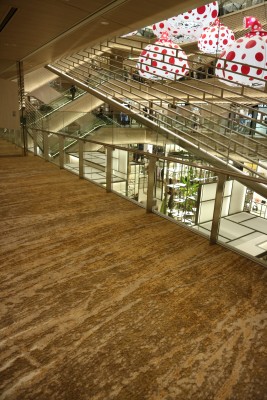 Experience the Various Artist Works Such As Yayoi Kusama etc.!
We also cannot miss the public arts "GSIX" expand! In the center large open ceiling of the atrium, they exhibit one of the world avant-garde artist, Yayoi Kusama work (Limited exhibition: Apirl 20, 2017(Thurs)~Feb 25, 2018(Sun)) of cute pumpkin balloons with red dots with white background. From now on, the exhibition, the works of various artists that change every year are also noted!
There is also Yayoi Kusama limited shop too! You cannot miss it! (2017/4/20~2017/5/16)
On the 3~5th floor, there is a stair of "Vertical Planar Art" that does not use soil. As if the atmosphere changed only there,  you can feel that you are in the forest.

In other side, there is big LED waterfall video work by Team Labo! This work is drawn in three dimensions. It is good to see the waterfall directly below from the 5th floor, but I recommended to see it from 3rd floor and above!

Beside this, there are art pieces using mirror and sculpture works near the elevator hall. It is a place for art lovers and where you can meet various artists works!!!
 Not Only Interior! Let's explore 241 Stores together!
There are 241 stores(products  210, restaurants  24, service  7)in "GSIX." At food floor in basement 2,  the one of the confectionery company Ishiya Co. Ltd opened the first retail shop "Ishiya Ginza" in out of Hokkaido.  As some of you might know, Ishiya Co. Ltd is a confectionery company makes  "白い恋人(Shiroi Koibito), one of the popular Hokkaido souvenir. There are more shops such as American pie store 2nd outlet, "The Pie Hole Los Angelas", "Tsujiri" etc. , and  "Imadeya Ginza"  the shop handling about 600 various type of  sake and Japanese wine . Moreover, at wine shop "Enoteca", they are handling more than 1500 various kinds of wines and also provides the corner where visitors can enjoy glass of wine.
The "Kurogi Chaya" from Kyoto, there are only 5 seats but it is a place where you can enjoy red snapper porridge (鯛茶漬. 2500 yen). The exterior and interior of an imaged of Kyoto Chaya is just like you time slip into Kyoto.
In food floor, certainly it is good for souvenirs, but it is also packed with goods that only you can taste and can buy it here!
The basement 1 is a beauty floor. The cosmetics from domestic and international brands are lined up and there is shops with salon. If salon is available, of course the reservation on the day is also possible, so it might be a good idea to stop by heal tiredness when you have time!
I have one more thing that I want you to pay attention to. That is the World first CHANEL Lounge Coco(lipstick) vending machine,"LIP GATE" that  only have two in the world! You can purchase 12 different of color Lounge Coco from here. It is convenient that you can buy it easily with button!
Thanks to Toma for his cooperation to us!
1~5th floor is fashion, lifestyle goods and cafes. From the world luxury brands most people knows such as "Jotaro Saito","Yoji Yamamoto" and "Moschino"etc.,  and shops that pursed japan quality,"Made In Japan." Every stores have their own concepts and  individual atmosphere.
"Moschino" made their store into playful space. At the entrance, there is big BIKER BAG shelf that only have it in Milano and New York. Has impact and it is cute aren`t they? There is bag  with motif of leather jacket etc. and photo booth.
From 7th~12th floor are office and there is some restaurants on 13th floor. Maybe some of you think that "it is gathered of luxury brands and difficult to enter", but I feel that you can use this place as all kinds of occasions. Just to see art works and window shopping is good, for business, and or stopped by for cafes, lunch or dinner with family, friends and couples,
Floor information: https://ginza6.tokyo.e.abf.hp.transer.com/shops
①Tourist Service Center & "Tourist Bus Stop" (1st Floor)
The tourist center is available in multilingual languages (Japanese/English/Chinese) and foreigners do not have to worried about language barriers. Except duty free and currency exchange, the ticket issues, luggage storage and delivery are available. They also  have cafe and convenience store that handle souvenirs.
Facing the Mihara street, the tourist bus stop was also made. It is a place that is becoming an international place!
②Rooftop Garden "GINZA SIX Garden"
"GINZA SIX Garden" is a place where you can feel the nature. When you want to take a break at shopping or in sunny day, how about drink a cup of coffee and lazed in the sun.
③Culture・Exchange Facility"Kanze Noh Rakudo(観世能楽堂)"
On basement 3, there is a space to enjoy the Japanese traditional culture,"Noh" closely by. Unlike Kabuki, Noh is difficult to understand, so young people do not have familiarity. Here is the place they made it to enjoy "Noh" comfortably. In addition, it also be held as event hall.
[Store Information]
GINZA SIX
◇Address:6-10-1 Ginza Chuo-ku, Tokyo
◇ TEL: 03-6891-3390
◇ Operation Hours
Products・Service 10:30~20:30
Restaurants  11:00~23:30 ※Depending on some stores
◇ Nearest Station
①2 min walk from Tokyo Metro Ginza Line・Marunouchi Line・Hibiya Line  "Ginza Station" A3 Exit
②3 min walk from Tokyo Metro Asakusa Line・Hibiya Line "Higashi Ginza Station" A1 Exit
③10 min walk from Tokyo Metro Yurakucho Line, JR Yamanote Line・Keihin Tohoku Line"Yurakucho Station"  Ginza Exit
④10 min walk from Tokyo Metro Ginza Line・Asakusa Line, JR Yamanote Line・ Keihin Tohoku Line・Tokaido Line・Yokosuka Line, Yurikamome "Shinbashi Station" Ginza Exit
URL: https://ginza6.tokyo.e.abf.hp.transer.com/(English)
I feel that "GSIX" will be the most attractive commercial facility this year. The large scale shopping mall that have 241 stores is so big, it may get lost and I assume it is  hard to look all in one day. If you do not have time, I suggest you to check out the floor map and decide where you want to go in the first place. Like me, if you are art lovers, it must be fun just looking at various art works!
Shops and tourist spots that appeared in the guide articles
>> Writer introduction