MAISON KAISER SUMMER BEER GARDEN♪
08/18/2017
One of the world famous bread store,"Maison Kayser" opened the first limited beer garden at "Maison Kayser Sunshine Ikebukuro" and "Maison Kayser Makuhari"! At here, the visitors can enjoy plenty of Maison Kayser breads(as all you can eat) and 4 different kinds of craft beers for free flow with a course. Today I came to "Maison Kayser Sunshine Ikebukuro."   Let me introduce what kind of course it is!
For drink, there are 4 different kinds of beers other than Kirin Heartland, wine and soft drinks. What I attractive was this 4 different craft beers! Lets see how all the beers are taste like!
・496 : It is like ale, and also has rich taste like a larger. It can enjoy the taste of sweetness, sour and bitter in the same time.
・GRAND KIRIN IPA : Slightly taste of citrus and sweet ripe scent.
・After Dark : It is a mixer with bitter and sweet taste. The bitterness is little bit stronger, but easy to drink.
・Brooklyn Lager : When you have a zip, the fresh fruity taste and aroma spread out immediately to your mouth.
This is After Dark and Brooklyn Lager. The Brooklyn Lager is my recommendation!
The one that brought next is bread that Maison Kayser is proud of. As some of may know, the bread Maison Kayser made is being attention to well-established stores and hotel chef. Maison Kayser make their bread in French traditional way using carefully selected ingredients and natural yeast! It is really attractive that can have this bread as how much I want at here! Please have it with Maison kayser special olive oil, butter and tomato paste!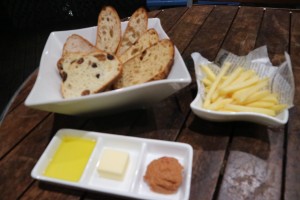 This is "Grilled Angus beef steak with Japanese sauce." The meat is chewy and the special sauce matches the steak!!! Although, you also can not miss this "Back rib." The rib pork loin with sweet and sour sauce will be addicted right after you eat!
While having "Back rib", the staff brought a basket of breads. Everything
looks so good!! You can choose it from a wide varieties of bread from standard French bread to popular bread such as turmeric and matcha bread etc. What I did was I picked up different kind of bread and see how each bread taste like. My favorite was sweet potato and popular matcha with lemon!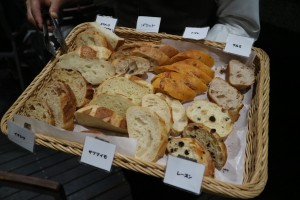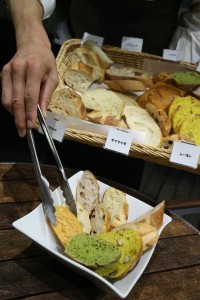 This is turmeric and matcha.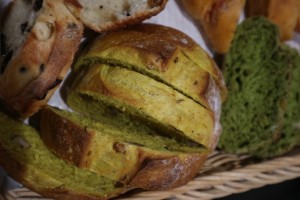 At last, there is ice cream for dessert and course is finish!
This course can be eaten in price of 4500 yen for 90min. Some may feel the price is high, but if I think about free flow of craft beer and can eat Maison Kayser bread as much as I want than it might be okay for this price. As some of you know, the Maison Kayser bread is pricey for only one bread, so it maybe a good chance to taste different kind of bread and find the bread you like! There is also  bakery right next to the restaurant, so for those who have not eaten Maison Kayser before, please try it  once!
Information
Maison Kayser Beer Garden Set  4,500yen (90min)
【Operartion hour】 16:30 〜 Last
【Date】 8⽉1⽇(Tue) 〜 9⽉8⽇(Fri) 日曜・祝日を除く
【Shop】●Maison Kayser Sunshine City Ikebukuro (Terrace seat)
1F  Sunshine City Alpa, 3-1-2 Higashi Ikebukuro Toshima-ku, Tokyo
03-3980-8880 ←(For reservation)
Early Reservation Privilege!
※1 course meal is free for those who had reservation one day before for more than 6 people.
>> Writer introduction