Let`s Ride A Bike Around In Art Of Harajuku!
03/13/2017
Tokyo is the place where  there are a lot of culture is born. It is full of encounters where creativity is inspired just by walking in the city.  Among them, "Harajuku Area" is the place where a new epidemic is constantly born and a place where culture can be widely  disseminated abroad through the  world. Many people are drawn and be addictive. This time, I want to introduce is the cycling course and see the galleries of "Harajuku Area." Let`s ride the bike, and go out the city that stimulates your sensitivity!!!  
This time, what we are going to use  is the bicycle rental service, "COGICOGI." The first hour is 1500 yen (without tax), and the additional 100 yen  will be charged every per hours. The characteristic about this service is can able to rent  and return the bike by just using one smart phone! What you need for using it is smart phone (above iPhone 5s or above Android 4.3), and credit card (only accepted: VISA、MASTER、JCB). Please download, "COGICOGI App" from App Store or Android Google Play and register the user information. The one you have registered on your smartphone will be the key for the bike. After, please go to one of the 19 (in present ) port, the bike stand! They will charged automatically from your bank account after returning the bike to the port, so no need to worried about  the troublesome.  In addition, you can rent from the port where you want to rent and return.
COMMUNE246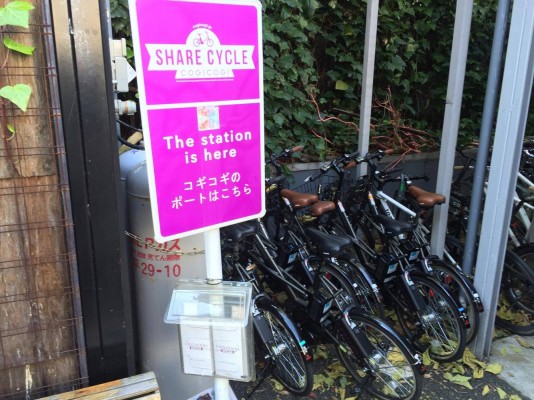 Let`s start from this facility, where the bike port is located. "COMMUNE246" is the unique community place in Aoyama. There are places that can enjoy:  multi culture food carts and cafes・the share office, "Midori-sou"・ the "public space" which is the  DJ space that turn into the shape of open air dome・the learning space where anyone can participate,"Freedom University" and etc, a variation of community places are gathered.  Before you departure, let`s have lunch at "COMMUNE246",  be energisch and get  recharge! The recommendation place is,"dote cafe" the restaurant provide organic foods.  The popular menu is organic plate. This restaurant has their own garden; also they go to the farm by their foot, and they used the vegetables purchased from reliable farmers. In addition, there are no preservatives in the seasoning. The well-balanced menus filled with warm feeling is attractive. The "Garlic Shrimp" has full of stamina!  
Operation Hours:11:00〜22:00
Access:2 min walk from Subway "Omotesando" Station  A4 Exit
Information:
【COMMUNE246】http://commune246.com/
【dote cafe】http://dotecafe.tokyo/
Nezu Museum
Nezu Museum is the art museum where Japan and oriental old artworks are saved and displayed. The first generation was familiar with the tea ceremony, because of that reason there are a lot of tea ceremony equipments, and there are tea room in the garden. If you come to Nezu museum, not only just see the exhibition, also please walk the garden! You will be surprised by the garden with full of natural in the middle of Tokyo. You also can enjoy the different faces depends on the seasons. The cafe in the garden can have small meals or green tea sets.
Price:
【Special Exhibition】Public 1200yen/High school student and over  1000yen
【Collection Exhibition】Public 1000yen/High school student and  over 800yen
※Discount 200 yen for group more than 20 people /Free admission: Under  Elementary・Intermidiate students
Open: 10:00-17:00(Last Entry 16:30pm)
Closed:Monday(If Monday is PH, it will be closed on Tuesday)End and opening of the year
Information: http://www.nezu-muse.or.jp
Aoyama Cemetery
The Aoyama cemetery is the largest scale cemeteries in the 23 wards. That history had been started since 1874, it is the place known as many authors who have left a achievements, and such as Toshimichi Okubo and Shigeru Yoshida are buried.  Moreover, it is also famous that there is a shrine of Hachiko, a faithful dog, it built next to the pet owner Hidesaburo Ueno`s grave.  Inside the park, there are street lined with cherry blossom trees over 50 years old, and in the Spring the visitors can able to enjoy the beautiful scenery. In the season of fresh green, the green tunnel is beautiful, it is comfortable place and perfect for cycling.
Information: http://www.tokyo-park.or.jp/reien/park/index072.html
Watarium Museum
Watarium museum is the modern art museum. They invite global experts in making exhibitions, a realization the participation of internationally active artists, the exhibition with a view of the world that is not captured while making full use of the global nature of Tokyo. The contents will be different depends on the exhibition, but the visitors can enjoy the art from a varieties of artists from all over Japan, such as: Painting, sculptures, photos, installation arts and etc. In the basement and first floor, there is a cafe shop established with  the museum shop,"ON SUNDAYS" and they sell a lots of postcards and art books.
Price:Public 1000yen/Students 800yen/Membership free
Open: 11:00〜19:00(Wed till 21:00pm)
Closed: Monday(Except PH)End and opening of the year
Information: http://www.watarium.co.jp
SEZON ART GALLERY
"SEZON ART GALLERY" is the art space established in Jingumae, Tokyo. " Everyday in art" is the theme, and it is a building that blends space with various uses. The first floor of front glass is  a gallery where art works with an ateliers are born. In the basement  is the cafe dining bar, "367°", the atmosphere with the artworks and where people can have conversation be born. There are main gallery in the basement 2:  individual exhibition by writers that is carefully selected from curator, screen projector, live performance, and  etc. Each floors is made by different space, we are creating communication between people and people, people and works in various forms.    
Price: Free
Open: 1F・B2F Gallery 11:00-18:00/B1F Cafe & Dining Bar "367°" 11:30-23:00
Closed: Irregular Holidays・End and opening of the year
Information: http://sezonartgallery.com/
VACANT
The square building like a warehouse, it is located in the back street of Harajuku. Its identity is "VACANT", the art exhibition・book fair・flea market・theater and etc, a place of expression where free dissemination is done in various forms. The one next to the entrance on the first floor is a bar space with a various of food and drinks. At STORE, there are second-handed clothes, "DEPT" provides the vintage items, and "VACANT", the original and selected product are lined up. The back space of GALLERY are holding exhibitions and events for planning and production do to "VACANT." What spreads to the second floor is a space characterized by the unique air produced by the wooden board surrounding the four sides, and a soft reverberation sound. It is a place where exhibition・live performance・lecture・a various of arts and communication will be born.
Price: Free
Open: 12:00〜20:00
Closed:Irregular Holidays
Information:http://www.vacant.vc/
Design Fiesta Gallery
Design Fiesta Gallery is a gallery that  provides a place where you can express freely regardless of professional or amateur.  "Make an open place for everyone testify" is the concept, the exhibition, an instant sale of the work, work shop, screen projection, the various events are being held. The original artworks that only exist one in the world,  looking for encounters with the expression and talents that have not seen,  about more than 150 visitors come to visit per day, and 30 percent are foreigners. The most attractive thing is can have a lot of interact between exhibitors and visitors.   
Price: Free
Open: 11:00~20:00
Information: http://www.designfestagallery.com/
Gallery Le Monde
『Gallery Le Monde 』 is a gallery specialized in illustration. It was named for from such a thought of "Gallery Le Monde is the place where want the illustrator to be arrived. As well as for illustration lovers to become utopia." In addition to the exhibition, they held a wide varieties of workshop,  and it also plays a role as a place for exchange between writers and customers. Not only work under  exhibition,  the visitors can purchase  writer`s original items. You may might encounter to your favorite illustrations!  
Price: Free
Operation Hours: Tue〜Saturday 12:00〜20:00/Sunday 12:00〜17:00
Closed: Monday
Detail: http://www.galerielemonde.com/
Starbucks  Jingumae 6 Chome
Here, this port will be the end  todayl!  Let`s have starbucks and heal your body from the cycling. How was the sightseeing using  "bicycle?" By moving by bike will find the places you can not find on  train, can have comfortable feeling that you can not experience on foot, and can discover new things. If you stepped into a quiet back road, the Harajuku is the place where can find a various of new attractive spots. The gallery I introduced is just one of  a part. While you are moving around, I recommend you to go to other gallery, cafes, general stores, the second hand clothes, on your way! Let`s find out more about Harajuku what others still not now!  
Access: 6 min walk from Tokyo Metro Chiyoda Line・Tokyo Metro Fukutoshin Line "Meiji Jingumae" Station Exit 7
Shops and tourist spots that appeared in the guide articles
>> Writer introduction