35th Asakusa Yabusame & Kusajishi Festival
03/06/2017
Yabusame and Kusajishi Festival is a traditional event held in Asakusa. It is also a popular event attracting numerous audience every year. Visitors who are interested in traditional Japanese culture should not miss out this important event. I am sure it is a great chance to understand Japanese culture.
What is Yabusame?

The word Yabusame came from the word dating back to 19th centuries,  "Yabaseuma", which means " to shoot arrows while galloping on a horse". Yabusame is an annually event held on 5th Jan as a New Year's ceremony at Asakusa Shrine during the Edo period. Although the performance nowadays differs with the past, Japanese still believe that the event can help them to sustain their faith.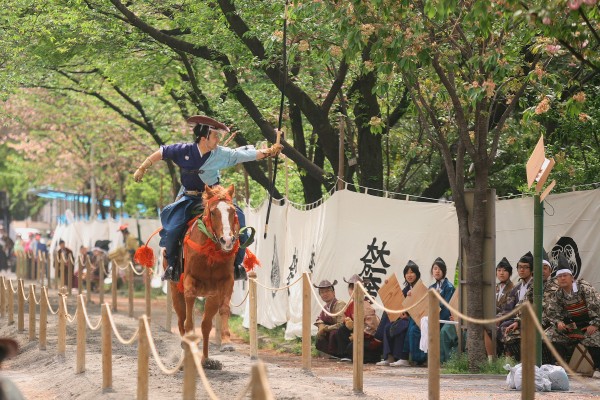 What is Kusajishi?
Kusajishi is traditional Japanese archery competition in order to practise archery techniques. Kusajishi dates back to the Kenkyu period (1190~1199). The targets are in deer-shaped made of grass. Nowadays, Kusajishi is an archery ceremony presenting the traditional archery training.

Details
Date: April 15, 2017

Time: Yabusame: 13:00 to 14:30 /   Kusajishi: 11:45~

Venue: Taito Ward Sumida Park (Jidobashi - Tobu Rail Bridge)


How to get there:
          8-min walk from Asakusa Station on Ginza/Tobu Skytree Line
          10-min walk from Asakusa Station on Asakusa Line
Ticket

Booking tickets is recommended if you decided to join this ceremony.  They provide special seats for foreigners (150 seats). Staff there can introduce the ceremony in English. The leaflet is written in English so you do not need to worry about language barriers.
Price: 3000 yen/ one ticket
(Only Kusajishi is free of charge)
Where to buy:
1.Tourist Division, 9/F, Taito Ward Office
           Address:  4-5-6, Higashi-ueno, Taito, Tokyo
           Tel: 03-5246-1447
           Working Hours: 09:00 - 17:00 (Weekdays)
2. 1/F, Asakusa Culture and Tourism Centre
           Address: 2-18-9, Kaminari gate, Taito, Tokyo
           Tel: 03-3842-5566
           Working Hours: 09:00 - 20:00 (Every Day)

Notes:
Selfie is prohibited to use during this event.
The event will continue rain or shine
>> Writer introduction