Let's Visit The Long-Established Coffee Shop At Ginza♪
06/12/2017
Recently in Ginza, the largest scale complex facility has opened in 2017, and  we can see a lot of people going to Ginza for visit from in and out of Japan.
When you described Ginza,  some will describe the WAKO clock and Mikimoto Christmas tree which are landmark of Ginza and famous! Although, maybe some might describe Sukiyabashi intersection and luxury brand shops that are lined in Namiki-dori and Chuo-dori. Ginza is one of the most famous downtown area in Japan, and  the most expensive land price.
Except shopping, if you enter the alley, there are many restaurants and cafes. In the afternoon, there are many scenes that you see madam and families etc. in the cafes, and chatting with a cup of coffee.  This time, let me introduce few long-established coffee shops  with a history; at the place where have high grade sense, and you cannot miss!!   
Marufuku Coffee Shop Ginza
"Marufuku Coffee Shop" is the coffee shop in famous in dense coffee. They established in Osaka in 1934, when Ginza Station opened. The beginning of encounter was when the founder was running his own restaurant in Tokyo at that time; the coffee started to be known in Tokyo and got popular, and  he decided he wanted to offered  a coffee to his own customers.
"Marufuku Coffee Shop Ginza" is located in Tokyu Plaza Ginza. The appearance and interior unified with calm color wooden interior are stylish, which motifs the theme of Tokyu Plaza Ginza and Japanese traditional motifs!
The standard menu is blended coffee, ice coffee and original mixed juice! For ice coffee, you can choose it from with sugar and without the sugar. The mixed juice is blended with fruit juice and honey, and it is one of the popular drink among kids and ladies.
At Marufuku Coffee, it is said that rich coffee will be born when this 3 are completed. ①Roasting called,"Extreme roasting",②A unique extraction tools designed by the founder,③Marufuku barista who can handles the equipment! In the past, to put the sugar inside the rich blended coffee was popular.
After the war, the age when there is nothing, the founder saw a lot of parents and children came to his shop and ordering  only a cup of coffee. Looking at the fact that children were eating 2 cubes of sugars added on the saucer as snack with a big smile on their face, from than Marufuku still offer in a style that puts cube sugar on the saucer. Treating the founder`s heartfelt episode and still it continues,  it maybe that is also one of the reason why Marufuku had been loved by customers for many years.
Not only coffee, "Marufuku Coffee Shop" is also particular about table wares. At here, it is possible to touch the traditional Japanese crafts, such as using the cup and saucer made by Okura pottery of the Imperial Household Agency, and the glasses applying a lacquered finished to a glass.If you see the picture below, you will know how pretty the cup and saucer are. Moreover, if you start drinking coffee, the "福(fuku)" mark with gold stamp will appear  inside the cup. It is cool is not it?  
There are wide varieties of menu such as light meals and desserts too. The best recommend dessert is hotcake. The hotcake these days, it is full of fruits and whipped creams on the top of the hotcakes with sweet syrup and that is popular.  However, the hotcake in "Marufuku Coffee Shop" is very simple! We can say,"the sweet of Showa era!" Depends on the seasons, there are plates with whipped creams and fruits to arrange, but what I feel is to have it simple with just butter and honey or maple syrup can have the taste of original hotcake dough more good! At "Marufuku Coffee Shop", they baked the pancake after they receive the order. It takes a while to baked, but fluffy inside and crispy outside! I suggest you trying the simple once! Please also do not miss the other shop  recommendation, Marufuku original "Berry Crepe"!
It is the coffee shop that makes you feel the sign of Showa era. A cup of coffee and dessert that can taste in a  warm and refined space, it may will help you heal and relieve your stress!
[Item]
・Ginza Coffe Shop Blended Coffee/ Ice Coffee  780yen
・Original Mixed Juice   870yen
・Hotcake (honey or maple syrup)  780yen  Drink Set 1480yen
・Berry Crepe  950yen  Drink Set 1650yen
[Information]
Address:6F  Tokyu Plaza Ginza,  5-2-1 Ginza Chuo-ku  Tokyo  (104-0061)
Tel: 03-6264-5490
Operation Hours:11am~21pm
Holiday:Depends on Tokyu  Plaza Ginza  (http://ginza.tokyu-plaza.com/)
※Menu:Have English description
Cafe Paulista
"Cafe Paulista" is located  in Ginza 8-Chome, Chuo-dori. They have a long history in Ginza since they established in 1911, as a coffee shop with a relax retro atmosphere. It is also famous coffee shop that is known as a lot of celebrities came by to have this "Cafe Paulista" coffee, such as John Lennon from Beatles and Yoko Ono.  
A round red logo at the entrance is a landmark. The name of the shop, "Cafe Paulista", which it is  written in Portuguese, the word "Cafe" is "Coffee"  and "Paulista" is "A child of San Paulo" in English.  Due to  there is an edge with Brazil, the Queen drawn in the star of logo and the trees surrounding the star imitates the city chapter of San Paulo, Brazil.
When you enter the entrance, it divided into 2 sections. The first floor is smoking area and the second floor is non-smoking area. The second floor also have counter, and it is a coffee shop that you can easily go alone.
(1st floor)
(2nd floor)
※On weekends, the both floors smoking will be prohibited
At "Cafe Paulista", the visitors can enjoy light meals and Brazilian coffee. The one of the recommendation, "Mori no Coffee (Forest coffee)",  as the name implies, it is "The Coffee Beans Made Inside the Forest." It is different to other normal  Brazilian coffee how they made. They leave the forest of nature in the farm,  raise cows, horse, and living animals there; that can offer the natural ripe coffee without using herbicide, pesticide and chemical fertilizer. Exactly, it is a coffee beans made in nature!
Besides this, there are French press method coffee, original blended coffee, espresso and coffee desserts etc.!  Please enjoy the coffee that "Cafe Paulista" is particular about with, "Sachertorte" and "Cafe De Opera" etc.,  the desserts that it continues being loved for long time!
[Items]
・Mori No Coffee 580 yen
・Cafe De Opera 600 yen (Set:11300yen)
・Sachertorte 550 yen 〔Set:1080yen)  ※Tax are included
[Information]
Address:1F Nagasaki Center Building , 8-9-16 Ginza, Chuo-ku  Tokyo   (104-0061)
Tel: 03-3572-6160
Operation Hours:
[Mon-Sat] 8:30am ~22:00pm [Sun・PH]12-19pm
Holiday:Open Throughout the year
※There are correspondence staff in English and Chinese
Tricolore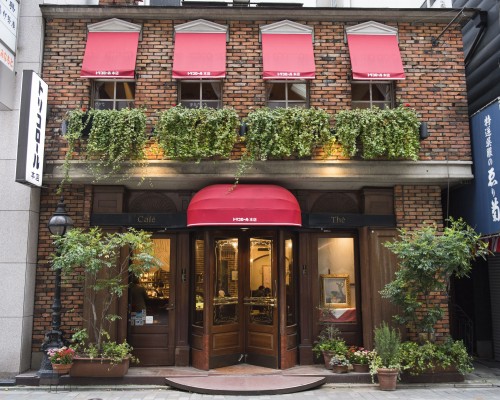 At last, I want to introduce " Tricolore." "Tricolore" is also a long-established coffee shop that had established since 1936. The exterior is attractive, the building is made it with red bricks and  the old  Western style exterior.  If you go thru the turnstile, the interior is full filled with fine British interior that makes you feel the warmth of the trees. It can also feel the elegant classic atmosphere like you are not in Japan.
This is 2nd floor. It is available from after 12 pm and smoking is prohibited.
They are using high quality coffee beans from Central America, and they offer pour-over coffee using *Nel  method.
*Nel is special method the way of making the coffee using fabric filter called "flannel." It has a smooth texture and  it is available to have the fine coffee at here.
The "Tricolore" recommendation is "Antique Coffee", which is Nel pour-over coffee made it with their original blended coffee beans; and "Ice Cafe Au Lait", which is mixed with  Nel pour-over coffee with milk. For "Ice Cafe Au Lait", they pour the extracted coffee into a glass with ice and cool it quickly.  It produced a rich refreshing flavor that cannot be tasted.   The staff will  bring your coffee and milk to your table, and they make it in front of you!
Although, the popular handmade apple pie and eclair made it here also you cannot miss!  The eclair, the staff will fill the cream every time after they received the order. The light texture that cuts in crispness with a knife  is the characteristic.
This is the set of Antique coffee and apple pie.  A handmade apple pie filled with roasted apples looks so delicious, it makes me feel like I want to have it by just looking at the photo!
There are various type of coffee, tea, fresh juice and light meals etc. In hot days, how about having a cold coffee jelly? The desserts can have it along with coffee looks all delicious,  it may hard to decide which one to have.  It is a  stylish cafe that is suitable in Ginza, and welcoming by a European turnstile. Why don't  you stop by as a small pause of Ginza?
[Items]
・Set of Antique Blend Coffee and Apple Pie 1,390yen
・Cafe Au Lait(Ice/Hot) 1060yen
・Antique Blended Coffee  880yen
・Apple Pie 610yen
・Coffee Jelly  880yen
[Information]
Address:5-9-17 Ginza Chuo-ku, Tokyo  (104-0061)
TEL: 03-3571-1811
Operation Hours:
Weekdays: 8:00am~20:30pm ※L.O 20:00pm
Weekend & PH:  8:00am~21:30pm ※L.O 21:00pm
Holiday: New Year (Jan 1st)
URL:http://www.tricolore.co.jp/ginza_trico/index.html       

I have introduced 3 recommended coffee shops with histories. Is there was the coffee shop that you felt attractive the most?  Each coffee shops can  tastes with their original coffee beans and extraction methods! You might be able to meet your favorite taste!
Shops and tourist spots that appeared in the guide articles
>> Writer introduction