〜Heal your body! Take a walk from Asakusa to Sky tree〜
09/05/2016
Asakusa is one of the sightseeing spots in Japan. There are different kinds of shops are gathered around Sensoji temple. Have you ever felt of "I don`t know where I should go because there are a lot of stores here" and or "I have been visited here several times, I want to check the places I haven`t gone yet"? This time we would like to introduce the trip, that we can`t find in the guide book, and the journey that your body and mind are healed.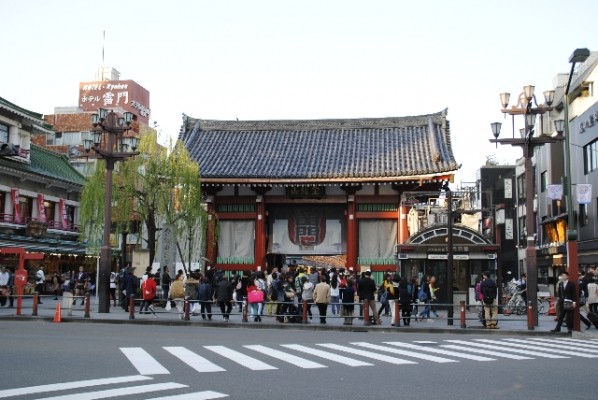 Did you know that there are 33 shopping street in Asakusa? Some of the shops have a history from Edo period, and you can feel the emotion of Edo that will attractive the people who comes to visit.  All the shops have a different charm, and you will not get bored walking around.
"Nakamise do-ri" is the shopping street that is near to the Asakusa station exit 1, and after you pass the Kaminarimon.  At here, there are premier cute items that we would like to suggest.
1.Sui ren
If you turn left at the first corner of Nakamise do-ri, there is "Kaminarimon Yanagi Kouji", the place where all the unique shops are gathered.  "Suiren" is the store located on this street, it is a modern Japanese retail shop that the writer and craftman works on from all over Japan. There are varieties of line up from chopsticks to accessories that the visitors can only purchase here. Although, there are rare items that they made one of a kind. The most popular item is "Geta Monogatari", which is the comfortabe Japanese sandles made by them, and also can try it at the store.   
Details:http://www.intheluggage.com/japan-tokyo-asakusa-shopping-souvenirs-japanese_traditional_performance_art--sui-ren%EF%BC%88%E7%B2%8B%E3%82%8C%E3%82%93.html
2.Gamaguchi Main Store Licca
Licca is located on the opposite side of Iki ren. It is the store where sells different kind of design of  "Gamaguchi." Gamaguchi is the traditional coin purse, we used it in Japan. There are a lot of variation of shapes, sizes, and designs of Gamaguchi. Recently, because the ease of use, not only coin purse, there are also glass cases, pochet, bags, and etc. The customers can purchace in reasonable price from, 980 yen~.
Details:http://www.intheluggage.com/japan-tokyo-asakusa-shopping-fashion-fashion_fancy_goods--gamaguchi-main-store-licca%EF%BC%88%E8%8E%89%E8%8A%B1%EF%BC%89asakusa-outlet.html
3.Kanzashiya wargo
It is a hair accessories store that is located at Nakamise-dori and Shin Nakamise-dori. "Kanzashi" is the traditional hair accessory in Japan. There are stick and comb type of Kanzashi, and to use you need to braid your hair and stab it. In "Kanzashiya Wargo", you can enjoy the original Japanese accessories with your everyday clothes,  and with a wide varaieties of collaboration products.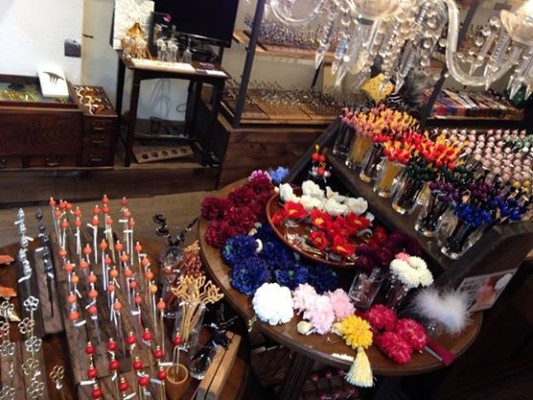 Details:http://www.intheluggage.com/japan-tokyo-asakusa-shopping-fashion-womens_fashion--kanzashiya-wargo-asakusa-shin-nakamise-store.html
4.Denboin-dori.
If you walk 5 min at Nakamise-dori, there is the intersection that arrive to "Denboin-dori." The most attractive thing about this street is the exterior of Edo atmosphere. If you walk along the street, you can able to meet different kinds of Kabuki characters.
Although, you must check the wooden signboard. In Edo period, the signboards is very important in shopping street, it will show what kind of things we sell and what kind of job we do. Therefore, to understand what stores was by looking up the signboard, they invented the signboard more unique.    
5.Mannendo
We would like to introduce one of the traditional sweet shop, "Mannendo." At this shop, the colorful candies are gathered, it is very interesting just only come to see The popular items, Konpeito have the taste of cherry blossom, green tea, soda, and etc. You can enjoy the unusual taste.  
Although, Geisha Girl Chocolate is one of the popular item. The unique sweets you can enjoy it here with your eyes and taste; we assume that it is good for souveniors, to your friends and family.
Details:http://www.intheluggage.com/japan-tokyo-asakusa-shopping-foods_sweets-sweets_stores--mannendo-denboindori.html
6.Coffee Heaven
If you walk about 3 min from Manneido, and you can see the cafe shop,"Coffee Heaven."
It is a nostalgic small cafe shop. The popular menu is a cute pancake with the stamp "Heaven" mark, and  it will definately heal the tourists by just looking at it. You can feel heaven just have a bite of fluffy pancake with the syrup.  
Although, the attractive thing about Coffee Heaven is also owner`s frank personality.  Not only the menu, mug cups and glasses can also tell the owner`s playfulness. On the bottom of the coffee cup have been written the fortune randomly, it feels like be obtained. What was my fortune? Do you want to know? I will just say it here,  my cup was... "Daikichi", which is the best of all!  
In Coffee Heaven, they sells varieties of limited goods you only can buy it here. How about getting it for the souveniors?
Price:Pancake Set 1,000 yen
Details:http://www.intheluggage.com/japan-tokyo-asakusa-restaurant-cafe_and_sweets-cafe--coffee-heaven.html
7.Asakusa Shrine
After you are satisfied with your stomatch, lets go back to the entrance of Denboin-dori, and walk against Asakusa temple. The purpose is not Asakusa temple.  If you turn right at the Asakusa temple main hall, and walk few minutes, you can see the Asakusa Shrine.
There is rumor that we can able to get the unique charm at here.
That charm is "Daijyoubu charm (All right charm)!"
There is a word, "大丈夫(Daijyoubu)" sewing on the black cloth. It will pushed back to the simple and encourage words. Even you have a trouble, if I have this charm I feel that I  can hang it there. You can purchase the charm in the opening hours from 9:00~16:30, for 500 yen.
8.Suzukien×Nanaya
After you get  the encourage charm, please walk more further ahead.  Once you run into the roadway, there is rich green tea gelato shop, "Suzukien×Nanaya" on the otherside across the road. It is popular shop, so there is a long queue mostly like this:
This shop is the most richness green tea gelato in the world. They use high grade green tea from Fujieda, Shizuoka, and you can enjoy the green tea`s sweetness and aroma. The customers can select the thickness of green tea from No.1〜No.7. How about trying the most thickness flavor here?
Price:No.1〜No.6 340 yen、No.7 440 yen
Details:http://www.intheluggage.com/japan-tokyo-asakusa-shopping-foods_sweets-tea--suzuki-en-asakusa.html
9.Azumabashi
After the energy of your stomatch and heart have being charged, lets go back to Asakusa station, and cross over the Azumabashi. From the bridge, you can able to see the Asahi beer main office and gold object that is looks like a crowd. This object is established by the famous designer, Philppe Stark. Next to the object, there is sky tree, you can enjoy the  collaboration with art. It is a best spot to take a photo in the sunny day and sunset.  
10.Mikokuyu
Lets walk more further more, and go to  public bath (Taishuyokujyou), where you can heal your body. If you walk about 15 min from Azuma bridge, there is  Japanese modern public bath, "Mikokuyu" in quiet residential area. They just renewal in 2015, and the building have a beautiful sense. The entrance for adult is 460 yen, and the rental of towel is 100yen. It is a reasonable price with this beautiful atmosphere! At open-air-bath,  the customers can able to see the view of Sky Tree with the night view. How about come down and relax your body, and spend the luxurious time!
Price:For Adult 460yen
Details:http://www.intheluggage.com/japan-tokyo-asakusa-sightseeing-relaxation-spa--mikokuyu.html
Shops and tourist spots that appeared in the guide articles
>> Writer introduction