Take A Walk Around In Omotesando Hills
02/01/2016
Have you ever heard of Omotesando Hills before? This is definitely a location for you to visit once if you are in Omotesando to feel the atmosphere, even if you feel high- end boutique or shopping are not suitable for you.
Why? because even taking a stroll around has a lot to offer!
Omotesando Hills was designed by Tadao Ando, who has created highly attractive architecture.
As you walk up the hill from Harajuku, you will see Omotesando Hills' mark on the left side.
This is the view of Omotesando Hills from Aoyama side.
The stores on the street level are lined with jewellies, cosmetics, and high-end boutiques. The exterior wall is decorated with LED panel for beautiful illuminations especially during the Christmas season.
Here is the main entrance of Omotesando Hills.
This will lead you to the main building.
Hmmm wait a minute! Before that we should recommend you to visit this place first, which is actually Doju Wing on Aoyama side.
Doju Wing used to be a residential flat before Omotensando Hills was built here, and the exiting building is all it remains till this day.
Can you imagine, this calm building used to occupy whole of the area of Omotesando Hills? Modern Doju Wing is now occupied with galleries and pretty stores from the 1st to 3rd floors for shoppers to enjoy.
The 3rd floor of Doju Wing is connected to the 3rd floor of the main building of Omotesando Hills.
This connective path is also one of the refreshing highlight during good weather where beautiful blue sky opens up in front of your eyes.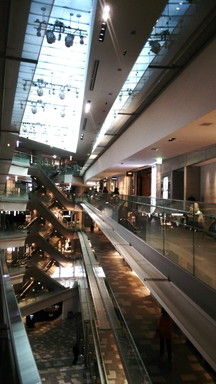 Another reason for recommending this path is because Omotesando Hills is constructed with a spiral corridor of shops.
Entering from the top floor will allow you to enjoy shopping as you walk slowly downwards
Somewhat we can say here is gorgeous atmosphere, even an escalator and a path appear elegant.
There are escalators, but why not enjoy the building by strolling down the slope?
Omotesando Hills was designed to maintain harmony with the history and culture of Omotesando by paying attention to the original landscape of the area. The building was designed by a world famous architect, Tadao Ando.
The height of the building is constant with the height of Keyaki zelkova trees in the avenue, and the slope of the corridor inside the building is kept at the same as the angle of the slope of Omotesando hill.
Does this give you far deeper meaning to your experience?
There are wide varieties of stores in the building. Each of them are original and high quality. Even taking a glance will make you feel different.
If you feel some stores are too pricy, there are many restaurants and cafes which offer lunch time and tea time for about 1000 yen.
If you don't feel like going to restaurants or cafes, then find a bench to sit down for a break. There are numerous resting points to take a break from walking.
Omotesando Hills is not just for shops, but filled with many charms in itself, so please come and enjoy the atmosphere if you are in Omotesando area.
>> Writer introduction