The Best 5 Ice Cream that You Instinctively Want to Take a Photo!!
06/27/2018
Are you looking for something that is perfect to post on the Instagram? Almost, it's summer! Here is the photogenic ice creams that you can not miss! Nowadays, with the improvement of people's sense of food, the ice cream are also upgraded from food to art. Today, I'd like to introduce the five newest and most devious visual ice cream shops in Japan. I promised that you will take out your mobile phone to take a picture before you decide to have a big bite. This time, let's take a look with the step of the editor of 'in the luggage.'!
Hawaii's Popular Matcha Ice Cream Landed in Japan --- "Premium Matcha Stand Maiko" in Yurakucho
Let's me introduce the Japanese ice cream from Hawaii. I think nothing more, you will describe of tropical fruits if you heard of Hawaii. However, it is strange that ice cream come from Hawaii is, "Matcha", not using tropical fruits!! The "Matcha Maiko" opened the first shop in Yurakucho, Tokyo in April, 2018. Not much to say, let's take a look at what is the magical things about this shop!
At here, they are using a Matcha from the long established shop,"Harima Garden" in Uji, Kyoto. They do not use chemical substance, so the color is not too bright green. Also, with a touch of scent, even if it is the ice cream, it is like you are drinking Matcha. Which means that there is a bitter taste with richness what pure Matcha have. You can not miss the following two popular ice products if you visit, "Premium Matcha Cafe Maiko" !
Golden Matcha Ice Cream --- SHO-GUN
Price:1,200 yen
What is the special about this product?
The gold foil wrapped in ice cream is like a golden silk coat, not only to make the whole shiny, but also to bring a noble and sacred feelings. This is a reason why this ice cream can be called, the "SHO-GUN."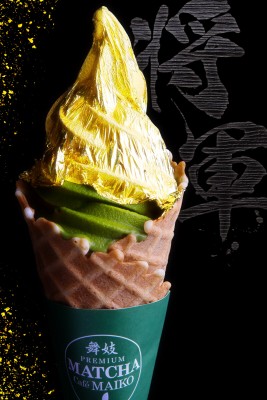 Premium Matcha Ice Cream
With cone: 790 yen
Cup: 690 yen
What is the special about this product?
Premium Matcha ice cream is combined with 3 elements of richness, pure and aroma. Also, the cones is handmade! Whether or not if you like Matcha, you will love it after you took a bite of this ice cream!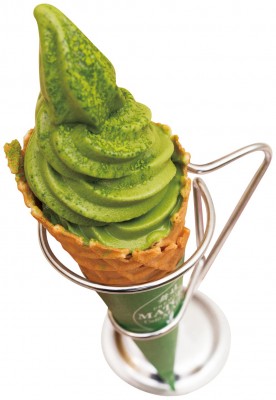 【Shop Detail】
Premium Matcha Cafe Maiko Yurakucho
Address: Yurakucho, Chiyoda-ku, Tokyo
Price: 300 ~ 1200 yen
Operation Hours: 11:00~20:00 (L.O.19:30)
Access:
1 min walk from JR Yamanote Line,"Yurakucho Station", Central Exit
1 min walk from Yurakucho Line, "Yurakucho Station" D7-bExit
2 min walk from Ginza Line・Hibiya Line・Marunouchi Line,"Ginza Station" C-9 Exit
URL:http://www.matchacafe-maiko.jp/
Bonsai, Representation of Japanese culture ---"Tsurukamerou" in Harajuku
Next, we will take you to the "Tsurukamerou." The shop is located in the small alley of Harajuku, where the cutting edge of fashions and foods are, and even the building of architecture is,"Soul of Japan."
The Bonsai series is its newly launched ice product. I realized the feeling that we would rather just put it there on the table, without eating to ruin its appearance. Let's find it out more about this shop!
First of all, I was surprised by the appearance of the "Tsurukamerou."
Once again, Japan shows us how they enhance eastern culture to a higher level
*Tips! : In Japan, both "Crane" and "Turtle" lives long life. Not only is it often used as a good fortune, it is more symbolic of blessing.
When you enter, I was surprised again!
Unexpectedly, there is a art of crane and turtle drawn on the Shoji.
The interior is beautiful, and natural desserts should also be artistically gorgeous.
Corresponding to the Shoji, the 3 dessert below is expressing the images of Bonsai.
It seems like music will suddenly comes out from each desserts, although the taste and vision will made you full of satisfaction!
Bonsai are also a great comer! The desserts comes out with blue-stained ancient porcelain vessels, each has its own characteristics. With this ancient vessels, not only the taste, but also the visual is a feast.
Chocolate
Chocolate 800yen
Matcha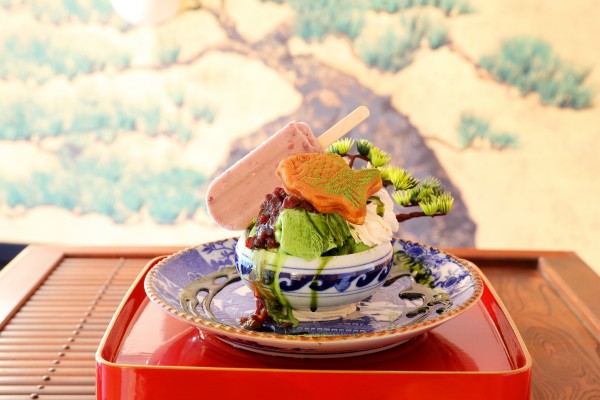 Matcha 800yen
Berry & Banana
Berry & Banana 800yen
【Shop Detail】
Tsurukamerou
Address: 4-27−2 Shibuya-ku, Jingumae, Tokyo
Price: 500 ~ 1,000 yen
Operation hours:
【Weekdays】12:00 -16:00 (L.O.15:30 ) & 17:30 - 22:00 (L.O.21:00)
【Weekends & Holidays】12:00 - 22:00 (L.O.21:00)
Access:5 min walk from Toyo Metro,"Meiji Jingumae Station", Exit 5
8 mn walk from Tokyo Metro,"Omotesando Station", A2 Exit
7 min walk from JR Line, "Harajuku Station" Omotesando Exit
URL:https://kiwa-group.co.jp/tsurukamerou_harajyuku/
 First Shop in Japan!! ---Fresh Cream Main Shop, "Milk" in Shibuya
No matter how fat we may be, this is the shop that you should try it once! It is the scent of cream, with a queue of crowds, which is the thick fresh cream ice cream that we will eat today!
This ice cream is made with the best fresh heavy cream produced by a dairy farmer in Hokkaido. When you eat it, you don't feel the creaminess inherent in the cream product. the texture is smooth and mild.
Ice cream made from milk is everywhere, but it is specifically stated that it is ice cream made with fresh cream. It is really rare. Don't miss it!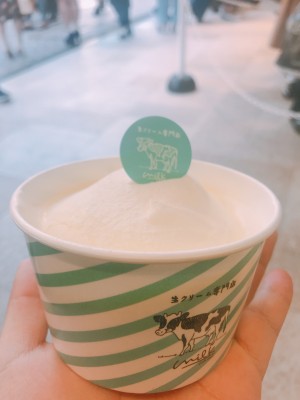 No.1 Milky Cream Chiffon Cake: 600 yen
Soft Ice Cream: 500 yen
【Shop Detail】
Fresh Milk main Shop, "MILK" Shibuya
Address:1F, Shibuya Marui, 1-22-6 Jinnan Shibuya-ku, Tokyo
Price: 500 ~ 600 yen
Operation Hours【Weekdays】11:00 - 21:00,【Weekends & Holidays】11:00 - 20:30
Access: 5 min walk from JR, Tokyo Metro, Inogashira Line, "Shibuya Station" Hachiko Exit
URL:http://milk-craftcream.com/
Using 9000 Seeds?! The World's Strongest Sesame Ice Cream ---"GOMAYA KUKI" in Harajuku
The long established sesame seeds company, "Kuki Sangyo Corporation" was established in 1886. On February 2018, they opened the first richness sesame ice cream shop in the world. The ice cream is smooth texture, with a bit of conflict with the sesame seeds, the combination of sesame taste fits well just to complement the lack of both sides. With one bite, you can feel the aroma of sesame. It is your turn to try the taste!
Super Thick Sesame Ice Tempura(Simply wrapped with batter)
(Super Thick Sesame Ice Tempura: Simply Wrapped with Batter,500 yen)
Deep-fried Sesame Ice Cream Tempura (covered with sesame seeds)
Deep-fried Sesame Ice Cream Tempura, covered with sesame seeds 550 yen
Thick Pancake with Sesame Ice cream
The whole sesame ice cream filled all the space of the soft pancake. Be careful, whenever
you take a big bite!

You can select it from 2 different taste! Double scoops: 1,200 yen, Single scoop: 1,000 yen
【Shop Detail】
GOMAYA KUKI
Address: 1F, Harajuku H Building, 4-26-22 Jingumae Shibuya-ku, Tokyo
Price: 500 ~ 1,000 yen
Operation Hours: 11:00 - 19:00 (L.O.18:30)
Access:4 min walk from Tokyo Metro, "Meiji Jingumae Station" Exit 5
6 min walk from JR Line, "Harajuku Station" Omotesando Exit
6 min walk from Tokyo Metro, "Omotesando Station" A2 Exit
URL:http://gomayakuki.jp/
8 Colors and Flavours! Rainbow Ice Cream ---"Dailychiko" in Nakano
Let's try rainbow ice cream! At last, I will bring you to the hidden ice cream shop in Nakano Broadway. I will suggest you to bring your friend with you, because I feel that you can not able to finished it all! XD The rainbow ice cream can be regarded as the speciality of Nakano! "Dailychiko" is already past 53 years since they opened the shop in 1966!
Even they located on the basement of Broadway in Nakano, this store has grown up together with local people, and also seen the rise and fall of this shopping street.
Compared to others, the price and quantity of ice cream products here are suitable for those who are looking for CP(cost performance) value! The moment when the ice cream appears in rainbow colors, it always gives people an infinitely good feeling, but what will happen after that? No matter what, let's have a bite before I talk!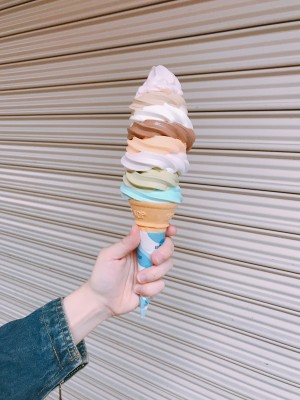 8 different taste Rainbow ice cream
Taste:
Vanilla, Chocolate, Strawberry, Coffee milk, Bananas, Grapes,
Matcha, Ramune soda
Size and Price:
①Small (3 flavors): Cone 300 yen / Cup 280 yen
②Medium (Able to select from 2~4 flavors): Cone 400 yen / Cup 380 yen
③Extra large (Rainbow)8different flavors: Only cone 550 yen
【Shop Detail】
Dailychiko
Address: Nakano Broadway, 5-52-15 Nakano Nakano-ku, Tokyo
Price: 280 ~ 550 yen
Operation Hours: 10:00~20:00 (L.O.19:30 )
Access: 6min walk from JR Line,"Nakano Station" North Exit
URL:https://www.facebook.com/Dailychiko/
Today, I have introduced 5 ice cream shops, which is each has its own unique features, not only unique taste, but also a great visual enjoyment! Nowadays, the ice cream are no longer just food for Summer. It is also a memory that you would like to take a photo and share with people! When you come to Tokyo, I hope everyone will not forget to taste the latest popular ice cream! Whenever you post it on your SNS, please do not forget to enjoy it before it melts!
>> Writer introduction