Let's Try Curry Buns, Born In Japan♪  -The 7 Best Curry Buns In Tokyo!!! –
10/27/2016
Hi everyone! Have you ever eaten Japanese bread before?
I have tasted bread in other countries too, but I feel that Japan have more varieties of bread  I can taste and everything is tasty. We have several bread that have been created in Japan, such as red bean donuts, but today  I would like to introduce curry buns!
Did you know that curry buns was created in Japan? Curry buns is the bread that Japanese curry is wrapped in the piece of dough,  the dough coated in the bread crumbs, and deep fried. We usually deep fried but recently we also have baked curry buns to make it more healthier. You can buy this bread wherever you go in the bread store. Each shop has their original characteristic and taste. I want to talk about few popular recommended shops that you should try!
 Ganso Curry Bun -Cattlea- (Morishita)
"Ganso curry bun, Cattlea" was established in 1927.It is located in Morishita shopping street in Tokyo.This shop was known as a first store created the curry buns. There are two different tastes, the spicy and sweet curry buns.The ingredients are jammed a lot inside the bun, the taste is very rich, and there is harmony when you put it inside your mouth. They make the fresh curry buns 3 times a day, on 7am,11am, and 3pm. The baked curry buns is incredible!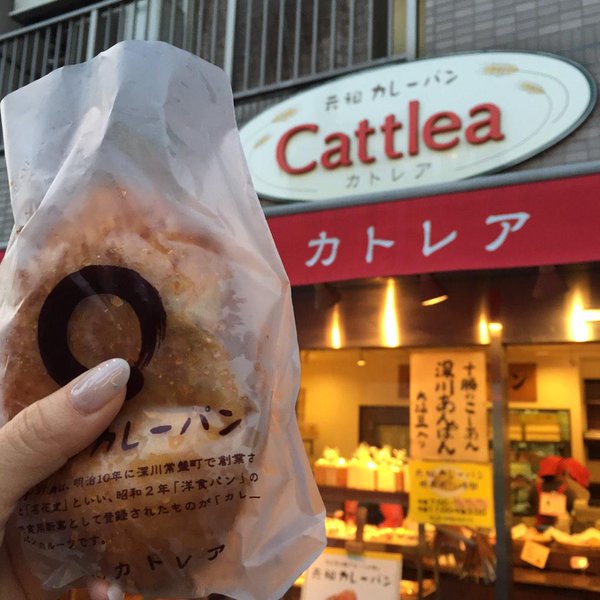 Price: Curry bun(180yen)
Detail:http://tabelog.com/tokyo/A1312/A131201/13002996/
Sweet&Delica  Shinjuku Nakamuraya Bonna -Shinjuku-
Shinjuku Nakamura have been established in 1901, and started making curry buns from 1940. It is began from India curry , they are fastidious about using safe and good ingredients, and the curry spice they use. The reason why the curry buns is very crispy but not oily, is they use coarse bread crumbs and rice oil. They make the bread in the store, the taste is spicy but mild in the same time, and there is chicken inside so it is  very filling. You will never forget this filling, once you had it!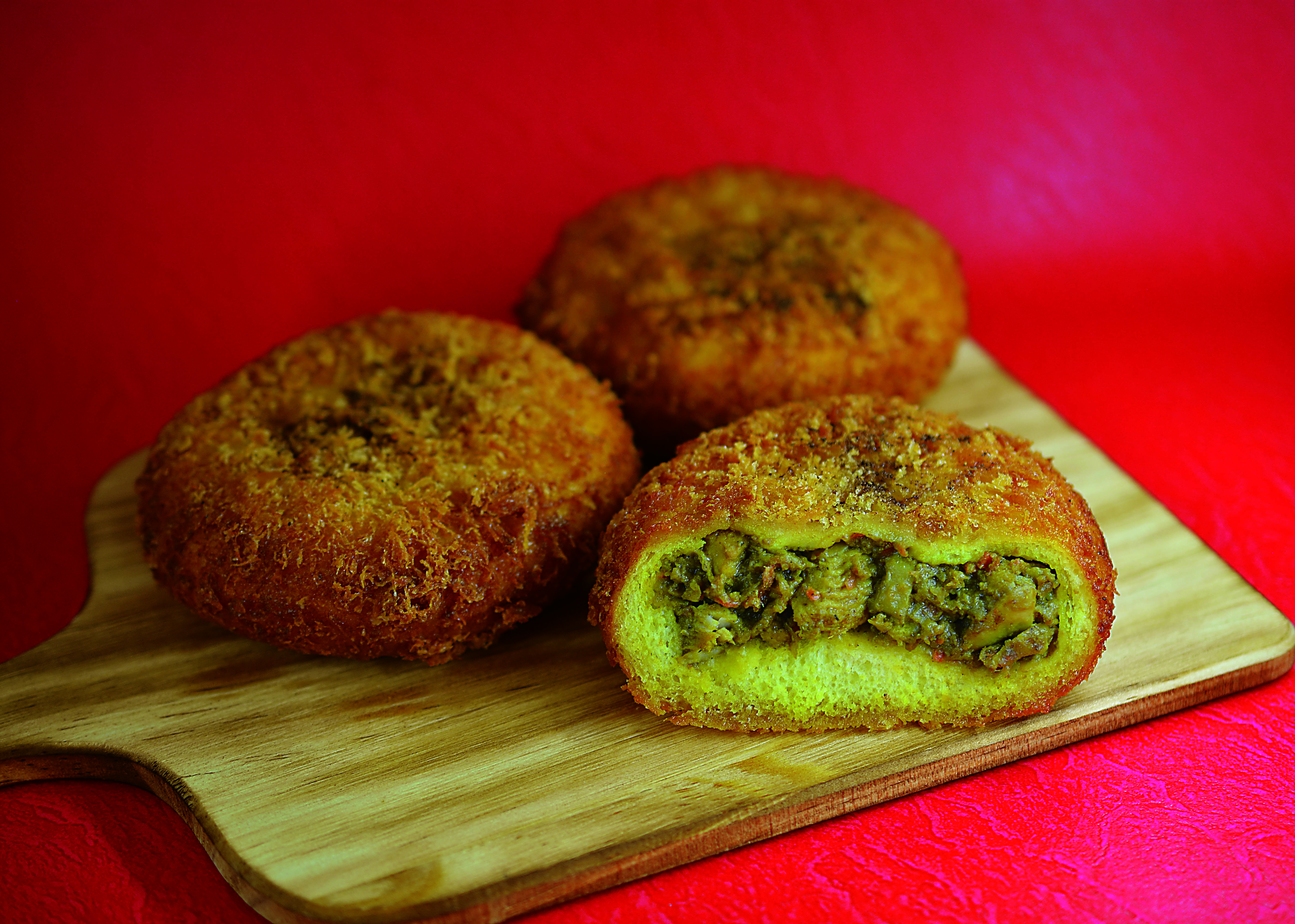 Price: Shinjuku curry bun: 324yen(with tax)
Detail:https://www.nakamuraya.co.jp/bonna/
Asakusa Tomifuku -The premium Japanese beef curry bun- (Asakusa)
The most popular curry buns in Asakusa are made by former French chef. He uses only selected 100% prime Japanese beef with the original spice for the ingredients, and stew for 8 hours to make the rich taste. They sell 800 buns everyday, we know that why this curry buns is popular.  If you love curry, we suggest you to come here once and try! Moreover, please go to the shop in the morning,  because they will close the store soon as the stock finishes!
Price:100% Prime Japanese beef(290yen)
Detail:http://toyofuku-curry.com/
Artisan Boulanger Kinmugi(Shiroganedai)
Kinmugi is located near the residents area in Shiroganedai and Meguro station. It takes about 10 min walk from the Shiroganedai station. On the way to the shop, you can see a stylish cafes and Tokyo Metropolitan Teien Art Museum. The bread is fluffy outside, with spicy curry sauce, the filling  are  jammed in this white bread. They also do not deep fried the dough, it is healthy.  How about coming here and try this bun after the museum.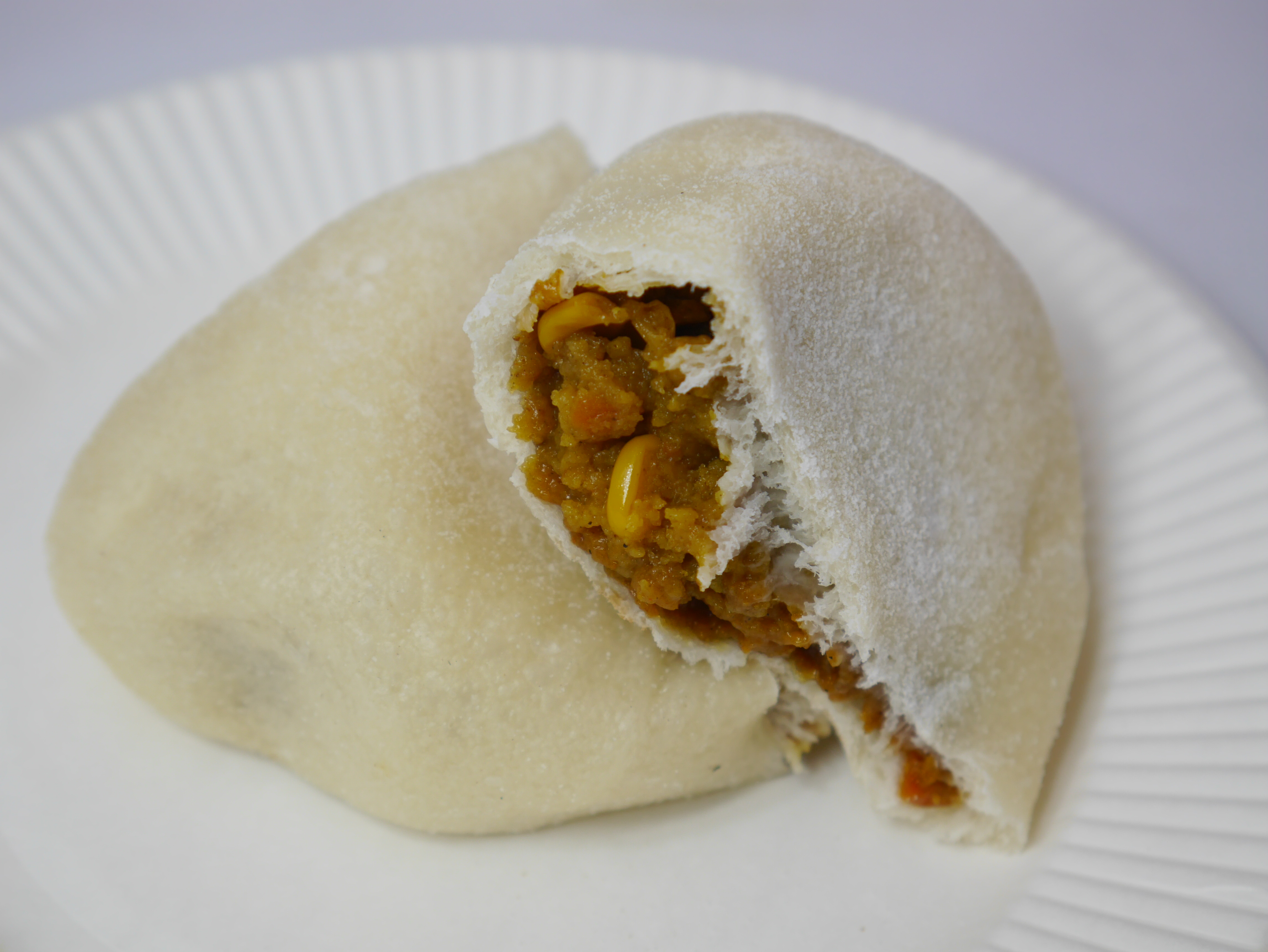 Price: Kinmugi curry bread 194yen(tax included)
Detail:http://kinmugi.net/menu/deli-curry.html
BURDIGALA EXPRESS(Inside the Tokyo station)
BURDIGALA EXPRESS is located inside the Tokyo station. The curry buns is one of the popular items and it was also introduced on the TV. To make the filling taste more rich, they blend with two different curry, with fresh creme, chicken stock,  and fried onion. They put the filling in the simple dough, put the bread crumbs, and baked it to make the crispy curry buns. The shape of the bread is also unique! When you come to Tokyo station, how about take a look and have a bite of popular curry bun? It is limited 2 buns per customer.
Price:Curry bun(220yen)  2per customers
Detail:http://tabelog.com/tokyo/A1302/A130201/13044260/
Boulangerie ianak! -Beans and rotus root curry buns- (Nishi Nippori)
BOULANGERIE ianak!`s owner chef, Takayuki Kanei is from Maison Kayser. Maison Kayser is a bakery located in Lyon, Paris and now they have branches all over the world. He opened his own bakery shop," BOULANGERIE ianak!" in 2006. In his shop, the  bakeries lined up from hard bread to pastries, and one of the popular bread is the curry bun. This curry bun`s texture is not the same as other curry buns. There are beans and lotus roots marinated with litlle bit spicy curry sauce. When you put it into your mouth, it is light crispy texture of lotus roots, that is extremly fabulous!  Moreover, rather than curry bun, baquet and croissant is also popular. They baked with the low temperature fermentation for a long period of time, it comes out very sticky but steady taste.
The exterior of this shop is cute too! Please come by and take a look, and try their  bakeries!!!  
Price:    Beans and lotus root curry bun 259yen                                                   
Detail: http://tabelog.com/tokyo/A1311/A131105/13048516/
Anzerica(Shimokitazawa)
Anzerica is located in Shimokitazawa for more than 50 years. It is a homey shop with the illustration of previous owner,  drawed by Ado Mizumori。The present owner, Mrs. Nobuko is a very charming lady, and this store is loved by a lot of customers in ages.
The best items are Miso buns and curry buns that author Shotaro Ikenami loved.  There are a lot of variation of curry buns sells here: standard, spicy, mild, baked curry bun, and etc. For vegetarian, there is also vegetarian baked curry bun. "Spicy Veggies Dry" is the curry buns, the filling is jammed with chickpeas, potato, and curry sauce. The deep fried curry buns is not oily, and the fillings have rich flavor.
If you come here, please try the Miso buns too. Maybe you feel weird if you hear Miso, but they kneaded together with sweet dough, it matches with green tea. There are also interesting breads that you only can see it here. If you come to Shimokitazawa, we definitely recommend this shop!
Price:Curry bun 200 yen/ Miso paste bun 170 yen
Detail: http://tabelog.com/tokyo/A1318/A131802/13001406/
Tenmaya (Shimokitazawa)
At last, I want to introduce the best curry bun.  In Shimokitazawa Tenmaya~Curry rice & curry bun~, they sell about 300-600 curry buns everyday. You can have a curry rice inside the restaurant, and at outside, you can purchace curry buns for take out. Since this shop`s main items are curry, the curry sauce is made with plenty of flavors. Outside of the bread is very crispy, you feel like you want enjoy this taste again and again. The best buns I recommend is half cooked egg curry bun! You can enjoy the combination of half cooked egg with the  curry in the same time. It is very mild eating with egg together . There are also beef curry and butter chicken curry buns. If you eat it once you will definately want to try it again!
Price: Curry bun 250yen
Detail: http://tabelog.com/tokyo/A1318/A131802/13163101/
Did you find the curry buns you want to try?
I think Shimokitazawa is a interesting place to walk around.
They have nostalgic back ground and unique atmosphere. You can enjoy window shopping at general stores and cafes. Plus, you can try the fabulous curry buns here.
Shops and tourist spots that appeared in the guide articles
>> Writer introduction