A walk in "Yanesen"
12/05/2016
The "Yanesen" area has recently become popular. The name "Yanesen," comes from the first kanji letters of Yanaka, Nezu and Sendagi, and indicates the whole area. It may not be the first place to visit for sightseeing, but it is extremely popular among eating-while-walking lovers and cat lovers. The charming townscape is also a highly supported photo spot by photo lovers. This time I will aimlessly stroll the "Yanesen" area, along with my camera.
After getting off at JR Nippori Station, west exist, than walk up the hill on the left-hand side.
Lets pass by the Yanaka Cemetery on the left, and continue walking. This time I will not stop by, but the Yanaka Cemetery is an extremely popular place for its cherry blossoms. From late March to early April, you can enjoy its beautiful flowers. Visiting in the spring and viewing the cherry blossoms will surely be fun.
As you walk up the hill and go straight, you will arrive at the famous "Yuyake-dandan (sunset stairs)." "Yuyake-dandan," is the name of the stairs, it located in front of the entrance of Yanaka-Ginza Shopping District. It often appears in magazines, posters and also in the media. It is said that it was named this way, for you can view a beautiful sunset when you sit on the stairs at eventide. At dusk it is a best   photo spot to visit! For photo lovers, please visit the place in the early evening!
I promptly met a cat, which is the attraction of "Yanesen!" It was not amiable, but conversely the impudent manner soothed me. As I took pictures many people gathered around me, and the cat became just like a small idol.
As you walk down "Yuyake-dandan," you will enter Yanaka-Ginza Shopping District. There are over 60 stores lined here.
The store name that immediately catches your eye as you enter is "Jyaaku-na-hanko-ya, Shinimonogurui (Evil seal-cutter, Frantic)." Though it has the word "evil" in its name, they sell various seals with cute illustrations. It is not well known, but seals with illustrations can be officially used as private seals. You can also make your own original seal in about 30 minutes. It may be nice to make your original cat seal in memory of visiting Yanaka. Of course, there are not only cats, also standard types of rabbits, dogs, to sea creatures and scenery. They are so rich in variety that you will seriously hesitate over which one to choose. As you move on a little further, you will find the sister store, "Tatakau-T-shirt-seisakujyo, Itoya (Fighting T-shirt factory, Itoya)." (Again the naming is splendid!) Here they sell the T-shirts of the characters of "Jyaaku-na-hanko-ya, Shinimonogurui." They are also the place you must check!
"Jyaaku-na-hanko-ya Shinimonogurui" & "Tatakau-T-shirt-seisakujyo"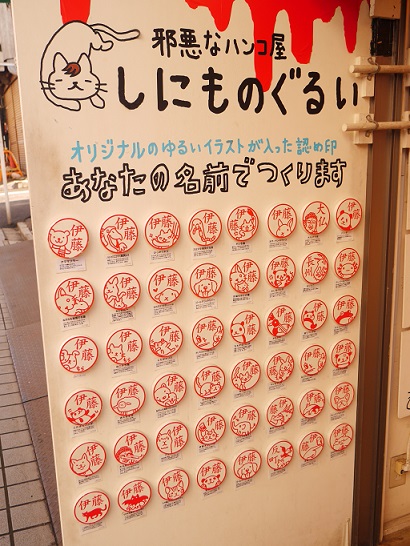 The photo taking was prohibited, so I could not able to  take a picture, but in front of the store "Ichibushi," there are always people standing in line. Located at the middle of the district, you can buy deep-fried food (such as croquettes and deep-fried chicken), delicatessen, and yakitori (chicken pieces grilled on a skewer) for a reasonable price here. This time I bought a fried meat cake to eat while strolling. It is pleasure that can able to enjoy eating fried and grilled foods while walking.
There are also many other stores in this district. For example, "Yakiya" which is famous for its broiled cuttlefish, "Yanaka-no-shippoya" which sells roasted stick donuts imitating the cat's tail, and "Echigoya" where many people gather from the lunchtime and enjoy drinks sitting on beer cases at the restaurant front. Just thinking that standing while drinking will be great on the next visit, but lets move on.
Jyaaku-na-hanko-ya Shinimonogurui: http://www.ito51.com/
Tatakau-T-shirt-seisakujyo:http://www.ito51.net/
"Yanaka-no-shippoya" & shopping district
Pass through the shopping district, turn left at the street-end, continue walking for a while and there on the right-hand side you will see "Kimuraya." It is a mom-and-pop candy store with a nostalgic look. Nowadays, these types of candy shops have become extremely rare, and "Kimuraya" is run alone by a lovely old mistress. The customers vary from local children to foreign tourists, who have recently begun to increase in number. As a child I used to go candy-store-hopping, so this store made me feel nostalgic! Many of the candies cost around 10~30 yen,  if you have 200~300 yen you will be able to purchase a large amount. There were also children who came to buy "begoma (spinning top toys)," and the store was crowded. You really will retrieve your child's mind here. When speaking with the old mistress, you will feel the warmness of the city of Yanaka. In addition, there is also a recommended place to take retro photos!!
 Dagashiya Kimuraya
After buying the candies at "Kimuraya," head for Yanesen's mystical energy spot, Nezu-jinja Shrine. You will walk through a street, which is commonly called "snake road" to go to the shrine, and on the way there are many small but splendid shops. I will introduce all the stores I visited there.
"Kamenokotawashi" Yanaka Shop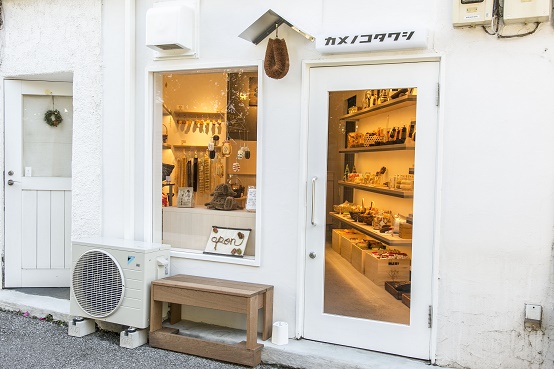 The Kamenoko Tawashi was established in 1907, by the first company president, Nishio Shozaemon. He was the person to create and bring out "Tawashi" to the Japanese market. The staff are always keep in mind to provides good qualities to the customers. The best item is Kamenoko Tawashi, it is made with premium palm fiber, and it is loved from all the customers for more than 100 years. As per everyone describes Tawashi,  "Kamenoko Tawashi" is the shop that exactly matches the image.
In Japan, I think we use Tawashi for cleaning the pots or bath tub, and etc. Maybe it is not common to use Tawashi in foreign countries. I have stayed in U.S, but I did not used those, and I feel that even they sell Tawashi, what I only see  is silver sponge.
However, in these days, Tawashi is used to scrub the dirt of vegetables, and it getting known to foreigners. This time,  I want to introduce few items that you only can buy it here!
*Kamenoko Sponge Do
This is the personal best item I suggest, and it is a items that you need it in our lives. Don`t you think some sponge will damage very fast?
However, this Kamenoko Sponge Do will last long, it is a shape of "Leaf" so it is comfortable in one hand, and excellent in sterilizing power! They are using "copper"`s corpuscule for antibacterial effect! The coarse sponge is good for drainage and foam breakage, even you are continue using, it will last for long time!
Price: 248 yen(included tax)
*Liza
This Tawashi was designed by Sri Lanka designer, Liza. The shape of the Tawashi is cute, it can be one of the interior. There are 4 different shapes, "Gurugu", "Cocoro", "Cumo",and "Pitta." Of course, the quality is exactly same as Kamenoko Tawashi! Maybe you can choose the shape depends on the situation!
This is the photo  of  Liza"Cocoro"
Price:777 yen(included tax)
As refer to the name, "Cocoro" has the shape of heart! I like "Cocoro" and "Gurugu" personally!
*Kenko Tawashi (with string)
They use nature materials, and the customers can choose from 4 different type of hardness. It is very cute that each Tawashi have their names♡ The popular item is "Tamura-san", the second soft Tawashi of 4. For the beginner, we suggest the very soft one "Satoo-san!" Please massage softly from the back of the feet, to improve blood circulation. Once you are comfortable, we suggest choosing the hard fiber little by little!
・For beginner "Satoo-san"
Made with very soft sisal
・"Tamura-san"
Mixture with sisal and little hard palm
・"Narita-kun"
Made with little soft palm
・"Nishio-kun"
Made with firm hard palm
The picture is "Satoo-san" 
Price: 1296 yen (included tax)
I am also the person who have bad blood circulation, so I am thinking of using it from now on!
Other than that,  there are more Tawashi made by best craftsmen, such as Shuro Tawashi, "White Tawashi", and original form Tawashi. Shuro Tawashi is popular for Japanese chef, it has both strength and pliability, and have good relation with  wood chopping board and cooking ware. There are accessories such as mobile strips, and palm pet that you can get as a part of interior. There are more variation of Tawashi is selling here, it is fun just go and take a look! Moreover, I feel that you can touch the Japanese "Wa" thru Tawashi.
Detail: http://www.kamenoko-tawashi.co.jp/
Kosho Bango Books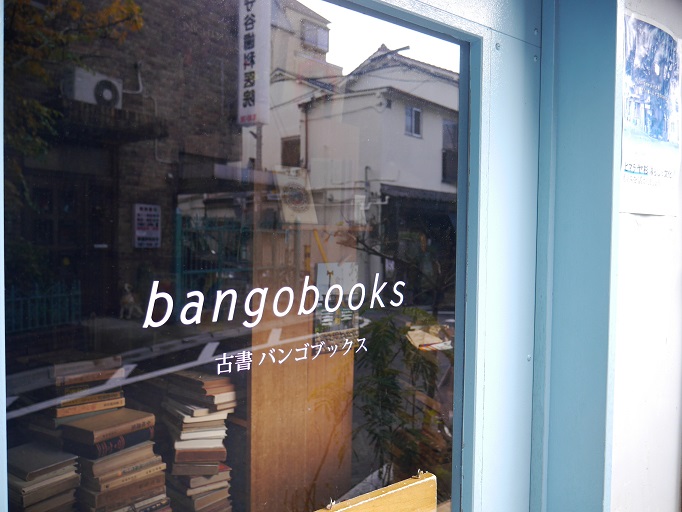 Near the end of "snake road," this secondhand bookstore is located. Though it is a store of used books, the exterior appearance is very stylish. It is not a large shop but there are various interesting books.
Detail :http://bangobooks.com/
Akitaya
"Akitaya" is a "miso (soybean paste)" shop, which is rare nowadays. The appearance of the store is tasteful. Since I ran out of "miso" at home, I bought some miso on the way back. The people of the store are very friendly and it is a wonderful place. Nowadays, there are not many occasions where you can directly buy "miso" from the "miso shop", so it is a precious place. I made "miso" soup from this miso shop, but it was delicious♡
Detail: https://tabelog.com/tokyo/A1311/A131106/13008480/
Ringoya
Here is a teahouse and this is  also a gallery. You can appreciate art works for free. I could not take pictures, but this time the  theme of the displayed exhibition was "bird." The exhibitions changes  in about every two weeks. You may be able to find a favorite art piece here.
Detail:http://tabelog.com/tokyo/A1311/A131106/13060424/
Nennekoya
It is a hide-out, the old Japanese-style-house-like cafe, that is located on the back alley. At here, you will feel that you have jumped  into the cats world. The menus are also full of cats, it is a  place that is absolutely wonderful for cat lovers!

Detail: http://www.nennekoya.com/
There is always not enough time, when thoroughly strolling the location, but I must keep going. After looking at several stores, I landed to the destination I was aiming for, the  Nezu-jinja Shrine.
Nezu-jinja Shrine is an old shrine, said to be established by Prince Yamato Takeru no Mikoto (son of Emperor Keiko). It is also said that during the Bunmei period, Ota Dokan built the main buildings of the shrine. Thereafter in the Edo period, the fifth shogun Tokugawa Tsunayoshi established the current shrine buildings and the shrine was relocated from its former location in Sendagi. It is one of the "Tokyo Jissha (10 shrines located in Tokyo)," and is famous as a shrine of good luck.
Not only the main shrine building that is designated as an important cultural property, but I personally would like to recommend the Otome-inari-jinja Shrine. There is a "torii (gateway of the shrine)" in Otome-inari-jinja Shrine, which resembles that of Fushimi-inari-jinja Shrine in Kyoto. You can take pictures of the famous "Senbon-torii (corridor of torii)" here in Tokyo, and do not have to go all the way to Kyoto. At here, there is a mystical energy spot for exorcising evil spirits. Fully feel the mystical spirits and purify. The Otome-inari-jinja Shrine is famous for the graces of matchmaking and wish fulfillment, it may be nice to pray for both graces.
Nezu-jinja Shrine is also famous for its azaleas. From the middle of April to early May, beautiful flowers bloom at the azalea garden located within the precincts. If visiting at a nice timing, the garden is certainly worth seeing.
After exorcising evil spirits and charging power at the Nezu-jinja Shrine, I will again stroll around while heading back
<Kintaro-ame>
As its store name goes, it is a shop of Kintaro-ame (cylindrical candy made so that the face of Kintaro appears wherever it is sliced) located near the Nezu-jinja Shrine. The "miso-sen (miso-flavor rice crackers)" and "yawaraka-kinako ame (soft kinako-flavor candies)" are delicious. Moreover, they are CHEAP!!
Detail:https://tabelog.com/tokyo/A1311/A131106/13009599/
After wandering while looking at the shops, I have returned back to the Yanaka-Ginza Shopping District. Lastly, I would like to end this column with the Yanaka cat.
<Maneki-neko (beckoning cat)>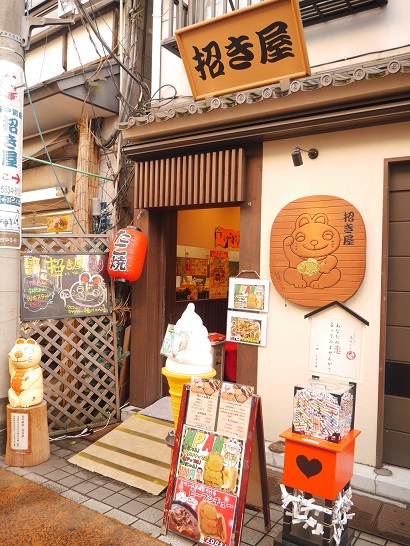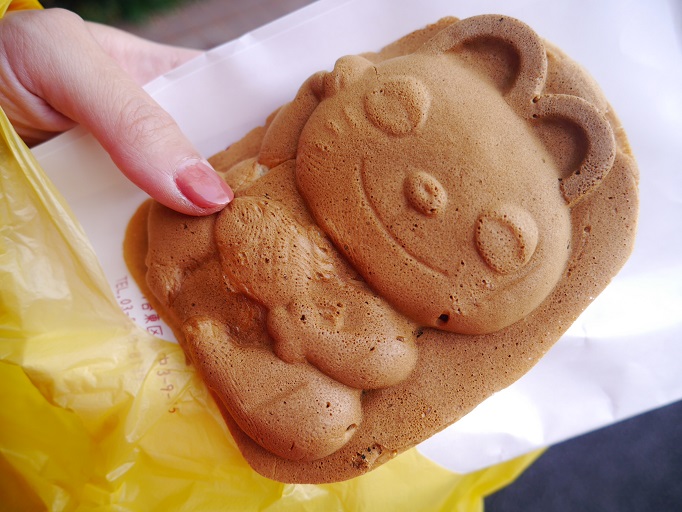 "Maneki-ya" is store famous for the "fukunyan-yaki (maneki-neko shaped pancakes with fillings)." It has appeared in the media, various times. I ordered the beef stew flavor (and not the standard bean-paste). Since it was a cold day, it warmed me and was delicious.
Arriving here past noon, the time past so quickly that is already early evening. My day mostly ended just eating, but I was able to spend a fulfilling time, relaxingly walking  through "Yanesen." For those who are interested in eating while walking, cats, or  take photos, why not visit "Yanesen" once??
Shops and tourist spots that appeared in the guide articles
>> Writer introduction