Let`s Go Eat A New Sensation Limited Fruit Sweets!!! "DOMINIQUE ANSEL BAKERY Omotesando"
09/01/2017
The one of the popular  NY bakery owner, Dominique Ansel established his first shop "DOMINIQUE ANSEL BAKERY Omotesando" in June 2015. After since the shop being opened, his creative unique sweets and bakeries made people attractive!
The menu will changes every 6~8weeks, and the most popular Cronut®, which is made it with a combination of croissant and donut is sweet and pliant. The flavor changes every months, so you will not get tired of the taste! The Cronut® for August was apricot caramel with lemon sugar! Looks yummy!!!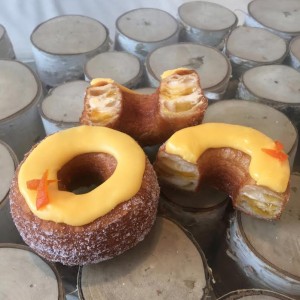 Furthermore, they also serve popular Dominique kouign-amann and "Frozen Smoa™."   "Frozen Smoa™"  is a sweet put vanilla ice cream and chocolate in a honey flavor marshmallow,  and burn it with the  banner to make it crispy.  The"Cookie Shot™"  is also the sweets that you can not miss! Make a soft chocolate chip cookie as a shape of shot glass and have it by pouring the vanilla flavor fresh milk!
As I mentioned, "DOMINIQUE ANSEL BAKERY" produced creative items and it is very exciting what they will make next. This time, I want to introduce to you the desserts you only can have it here and during this Summer!  
Last year, "Creme du la Corn" was popular among people and attracts the visitor heart. This year they are also serving, "Watermelon Soft Serve(What-a-Melon Serve)", which is solve using plenty of watermelon, and real alike "Kiwi Solve Bar" !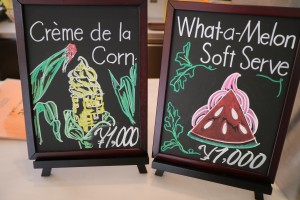 This is  "Watermelon Soft Serve(What-a-Melon Serve)"! They sand the watermelon solve with the watermelon and make the chocolate as a watermelon seeds! Feels like want to take a photo and post it on the instagram etc. before you eat! There is also salt aside, so you can enjoy the changes of the taste too!!! It will refresh you and perfect to have it in hot weather!
※In Japan, we have a tradition to put salt to the watermelon to makes it more sweeter. For those who have not tried it with salt before, maybe it is good opportunity to try!

I assume you can describe the taste of watermelon solve, but it is difficult to describe the taste of corn soft ice cream and have it with corn.  Really want to know how the taste is! On top of the soft ice cream, there is also  caramel and corn jam!
The second one what I want to introduce to you is "Kiwi Solve Bar." This is one of the recommended item, it also draw media attention! They used plenty of kiwi which is being said as good for beauty. The appearance is so cute and if you cut it in half,  it look like real kiwi! They are using homemade kiwi solve as a green part of the kiwi and homemade vanilla ice cream as a middle white part. Moreover, they make poppy seeds as a kiwi seeds and milk chocolate as a skin of the kiwi skin! The sour kiwi solve, the rich vanilla ice cream and chocolate are well balanced and made it the sweetness just right!
How do you describe the taste?
This time, Jaasir and Jane dropped by at "DOMINIQUE ANSEL BAKERY", so lets see furthermore  how they mentioned about the taste!
The shop is so cute!!! Especially, the stairs!!! lol
Mmm… Wonder how was the taste?
Seem both "Watermelon Soft Serve(What-a-Melon Serve)" and "Kiwi Solve Bar" bring the best out of original taste and ingredients. It worth it to have a try once! Although, look at Jaasir while he is eating "Watermelon Soft Serve (What-a-Melon Serve)"!! I was staring at it for long time lol. He eats so good! Seem Jane liked the "kiwi solve bar" more!

There are wide varieties of bakeries and cakes at "DOMINIQUE ANSEL BAKERY Omotesando" that I could not introduced to you all. It must can not decide which pastry to have it! If you come by to Harajuku・Omotesando, please stop by at  "DOMINIQUE ANSEL BAKERY." Can do take out, so please use that too!
※Thanks All For Participating
Everything Offer Until End of September
[Information]
DOMINIQUE ANSEL BAKERY JAPAN Omotesando
Address:5-7‐14 Jingumae Shibuya-ku, Tokyo
Operation Hours: 10-19pm (1F&2F)
Open Throughout The Year
TEL:03-3486-1329
Shops and tourist spots that appeared in the guide articles
>> Writer introduction