Have A Luxury Moment In Ginza "GINZA SIX" ♪ What Is The Healing Space That Three Salons Entertain?
05/22/2017
The new facility "GINZA SIX" was opened in Ginza, in April 20,2017. At Beauty floor in basement 2, there are a lot of cosmetics brands from in and out of Japan.
This time I put a spot at beauty salon in GINZA SIX rather than cosmetics! Definitely, the facial, body and head spa what each brand offer will heal you and makes you relax! Here is the 3 recommend beauty salons I want to introduce!
CLARINS PARIS
First beauty salon I want to introduce is"CLARINS  PARIS." They started from Spa in 1954. The staff faithfully protect the Founder  philosophy, and at here they can enjoy the CLARINS PARIS techniques that can use according to your needs!
"Lymph Drainage", which is the center of CLARINS PARIS treatment is also used as a treatment place such as Europe etc. The staff will hear each individual problem and can experience over 80 different types of all-hand techniques. The atmosphere of 4 different types of luxury rooms, and the "Skin Care" started from 6 different type of 100% plant-derived oil will definitely give you a moment to heal and  relax!
[Menu Plan]
①GSIX Recommend Treatment♪  "Body Fit Scuputure" 60 min  17000円yen
It one of the recommend body treatment intensively from hip to thigh.
② GSIX Limited Body  90 min 28,000 yen
It is a body treatment  mixed with body treatment and whole body keratin using CLARINS products.
③Besides that, there are 2 different types of facial and Body Treatment 60 min course.
URL:https://reserva.be/clarinsskinspa
You can select it from the several different menu plans from facial, body, and maternity care depends on your needs.
Next to the Spa, there is CLARINS counter. The visitors can try Japan limited full lined makeup and skin touch panel, which is the home care method can be experience at here!
[Details]
Spa Operation Hours:10:45 ~ 18:45(Last Reception:18:30)
Tel: 03-6263-9995
URL: http://www.clarins.jp/
uka
Next,  I want to introduce is "uka." The origin of the  name "uka" is taken from the "羽化(uka)", when a pupa turns to butterfly. It was named for the desire to spread out the "BEAUTY" like the butterfly to the world.
The homey interior is relaxing, at here they use natural cosmetics and provides facial, body esthetic, nail and eyelashes etc. Not just only ladies, but also there are menu plans for men to experience.
This is esthetic room. It is a room with warmth and relax atmosphere.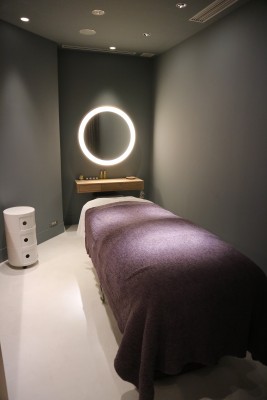 [Menu Plan]
Please Click the link for the costs and menu plan below. (Only In Japanese)
[Nail] Hand&Foot
Price: http://uka.co.jp/salons/ginza6/menu_01.html#menu_top
[Esthetic]
Price: Facial & Body: http://uka.co.jp/salons/ginza6/menu_02.html#menu_top
[Eyelash]
URL: http://uka.co.jp/totalbeauty/eyelash/
Price: http://uka.co.jp/salons/ginza6/menu_03.html#menu_top
To be able to used it even at home,  "uka" stick with effect, aroma and the usage and provides items,  such as nail products, head therapy series, lip and nail balm with fragrance etc.
The "uka" nail products,"Color Base Coat Zero" is a nail polish provides 5 different nail colors with beauty ingredients. One paint will finish shiny and if you paint it several times it will make more bright color. You also can use it from the top of your own nail polish and enjoy making your own color! 
[Details]
Operation Hours: 10:30~20:30 (Please ask for last reception for beauty salon)
Tel:03-6263-9981
URL: http://uka.co.jp/
Peek-a-boo  AVEDA
"Peek-a-boo" started as beauty hair salon in Harajuku, Omotesando in November 3rd, 1977.  At this salon, they continue to use the hair care brand "AVEDA" made with natural ingredients to provide healthy hair quality to everyone.
This time, I would like to introduce "Peek-a-boo AVEDA" head spa. These are the 4 different types of  head spa the customers can choose.
①AVEDA BOTANICAL HEAD SPA
It is a head spa to improve lymph flow by massaging from shoulder to head scalp.
②BALANCING SPA
Select the aroma oil depends on your condition, and massage the head scalp.
③AGING CARE SCALP SPA
This menu recommends for those who want to have volume to your hair. It also helps to add body to your hair.  
④DEEP CLEANSING SPA
If you want to remove  the dirt of your hair, I suggest this one. This also help moisture balance.
※What is moisture balance?
It is a balance of moisture, lipids, NFM`s (Natural Moisturizing Factor) 3 skin moisture present in the stratum corneum.
"DEEP CLEANSING SPA" seems feels good!!! It is deal for refreshing because it can remove dirt that cannot be washed with shampoo etc.! Although, "AVEDA BOTANICAL HEAD SPA" is also my recommendation. Not only removes your tiredness, but also helps to maintain the healthy hair quality by improving the flow of the lymph!
For head spa, the visitors can select it from basic or express (short course)  EXCEPT "AVEDA BOTANICAL HEAD SPA." If you do not have time than short course can be selected, but it only for 7 minutes, so  I recommend to do the basic course.
From 4 different type of head spa, which one are you interested?
[Details]
Peek-a-boo  AVEDA
Operation Hours:10:30〜20:30
Please call for last reception time)
Holiday:Irregular
For Reservation:03-3575-5588
Price:
①AVEDA BOTANICAL HEAD SPA 4000~
②BALANCING SPA 15 min 4000 yen /   7 min 2500 yen
③AGING CARE SCALP SPA   15 min 4000 yen /   7 min 2500 yen
④DEEP CLEANSING SPA   15 min 4000 yen /   7 min 2500 yen
※For those who do only treatment (head spa) will cost additional charge of shampoo & finish(3800円~)
※Tax are not included
Besides this 3 salons, the  "Maison Decorte" from the cosmetic brand "COSME DECORTE" also provides salon that can accept  facial and body treatment. The visitors can feel the "Maison Decorte" original treatment in gorgeous interior and from one of 3 different concept treatment room. Numerous treatment are available, such as  standard menu "for Facial 80 (80分 30,000)" and "for Body 100(100分 38,000)."  "Maison Decorte" also provide order made treatment.
Operation Hours:10:30-20:30 (Last reception:Depends on the course)
Tel:03-6264-6706
URL:http://www.cosmedecorte.com/maison/
Salons can be book in that day if it is available. Please use it in various kind of situations,  like want to remove your stress from work, refreshing, and or to polish yourselves before important events etc.
[Store Information]
GINZA SIX
◇Address:6-10-1 Ginza Chuo-ku, Tokyo
◇ TEL: 03-6891-3390
◇ Operation Hours
Products・Service  10:30~20:30
Restaurants  11:00~23:30 ※Depending on some stores
Shops and tourist spots that appeared in the guide articles
>> Writer introduction